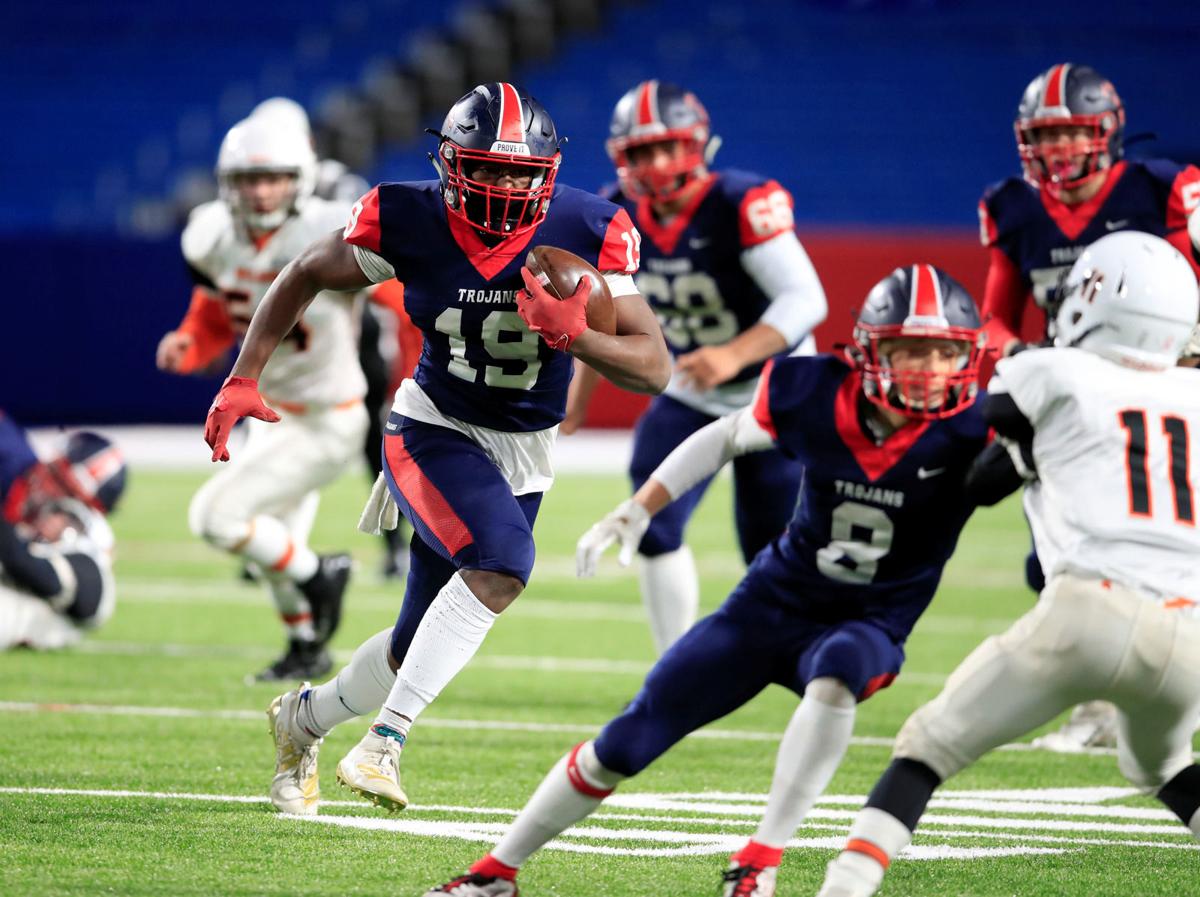 Who: Southwestern (10-0) vs. V-Letchworth/Warsaw (9-1)
Rankings: Southwestern is a unanimous No. 1 in the Buffalo News Small Schools poll and second in the state. Letchworth/Warsaw is ranked sixth in the state.
At regionals: Southwestern is 3-1. The Trojans defeated LeRoy (38-35) in 2008, Letchworth (28-14) in 2009 and Wellsville (23-6) in 2011, and lost to Hornell (12-7) in Class B in 2004. Letchworth/Warsaw is 0-1. As separate programs, Letchworth is 1-2, while Warsaw has never reached the state quarterfinals..
Coaches: Southwestern, Jake Burkholder, first season (5-0). Let/Saw, Justin Mann, second season (18-3).
Southwestern's key players and statistics: So. QB Aidan Kennedy (64-115-1536-23 TDs), Sr. RB/LB Tywon Wright (105-1,247-20 TDs; 43.5 tackles, 11 tackles for loss, 4.0 sacks), Sr. WR/CB Dominic Certo (23-702-9 TDs; 3 INTs), Jr. RB/LB/DB Zishan Munir (43-243-4 TDs; 35.5 tackles, 3 INTs); Sr. DL/OL Cooper Pannes (64.5 tackles, 18 TFL, 8.5 sacks).
Letchworth/Warsaw key players: Sr. RB/LB Dalton English, Sr. LB/RB C.J.Hallopeter, Sr. LB/RB Josh Andrews, Sr. RB Danny Baker-Herter; Sr. DE Nate DeGroff, Sr. TE Will Shearing.
How they got here: Southwestern scored the final 32 points of the Section VI Class C final to defeat Wilson, 53-21, to capture its first sectional title since 2011. Senior running back Tywon Wright rushed for 346 yards and matched a Section VI finals record with five touchdowns. The Trojans rushed for 394 of their 478 yards in total offense.
Letchworth/Warsaw defeated LeRoy, 26-6, to win its second consecutive crown. Quarterback Brett Vasile rushed 11 times for 61 yards and completed 2-of-4 passes with one touchdown. C.J. Hallopeter rushed 10 times for 50 yards and a touchdown.
Pre-snap read: Southwestern asserted itself in crunch time during the sectional final. It must do that right from the start and win the battle in the trenches against a team that has just 24 players on its roster. That means feed Wright, who is coming off one of the best games ever by a Western New York running back in a sectional final. He finished 38 yards away from breaking the section's championship game record of 383 set in 2006 by Catt./Little Valley's Marc Crandall.
However, should Letchworth/Warsaw crowd the line of scrimmage and dare the Trojans to beat them with the pass, they must ride sophomore quarterback Aidan Kennedy, who like his predecessor Cole Snyder has a high touchdown total but rarely gets picked off. Defensively, Cooper Pannes and company must keep tabs on Dalton English, who is the Indians' best player. Let/Saw is a smart team that relies on everyone knowing assignments, so don't be surprised if Southwestern runs a familiar formation but adds a wrinkle or two to confuse its foe so that one of its speedsters can deliver a big play.