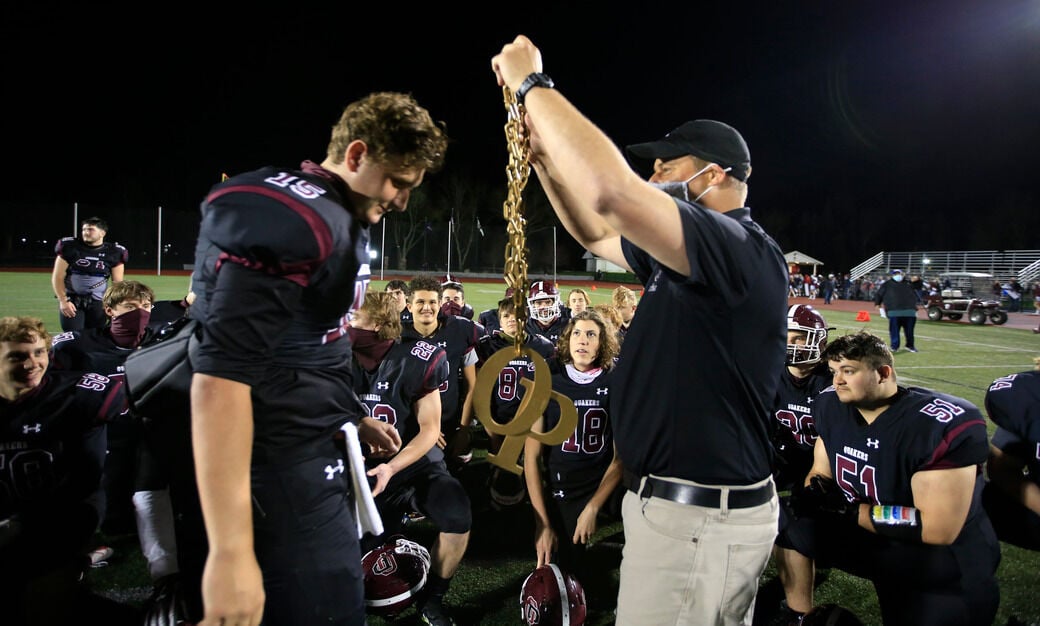 Sweet Home football coach Jeremy Zimmer is always trying to find ways to change up the energy and lighten the mood for his program.
When he attended a University at Buffalo football practice last season, he noticed that loud music blasted out of the sound system in UB Stadium. So, he brought that idea to Sweet Home, and noticed an extra spring in his team's step during its practices.
Sweet Home defensive coordinator Steve Phillips is a University of Miami football fan, and took note in 2017 when the Hurricanes introduced college football – and pop culture – to its gem-encrusted turnover chain.
Sweet Home, Phillips thought, needs something like this. Zimmer agreed. Then, Phillips bought a silver chain with a three-foot drop that holds a large pendant of an interlocking "S" and "H."
"Steve had our chain custom-made," Zimmer said. "He polished it, brought it to practice and we told the kids, 'If you get a turnover, you get to wear the chain.' The kids take so much pride in it.
It's part of a trend among high school and college football programs to reward their players with something big, brassy and kitschy – something that, as the kids say, has some swag to it. Sweet Home has the turnover chain, while Orchard Park awards its players, coaches and support staff with a golden hammer, a golden whistle and a big-play chain.
Canisius has a turnover punching bag that it keeps on the sideline. After a turnover, the players run over to the bag and start walloping. 
"The first time our players saw those, they went nuts," Quakers coach Craig Dana said. "No one had really seen it in high school football in this area before last year, and the talk became, 'Well, who's going to get the chain this week? Who's going to get the hammer? Who gets the whistle?'
"Win or lose, we will give those out to players and coaches. We're competing as a team."
The trend is not just limited to football as local basketball and hockey teams also have been handing out postgame hardware. The most popular item seems to be championship belts, but teams have used hard hats, shovels and other items.
The St. Joe's hockey team hands out a hard hat after each game. The Niagara County girls hockey team uses a toy championship belt with "NC" in the center. The Amherst boys basketball team has a hard hat for its "blue collar award" and a "toughness charge chain." Starpoint's junior varsity football team hands out a wrench for the hardest-working player.
Among the more unique items is a sombrero is given out by the Monsignor Martin girls hockey team to the MVP of each game. The idea of an MVP hat was hatched by the team captains. Among those captains is All-WNY first-team defender Camryn Brownschidle, whose father is the team's coach. She found the sombrero in storage at their house and decorated it in Monsignor Martin purple with the letters "MVP." 
"The winner had to wear the hat out of each game and they wanted something unique so people would notice it," Mark said. "The person who had the hat from the last game would bring it to the next game and pick the MVP for the next game."
Jailen Gaines is one of Sweet Home's top two-way players, who plays running back, linebacker and at free safety. He doesn't watch a lot of college football, so he didn't know much about Miami's turnover chain. The original is part of college football lore, a 6½-inch "U" pendant that contains 900 green and orange sapphires, attached to a 36-inch chain made of gold Cuban links, reported to cost near $100,000.
The turnover chain at Miami became the genesis of many more sideline props.
Pittsburgh's defense has the turnover hoop, a toy basketball hoop players dunk upon when its defense registers a turnover.  
Around the same time Miami unveiled its turnover chain, Tennessee showed off its turnover trash can at the beginning of the 2017 season … which became a metaphor for the Volunteers, who limped through a 4-8 season that year, and went 0-8 in the Southeastern Conference.
Sweet Home's turnover chain isn't as gaudy – or as pricey – as the one at Miami. But when Phillips initially introduced it to the Panthers, it suddenly gained some panache.
"When we first got it, everyone was so hyped," Gaines said. "Everyone was like, 'Who's going to get it first?' I saw it and I said, 'I've got to have it! I love playing defense and I love hitting players,' and I thought, 'People will respect me more as a player if I get this.' "
During Sweet Home's games, the turnover chain is passed between players who force or recover turnovers.
In Sweet Home's 21-7 win against Amherst in its season opener April 1, the Panthers recovered two fumbles and had two interceptions, so the turnover chain passed among four players, before it finished the game around the neck of Xavier Laboy, a linebacker who recovered Amherst's last turnover.
Gaines earned the turnover chain after Sweet Home's 37-23 win Saturday at Williamsville East, a game in which he was one of three players to record an interception.
For players, winning the turnover chain or the big-play hammer brings about a certain sense of pride and accomplishment.
"When I first got the chain, it was like a confidence boost," Gaines said. "It was like a fire that was lit under me. We get the chain, and it keeps motivating the players and the team to go harder and harder. When the defense gets a turnover, the offense comes out and scores, and then the defense comes out to do more, and to help the offense score again."
It makes for social media fodder, as Dana has noticed that some players are quick to post photos of themselves wearing the big-play chain or holding the big play-hammer.
When Gaines committed to play football at Edinboro (Pa.) University, he sent the program a photo of him from the 2019 season, wearing Sweet Home's turnover chain.
"Some of the players at Edinboro told me, 'Now we've got to do it!' " Gaines said.
Having an incentive also raises team morale, but coaches have to negotiate a balance between players working to earn individual accolades and helping their team achieve goals and win games. Winning has to be paramount.
"We try to reward guys for unselfish plays that help the team," Dana said. "We want guys trying to get the big-play chain or the big-play hammer, but as soon as it creeps into an issue of, 'well, I should have gotten it,' we've got problems. But we have to set a tone, that everybody wants to do this for the good of the program.   
"But if we're having a hard time deciding who gets it, then that's a good thing."
At Orchard Park, quarterback Ben Gocella earned the big-play chain after the Quakers' 21-0 win Friday against Clarence. Gocella, a sophomore, completed 14 of 27 passes for 173 yards and two touchdowns, including a 40-yard touchdown pass to Dylan Evans.
A week earlier, after a 43-2 win at Hutch-Tech, Orchard Park wide receiver Kegan Mancabelli earned the big-play chain for scoring three touchdowns, and middle linebacker Kross Rapini got the big-hit hammer for recording seven tackles. Defensive coordinator Chuck Senn earned the golden whistle.
Orchard Park's players and support staff get to keep the baubles over the weekend, but given that spring football season is being played during the Covid-19 pandemic, Orchard Park's chain, hammer and whistle come with a caveat: Each must be returned by Wednesday.
"They need to be cleaned and sanitized before we can give them out again," Dana said.