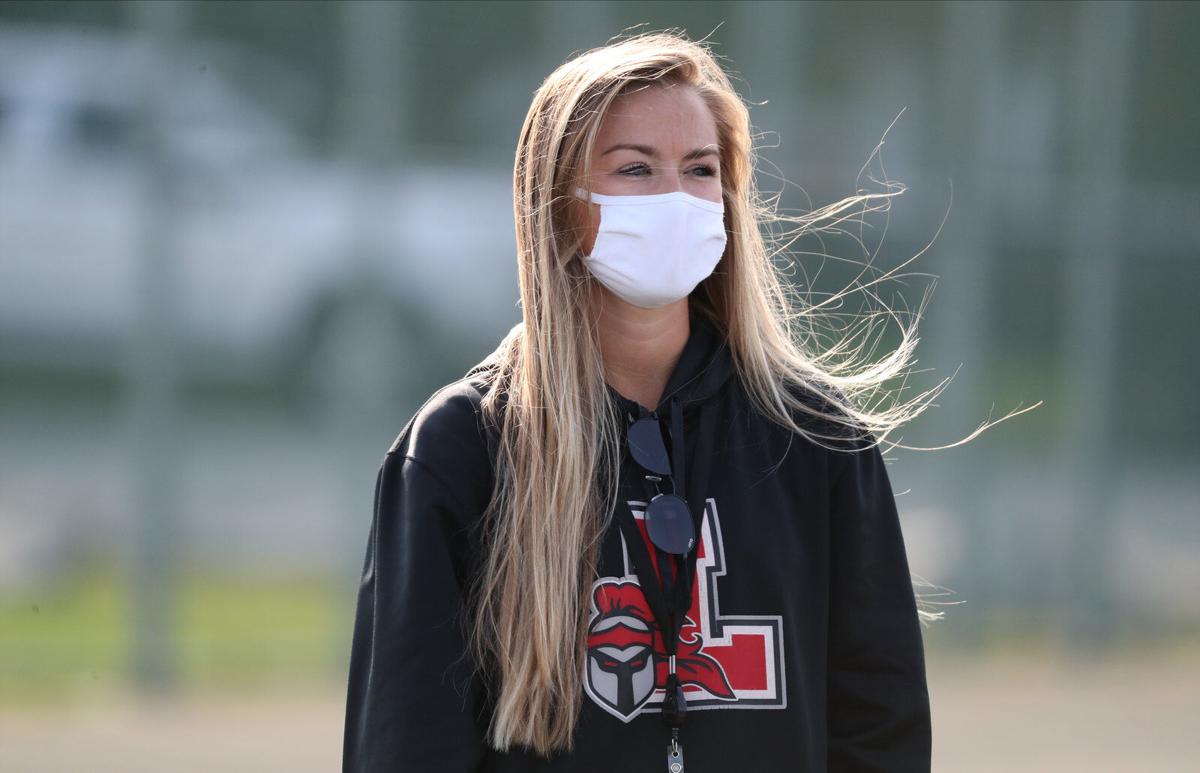 When Sandy Trampert first learned that one of her former Orchard Park High School players, Karli Hollins, had been appointed girls tennis coach at Lancaster last month, the former Quakers boss and current volunteer coach at West Seneca West admitted she wasn't surprised and with good reason.
"The unique thing about Karli is she always looks to give back and this is a way for her to give back to the sport," said Trampert, who coached Hollins from 2009-12. "She sees the big picture. Tennis is a great sport and has given so much to her. ... You could tell she was enthusiastic to help these girls. Very energetic and passionate about the coaching end as she was about her own playing. They're very fortunate to have her."
Hollins takes over for Kristie Keller, who took a personal leave this year, according to Legends Athletic Director Brian Wild. Coaching positions are yearly appointments.
Hollins is that Hollins – the daughter of former Major Leaguer Dave Hollins. She's the older sister of Haley and Jesse, who like Karli either played tennis or are playing tennis in college. Karli's brothers Bubba, a Florida Marlins prospect, and Beau, a high school student in South Carolina, both play baseball.
Hollins heard about the opening from her aunt, who works for Lancaster. Since Hollins has been working as a teaching pro the past four years at Miller Tennis Center, she figured why not give coaching a team a try. It could be a great experience, especially if she ever decided to pursue coaching at the college level.
"So far it's been fun," Hollins said. "It's a great learning experience for me. I enjoy coaching."
The Legends may be the first team Hollins has coached but she's no stranger to working with kids, or adults for that matter. She instructs individuals ages 3 and up at Miller, where she works 25-30 hours per week.
"I really love tennis and I didn't want it to be over when I was in college so I decided teaching would be the next best alternative to playing," Hollins said.
"I was a good player. I wasn't one of the best. I think being around some of the best has helped me become a better coach. I think coaching is definitely a different perspective than playing."
The cerebral Hollins is being a tad bit modest.
She enjoyed success at Orchard Park where she won an individual Section VI title and two more in doubles to qualify for the state tournament three times. She had success playing in college, too, at No. 1 singles and doubles at Daemen and SUNY Geneseo. She helped Geneseo win the SUNYAC team title.
Lancaster brought a 1-1 record into Friday's pair of matches at defending ECIC I champion Clarence.
The Legends helped Hollins earn her first win as coach against Frontier. Her debut came last Saturday against, of all teams, Orchard Park – a 5-0 loss.
"It was better than I thought it would be," Hollins said of the opener. "It was definitely a different perspective than being on Orchard Park. ... We took it as a learning experience. I applaud how positive my girls were at the end of the match."
The Legends' lineup includes Nicole Ulatowski, Alivia Nicosia and Julia Valkanova at singles and the doubles teams of Emily Sweeney-Madison Pace, and Lydia Powers-Charlotte Miranda.
Hollins does not play competitively anymore. She plays the occasional recreational game just to hit. She is focused on continuing to improve as a coach. There is a difference between coaching a high school team and individual clients at Miller, Hollins said.
"The high school team is more oriented. They're not playing year-round," she said. "The girls are there to have a good time, learning something new and hopefully better their tennis game by the end of this short season."
The Clarence Red Devils are off to another fine start – as they carried a 3-0 mark into Friday's twin bill against Lancaster. Two of the wins came against Williamsville North.
That's not surprising considering they have five starters back from last year's 10-0 team. That includes Section VI singles runner-up Madeline Eiss at first singles. Other returning starters include second singles' Julia Laspro, third singles' Madison Enser and the first doubles team of Ava Casell and Julianne Bolton. Those rotating at second doubles are Emma Brewer, Maygha Chaudhuri and Faith Bowman.
Speaking of Eiss, she and Eileen Wang of North crossed paths twice this week. Once in decent and once really windy conditions. Wang won both meetings in straight sets (6-4, 6-2; 6-3,-6-1). Clarence coach Mike DelSignore said Wang, who is back for her senior year after winning ECICs and sectionals as an eighth grader, is a cut above the rest. But the skill-level in the matches ...
"That was some really good tennis. Those two girls were playing at a really high level," he said. "Even in the wind they played a good match, but the first match Tuesday was really well-played."
The ECIC teams are scrambling to get all or as close to their scheduled matches in before the ECIC Tournament next Friday, Oct. 16 and Saturday, Oct. 17 at Miller Tennis Center. Teams have resorted to playing doubleheaders to make up rainouts.
One reason the season has been so condensed is teams needed to have 10 practices before their first match. There is a chance some teams will make up matches after ECICs – which normally does not happen.
"You have to think outside the box," Trampert said. "We're just ecstatic we're having a season even if it's abbreviated."
Division leaders entering Friday were Clarence (ECIC I), Williamsville East (ECIC II), East Aurora (ECIC III), Springville (ECIC IV), Niagara Wheatfield (Niagara Frontier League), Falconer (CCAA East) and Southwestern (CCAA West).
Get in the game with our Prep Sports Newsletter
Sent weekly directly to your inbox!