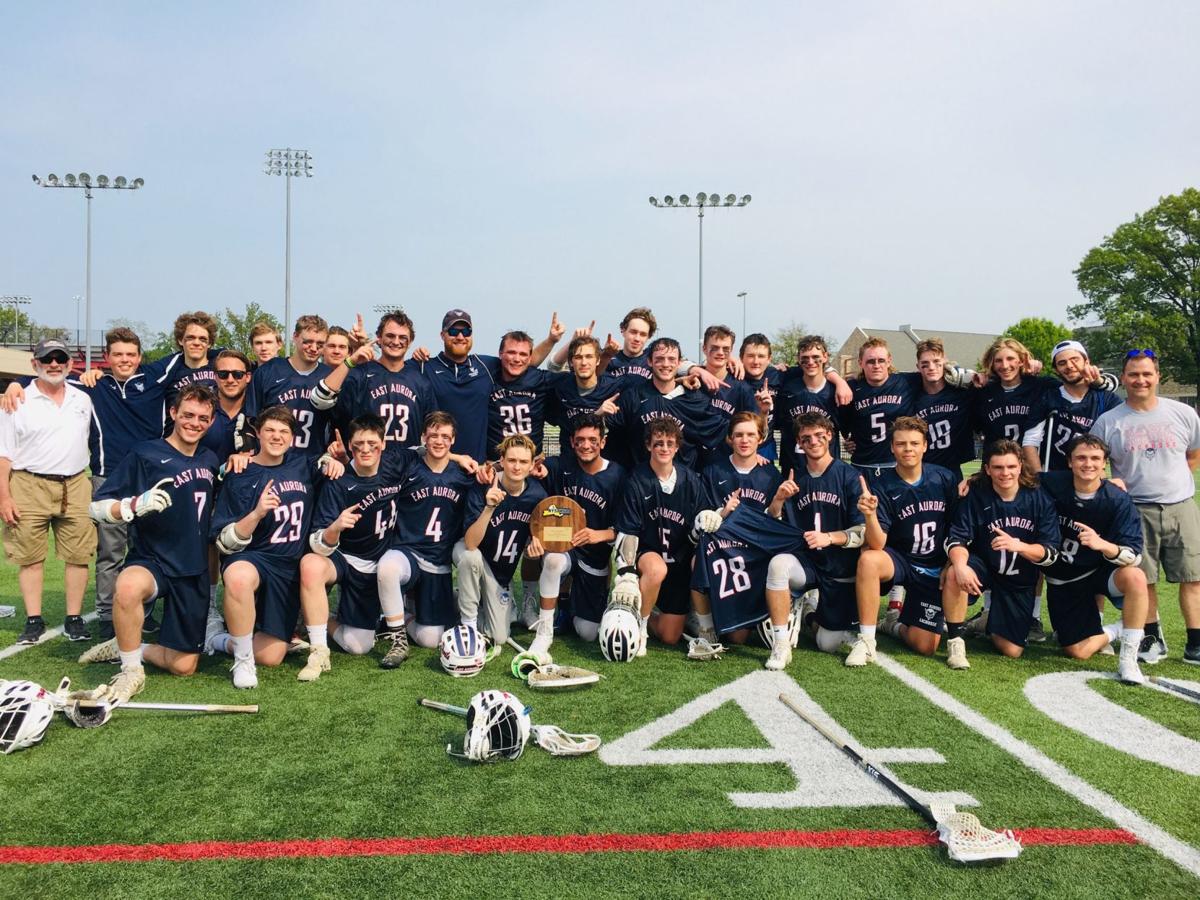 PITTSFORD — Riding the bus to St. John Fisher College on Saturday, the East Aurora boys lacrosse team followed along as Orchard Park and Hamburg let their seasons slip away in the state quarterfinals.
"We've got to pick it up and win one for Section VI," coach Scott More told the Blue Devils. "We can't go 0-fer out here."
East Aurora responded to the challenge after a slow start, rallying for an 8-6 victory over Geneva in the Class C western regional.
The Blue Devils (17-3) were the only team from Section VI to extend its season and will now advance to the NYSPHAA semifinals for the first time in school history after breaking a 12-year sectional title drought. They meet Jamesville-Dewitt (19-1), the No. 2-ranked team in the state, on Wednesday at Cicero-North Syracuse.
"To make it this far, the farthest that East Aurora has ever gone, is truly an unbelievable experience," senior captain Billy Mahoney said. "We've worked hard for this and we have fantastic chemistry. A lot of us have been playing together since middle school."
Those bonds helped the Blue Devils stay composed and confident after they spotted Geneva four first-quarter goals and 5-1 lead. East Aurora scored twice in the final 1:08 before halftime and tightened up its defense to close the game on a 7-1 run.
"Historically, if a Section V team goes up on us like that, most Section VI teams don't come back," senior captain Brock Roldan said. "But we watched film on them and every time they've gotten a lead, they are sort of passive and teams tend to come back on them."
Roldan buried an insurance goal on a set play following a timeout with 1:03 remaining. Jack Rogers scored twice, including the go-ahead goal with 5:17 left in the third quarter. Logan Dalrymple, Cal Klube, Ayden Vergien, Tage Hoeg and Connor Boss had the other goals. Drew Kenney assisted on four of the eight goals and Aiden Sheehan made 14 saves.
Geneva (19-4), playing without longtime head coach L.J. Russell and assistant Brian Travis, who were both placed on administrative leave last month pending an investigation by school officials, went scoreless for almost 21 minutes after building its 5-1 lead.
"All year our defense and goalie have been one of the best in the section, and, I think, in the state," Roldan said. "The first four goals were blown coverages but the rest of the game our slides were good, we were peeling off well and we were going where we needed to go."
The other three Section VI champions each scored the opening goal but could not protect their leads. After getting wins from Lancaster and West Seneca East last season, Section VI teams are now 7-29 against Section V in western regionals over the past 11 years.
Class A: Fairport 5, Orchard Park 1
The quadruple-header started with a contest that played out like a soccer match for most of the morning.
After a scoreless first half, Jake Shul netted the Quakers' lone goal two minutes into the third quarter.
Fairport tied the game less than two minutes later and took a 2-1 lead into the fourth quarter. The Red Raiders tallied three more goals in the final 5:30 of the game after the Quakers started to press for possession.
The six combined goals between the teams were the fewest in a state tournament game in 11 years, according to BLaxFive.net, and marked the lowest-scoring Class A state playoff game since 1996.
Orchard Park (13-6) averaged 16 goals per game on its way to winning a 26th sectional title in 29 years. But in seeking its first state tournament victory since 2009, the Quakers could not solve Fairport goaltender Tim Defendis (12 saves), despite having a 27-22 advantage in shots.
"When you take 27 shots and you don't score more than one, the other goalie outplayed you," Orchard Park coach Larry Catalano said. "Hats off to their 'D' for holding us to one goal. Their goalie was unbelievable."
The Quakers were encouraged by the mostly competitive matchup after losing 13-3 at home against Fairport in the regular season.
"We definitely matched their intensity," senior captain Cayden Collins said. "We just didn't get a couple of bounces that we needed. I'm definitely proud of the way we played. We showed a lot of toughness and grit out there."
Class B: Victor 8, Hamburg 4
Hamburg (15-5) held the lead for much of the first three quarters, posing a greater challenge to Victor than it did in losing last year's regional 15-3 at All High Stadium.
"We had a sour taste in our mouths from last year getting pretty much disrespected on our home turf," senior captain Brian Colmerauer said. "We wanted to come out here and make a statement to Victor and the rest of the state that Hamburg is back and we're not leaving. In that sense, we succeeded in our objective. But we didn't win the game, which was our main goal."
Goals from Brett Chiodo, Brock Schneider and Devin Collins gave Hamburg a 3-1 lead at halftime. Jared Evenden made 11 of his 12 saves in the first half. After Victor rallied to tie the game, Spencer Nyhart scored a diving to put the Bulldogs back up 4-3 with 1:49 left in the third quarter.
Victor scored five goals in the fourth quarter to regain the lead and pull away, denying Hamburg's quest for a third regional victory in its 11th appearance since 2007.
"It really was a game of two different halves," Hamburg coach Jerry Severino said. "In the first half, the energy we had was amazing. We were able to keep them at bay and possess the ball well.
"We ran out of gas toward the end. But I couldn't be prouder of this team. They did everything we've asked them to do. In the last four weeks, they've flipped a switch and just became a team that I'll never forget."
Class D: Penn Yan 8, Eden 5
Reaching the western regional for the first time in school history, Eden (13-8) held its own against an opponent that was making its 21st appearance in 22 years and ranked No. 2 in the state.
Inspired by Penn Yan's success over the years, Eden played an independent schedule that put the Raiders "through the meat grinder over and over again and produced a team that was more ready for this game," coach Chris Archabald said.
The schedule included a 14-0 loss at Penn Yan in April.
"The line I kept using with the boys was we are not the same animal," Archabald said. "I needed my guys to believe coming into today that was a lifetime ago. This was a totally new team we were bringing out here today."
Ciro Sroda, Quinn Harrington and Sawyer Schiedel scored to give Eden a 3-1 lead in the first 15 minutes. Zach Smalling and Austin Sroda scored tying goals in the third quarter after Penn Yan rallied to take a 4-3 lead at the half. Penn Yan regained the lead with 10 seconds left in the third quarter and added two more goals while shutting out Eden in the fourth.
Senior goaltender Zach DeCarolis made 20 saves for Eden.
"He kept us in the game," Archabald said. "Defense played great in front of him and we had a lot of battle plays that I thought we were answering the bell on. We just made some unforced errors that kept us away from getting the ball out of our end sometimes."