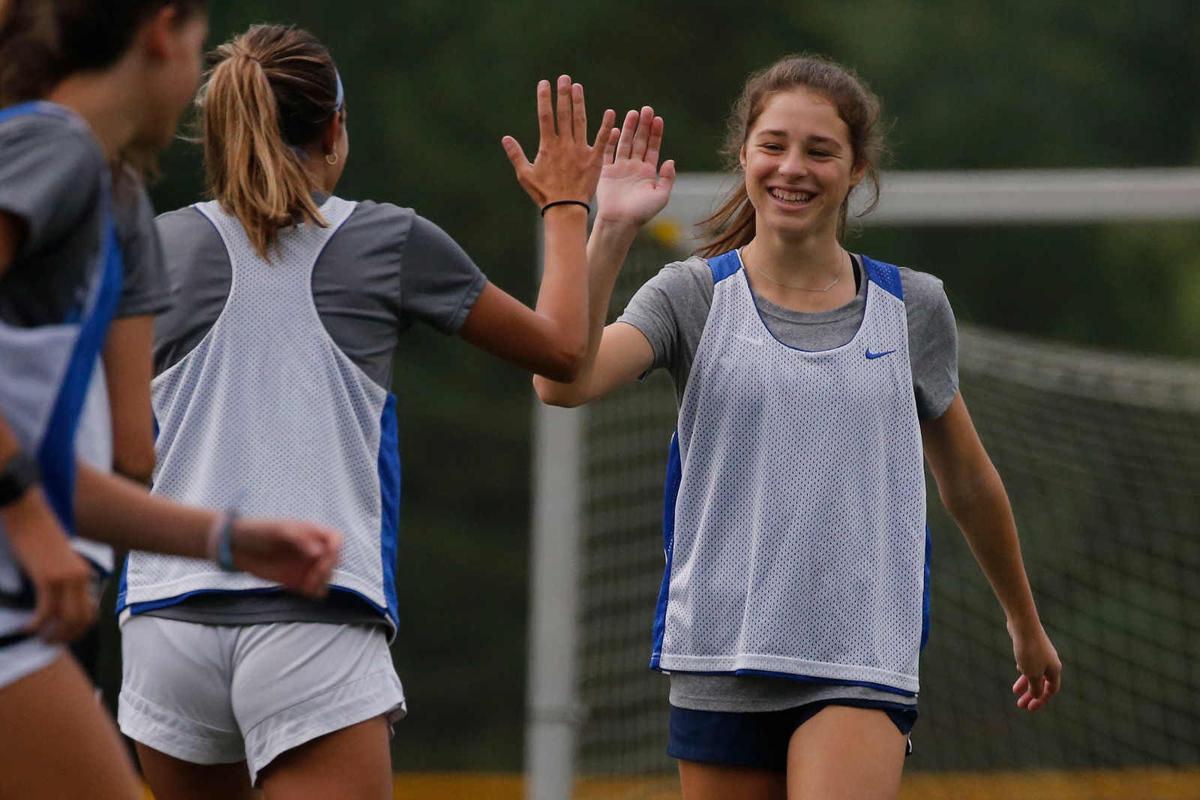 Last year was the first time in years that Gabby Gambino couldn't be on the soccer field. 
As her teammates at Saint Mary's of Lancaster played an abbreviated season in 2020, Gambino was relegated to the sideline, as she recovered from reconstructive surgery on a ligament in her left knee.
Without any hesitation, Gambino described what it was like.
"Missing a year sucked," said Gambino, who has been playing soccer since she was 3 years old.
"I have always been on the field. I had to learn what it was like to sit out. I was able to see the game better, and I think that will help me better when I am back playing again."
Gambino returns to the Lancers for the first time since the 2019 season, as one of Western New York's top soccer players. The senior midfielder will sign with Clemson University in November, and when it seemed as if setback after setback would have detoured Gambino's path to playing college soccer, she actually benefited from the timing of those detours.
Gambino scored 16 goals and had 12 assists for the Lancers as a sophomore in 2019, and was an All-Western New York selection that fall, but as she practiced in December of that year with her club team, the Western New York Flash, she went to turn on a play and her foot got tangled in the synthetic turf.
"I felt something pop in and out, and I knew something was wrong," Gambino said. "The doctors said I sprained my MCL and I did rehab for that, and came back in February (of 2020)."
On Valentine's Day of 2020, she felt her knee pop as she ran down the field. A month later, as she was working out in her basement, she felt another pop in her knee.
"The doctors finally figured out that I tore my MPFL (medial patellofemoral ligament), which is the ligament that connects your kneecap to your femur," Gambino said. "That's what kept popping in and out."
Gambino also had to delay outpatient surgery to reconstruct the torn ligament until May 26, as a state order in March 2020 stopped elective medical procedures, due to a concern for hospital bed capacity, staff shortages and supply shortages.  
As part of a 10-month recovery process for Gambino, she started physical therapy two days after undergoing surgery, in order to begin bending her knee in order to rebuild and regain strength in her left leg. She also spent the first six weeks after surgery on crutches, with a brace on her knee.
The Covid-19 pandemic brought so much to a standstill, including college athletic recruiting. The NCAA in March 2020 announced a recruiting moratorium that limited contact between coaches and athletes to phone calls and video conferences until June of this year.
With club tournaments and showcase events at a minimum, and coaches unable to have face-to-face contact with prospective college players, Gambino didn't have the stress that typically comes with recruiting and the decision of where to play college soccer.
"It kind of helped me, in a way, because everyone was stopped and I could have that time to rehab, while no one else was being watched," said Gambino, who chose Clemson over Providence and Syracuse. "It was bad, because Covid is bad. But it was a positive for me.
"It's helpful I had that time to recover."
St. Mary's coach Brittany Heist knew Gambino wanted to play for the Lancers last season, but knew not to push Gambino to play at the expense of her future in soccer.
"By the fall, she was not going to be quite on pace to play a high school season," Heist said. "Junior year is a big year for recruiting. For her to be healthy and to be prepared for winter showcases and spring club soccer was more important. To her to have her recovery and for her to have a successful club season, she put herself in a really good spot."
Gambino, Heist said, prioritized her recovery following the surgery, which meant sometimes missing practices or games in order to go to a physical therapy session.  
"Every game she could make it, she made it," Heist said. "I told her, 'You need to do what makes the most sense for you to get better, if it means standing on the sidelines and participating in warmups, but at the end of the day, it's about making sure you put your body first to prepare for what is next.' "
When she rejoined her club team for her first practice, 10 months after undergoing surgery, she called it "the best feeling in the world."
"I was there the first day she returned to training, and I can say that Gabby was probably at 30% of what we'd known the old Gabby to be," said Aaran Lines, the Elite Clubs National League director for the WNY Flash. "She persevered, and she came in every day with a smile on her face, happy to be back out there. Every week we saw progress."
Lines said he asked her at least three times during that first training session, "are you OK?" Gambino had to improve her running gait, and she had to improve her strength to get back to becoming one of the region's top players.
"I can only imagine from Gabby's perspective, the patience she had to show during that time," Lines said. "She always had the belief she could get back there as long as she could stay healthy."
She stayed healthy, and verbally committed to Clemson at the end of July.
St. Mary's opened the season with victories in the New York State High School Girls Soccer Hall of Fame Tournament last weekend in the Albany area against MacArthur from Section VIII and Schalmont from Section II. Gambino had two goals and two assists in a 5-1 win against MacArthur and added two more goals and an assist in a 6-2 victory against Schalmont.
The Lancers play Sacred Heart at Pierce Field on Thursday to open the Monsignor Martin season.
Gambino is among 15 girls players from the state on the preseason watch list for December's High School All-American Game.
"I had missed playing so much and after a while, I didn't realize how much I took it for granted," Gambino said. "Soccer is one of the most important things in my life, so being out for that long really makes you appreciate when you're actually playing."