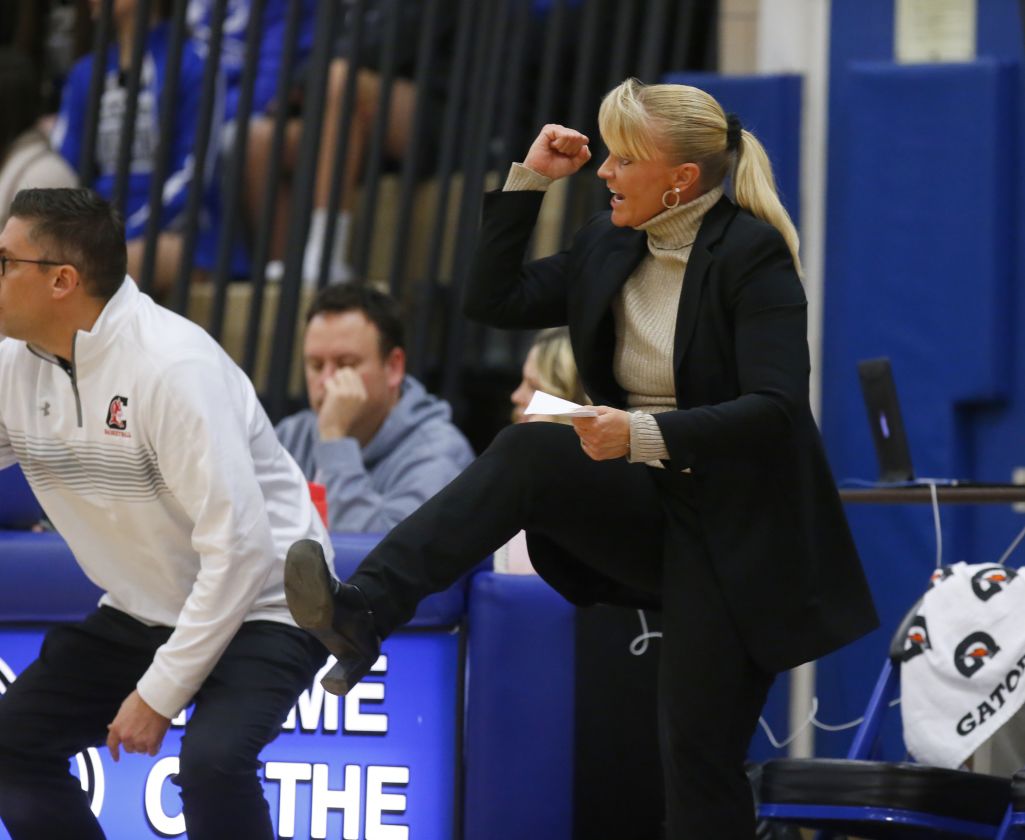 Denise Dove Ianello will transition from coaching high school boys basketball to coaching high school girls basketball.
She was an assistant coach with the Clarence boys basketball team for the last three seasons, and this week she joined the girls basketball program at St. Mary's of Lancaster, where she will be an associate head coach on Anthony Ottomano's staff.
However, Ianello doesn't see herself changing her demeanor or her approach as a coach.
Denise Dove Ianello is in her second season as assistant coach on the Clarence boys basketball team, and her son Zach, who is on the team, says "I never call her 'mom'" while she's
"I'm going to be that same, high-energy coach," Ianello said. "I'm a teacher, and I take a lot of pride in teaching the game. It helps players get better, to develop and become the best they can be. I don't look at coaching boys versus coaching girls any differently."
Ianello is a former Northern Illinois point guard who was an associate head coach and a recruiting coordinator for the Arizona women's basketball team from 1992 to 2003, and was an assistant at Wisconsin from 2003 to 2005. She was also a WNBA scout for five years while working with the Notre Dame women's basketball team.
Ianello was part of the boys basketball coaching staff at Clarence, where her son, Zach, was a forward/guard for the Red Devils, who finished 12-6 this season. Zach Ianello was named the ECIC Division 1 boys basketball player of the year this season, and plans to spend a post-graduate year at St. Thomas More School in Oakdale, Conn., where he will play basketball.
Ianello's husband, Rob, is an associate head coach, recruiting coordinator and tight ends coach with the University at Buffalo football program. Her oldest daughter, Ashley, will be a freshman at St. Mary's this fall, and plans to join the girls basketball program as a guard.
"I think it's an amazing, amazing opportunity for St. Mary's and our team," St. Mary's guard Shay Ciezki told The News in a text message. "Her experience in women's basketball is huge, and the impact she made in both college and WNBA will for sure benefit the team. I'm really excited for me and her, to really digest the game."
A familiar face once again is the top dog in Section VI's highest classification, as Niagara Falls beat Clarence.
With Clarence, Denise Ianello coached and coordinated scouting reports and broke down film of opponents, something she will continue to do on Ottomano's staff at St. Mary's, a program that is one of the top girls basketball programs in the Monsignor Martin High School Athletic Association. St. Mary's finished 11-3 this season and was second in the Buffalo News girls basketball large schools' poll, behind Cardinal O'Hara.
"It was a hard decision to leave Clarence," she said. "The timing worked out, with Zach graduating and Ashley entering high school. I fell in love with Clarence and coaching the boys and working with (boys basketball coach) Doug Ratka, so before I can even begin looking at what we can do at St. Mary's, I have to look at the amazing memories I have with the Clarence boys basketball program.