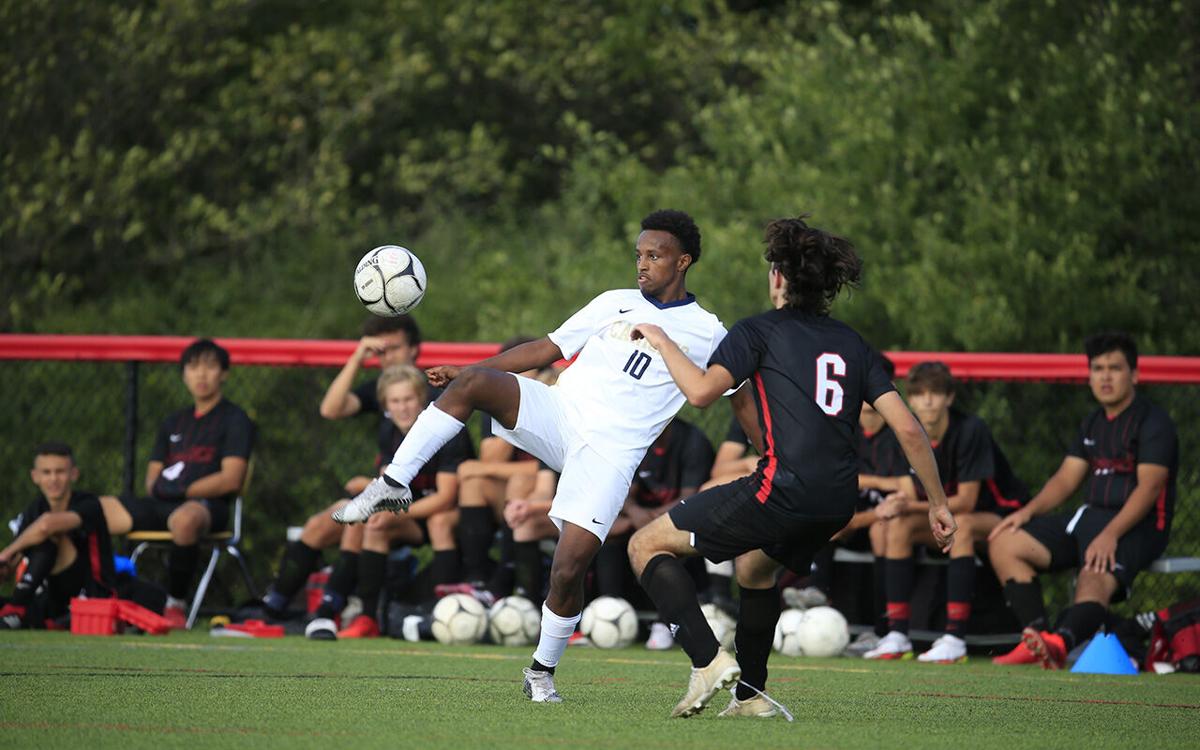 A scoreless draw in soccer doesn't sound exciting, but some who were at Clarence High School on Tuesday insist the match between the Clarence Red Devils and the Canisius Crusaders was far from dull.
"It was one of the most eventful uneventful games I've ever been involved with," Clarence's first-year head coach Andrew Gates said.
Canisius coach Joe Salem also is in his first year, so the draw is the first blemish on either coach's record.
"It was exciting as it can be," Salem said. "Sometimes in soccer, those are the best games. It was a fun game, great weather out there and I was very pleased with the performance."
Clarence is 2-0-1 after previous wins over defending Monsignor Martin Athletic Association champion Nichols and St. Joe's. Canisius, which lost to Nichols in last season's Monsignor Martin championship game, had beaten Orchard Park in its only other game.
Williamsville East wasted little time getting the jump on host Amherst, as the Flames scored thrice during the opening 12:17 and cruised to a 5-0 girls soccer triumph over their ECIC II rival Thursday night at Dimp Wagner Field.
The Red Devils and Crusaders had not met on the pitch since Canisius took a 1-0 triumph in 2012. That Clarence team went on to a win a Section VI championship and Canisius had a successful season, too. Although they did not face each other in a regulation match, there had been soccer scrimmages between the schools.
Clarence's Gates was pleased to be able to schedule an opponent as strong as Canisius to prepare for the ECIC season. Clarence has been a dominant soccer power, with nine section championships and three regional titles in this century, plus another section crown in 1998.
Two seasons without a sectional championship is a soccer drought in Clarence.
"Last year was kind of a down year," Gates said. "But at this point, everybody knows what the goal is for us. Some special things can happen for us this year as long as we stay focused."
Gates admits that one of the secrets to Clarence's success over the years is the feeder program provided for Clarence youth, and that has been going on for around 50 years.
Loweecey's Instagram bio stated it late Wednesday night, and multiple parents confirmed he ran the Flames' practice earlier in the day.
According to Gates, Tuesday's game was not a case of dull defensive soccer.
"There were opportunities for both teams. It was just a case of not finishing," Gates said.
The game attracted an energetic crowd at Clarence's multi-use turf field after the uncertainty caused by Covid-19 protocols kept crowds down last season. Gates estimated that around 300 Red Devils rooters were on hand. The Canisius "Blue Crew," a spirited group, was there, too.
"You could hear them," Gates said of the Crusader rooters. "It seemed the crowd affected the flow of the game."
The shots were virtually even, with Clarence having an 8-7 edge, according to Gates.
The Williamsville East girls soccer team isn't happy with the lack of respect being shown to former coach Chris Durr.
Clarence sophomore forward Evan Webster, who scored four goals in the first two games, including three against Nichols, was kept off the scoresheet, but had two excellent scoring chances.
"Hit the crossbar with one and just couldn't get his foot on the ball in the other," Gates said.
Canisius had its standouts, too.
"Ermeyes Aman was pretty dangerous for us," Salem said, "and Vic Mazzara also was very good." Both are seniors.
Junior John Scalisi was the goalkeeper for Canisius in the first half, and senior Cody Franklin took over in the second. Senior Matthew Slowinski was in goal for Clarence.
Clarence will head into ECIC I play against Orchard Park on Thursday. Canisius will travel to Erie High School in Pennsylvania for a nonleague game on Friday.