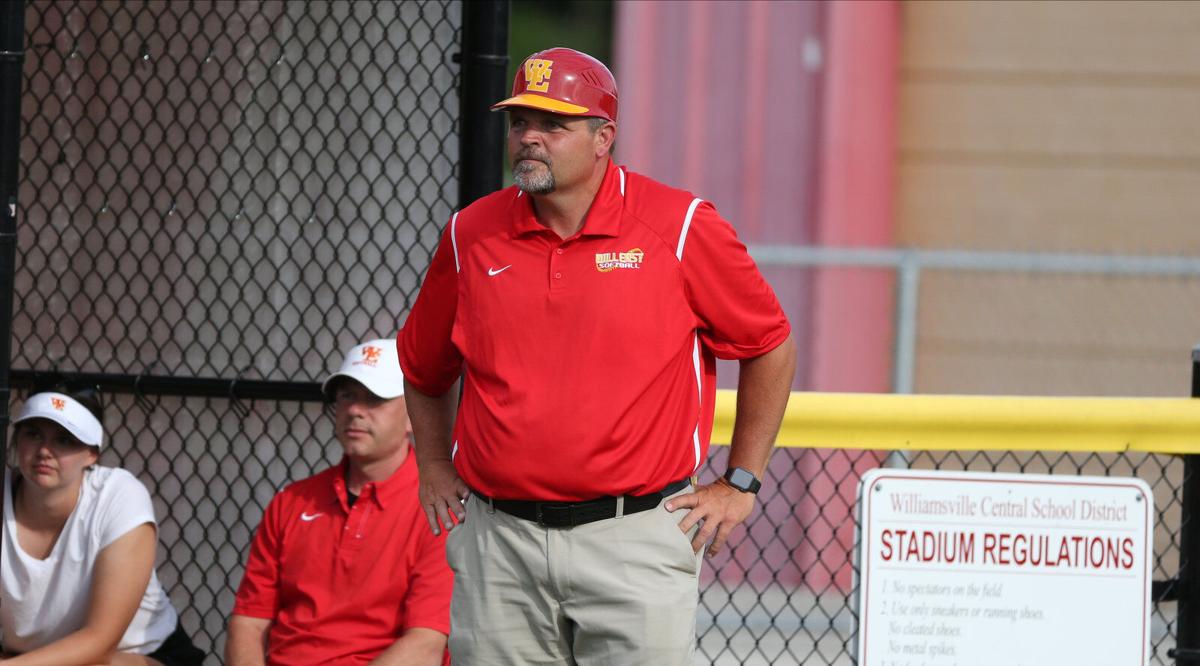 The supporters of former Williamsville East girls soccer coach Chris Durr accept the fact there's no bringing him back as pilot this season.
They don't accept the fact that the Williamsville School Board continues to refuse to shed light on the matter, despite the scolding they delivered Tuesday to the membership during the board's monthly meeting at the district office.
Deposed Williamsville East girls soccer coach Chris Durr has plenty of supporters attempting to do whatever they can to convince Williamsville School Board members that he deserves to keep his job.
Furthermore, they are concerned about the potential precedent set by the board's decision not to appoint a coach recommended by district administrators. They believe it opens the door for another potentially disgruntled parent to go over the head of the school's athletic director or principal in dealing with a potential problem.
Whether it actually does, the board said nothing, as is its standard practice not to comment on personnel matters. Prior to the public comments, a board member reminded folks its policy for members not to respond to questions or remarks during the public expression portion of the meeting. It responds via email or has a specific member respond after the board has had time to process the comment.
One parent who spoke Tuesday on Durr's behalf doesn't believe the board will ever provide a reason.
Parents want a better answer. So, too, does another district coach, along with others in the…
"I think I have a better chance to start for Josh Allen on Sunday," John Comerford said. "I don't think they'll get back to us. They're cowards. They were so uptight they didn't want us to use his name (Chris Durr) during public comments. I think the four people who didn't vote were laughable."
Parents have been upset for more than a month since the school board for undisclosed reasons did not appoint Durr for his 28th season at the helm, even though he was the recommended candidate for the job by three district administrators – including overall district athletic director Steve Mucica and East Athletic Director Nicholas Suchyna.
Mucica and Suchyna coached the team during its first two practices until the district appointed an acting coach, Paul Loweecey, who was officially appointed head coach during Tuesday's meeting.
Parents were so upset that several showed up at the meeting either with No. 79 taped on T-shirts or written on masks. Remember, Durr was item No. 79 among the proposed coach appointments at the last meeting. He was the only recommended candidate on the list not approved by the board. Of the eight members who voted, four decided no and four abstained from the process.
"I am here speaking to you about potential respectful steps which might have happened before your vote stripped him, one of the winningest coaches in Western New York, of his coaching position," friend and Durr teaching colleague Jennifer Ehmann said. "One phone call out of respect for his 28 years of service, one meeting with him and his three administrators who gave him positive evaluations. … He's done nothing but champion and nurture the students and the athletes and coaches."
The Williamsville East girls soccer team isn't happy with the lack of respect being shown to former coach Chris Durr.
Durr, who was not at the meeting, declined comment.
He continues to teach physical education at Williamsville East, which led Pam Brunskill, a parent of two soccer players, to ask why he isn't coaching 20 students on the soccer team if he's trusted enough to be around more than 100 students daily.
"Individuals in the community now believe that if they have a problem with someone in the schools, they can complain to the board," Brunskill said. "If there's a handful of parents who are lucky enough to have a friend or relative who is on that board, those concerns will be heeded. And that board member doesn't need to abstain. That's a very dangerous precedent. It sends a signal that not all in our community are equal. Quite frankly, we deserve an explanation for the board's decision."
Brunskill also said Tuesday that two years ago the board granted a request by parents for an emergency meeting after several players had been found in violation of the team's code of conduct. Brunskill and several other families made a similar request of this board to discuss the Durr situation but did not receive a response.
Comerford, an attorney, sounded as if he was delivering a closing statement during his 3-minute turn at the mic, reading off Durr's accomplishments.
"After 27 years, you fired him like a Civil War cannon. It's disgraceful. ... This board is outrageous. To sit here and talk about civics. ... The school board should be the bedrock of our republic, honest and transparent."