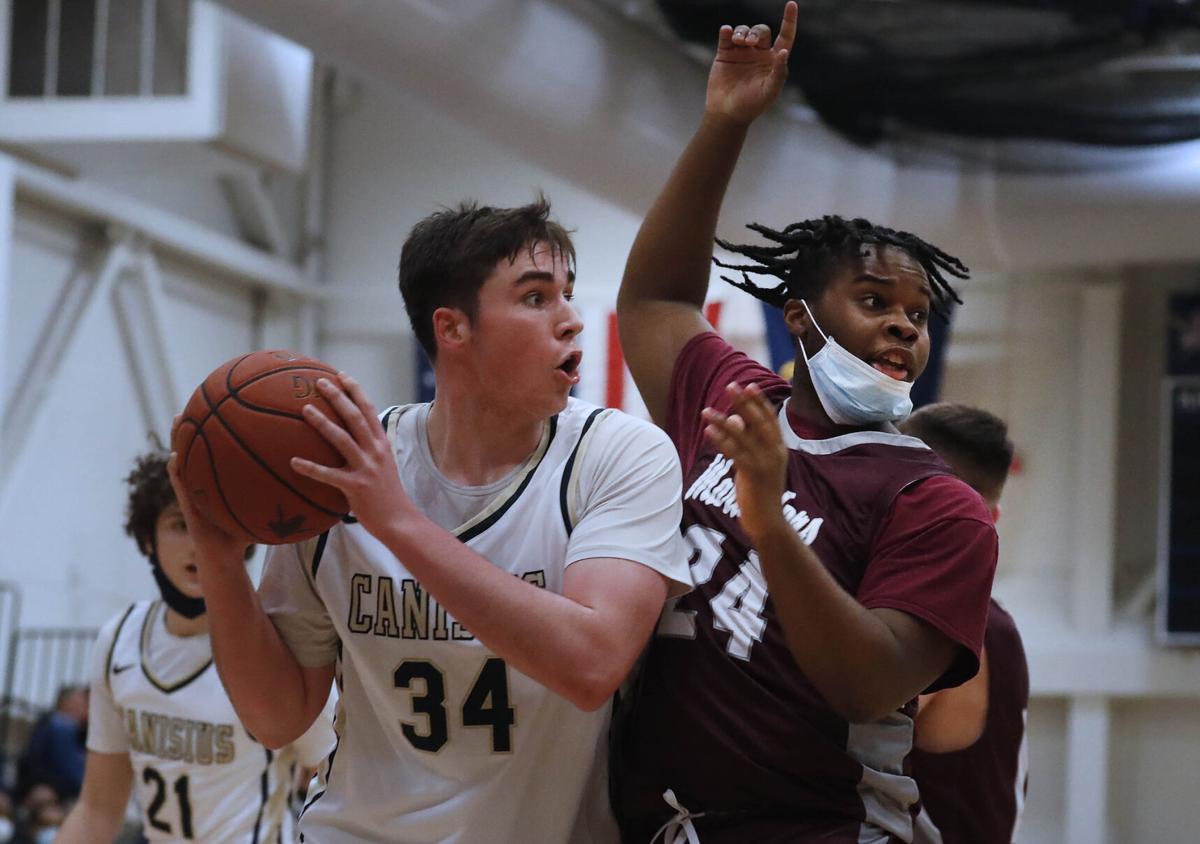 Declan Ryan started grabbing folding chairs and stacking them one by one onto a storage rack in the moments after the Canisius High School boys basketball team's 65-59 win against St. Joseph's Collegiate Institute.
It's customary for the Crusaders to break down the bench areas after games at Bernard J. Kennedy Field House. But for Ryan, it was simply a continuation of his ability to get a job done.
The 6-foot-7 center scored 30 points, including 16 in the third quarter, and his rebounding efforts helped the Crusaders (7-3) create necessary separation against their Monsignor Martin rivals.
Ryan's third-quarter output came after he took two fouls in the first half, and had to watch from the bench as the No. 5 Marauders (5-6) and the Crusaders matched each other almost shot for shot, with neither team ahead by more than four in the first quarter.
"That third quarter, I wanted to come out and bring energy to my team," said Ryan, whose team is No. 1 in this week's Buffalo News large-school boys basketball poll. "I wanted to be able to uplift the team. We were down by one and we shouldn't have been."
The large school came out the victor as host Canisius beat Bishop Timon-St. Jude, 61-51, in a Monsignor Martin matchup.
The Monsignor Martin Athletic Association game Wednesday was without some of its boisterousness, as Canisius limited capacity at Kennedy Field House due to the increase in the number of local Covid-19 cases.
The game itself, though, still brought the energy – exactly what Marauders coach Gabe Michael anticipated.
"Every time we play," Michael said. "It's just the rivalry. Everyone's so amped up and we're two really proud and good programs that know each other really well. (Canisius coach) Kyle (Husband) knows everything we do and we know everything they do, and the guys all know each other. It's going to be a rowdy crowd and everybody is pumped up to play. I think the biggest margin of victory in these games has been 12 or 13 points in the four years I've been at St. Joe's."
A 3-pointer by Justin Glover (19 points) opened the Marauders' lead to 21-17 2 1/2 minutes into the second, and the Marauders maintained at least a two-point lead for the next two minutes, until Shane Cercone's 3-pointer forced St. Joe's to call a timeout with 3:31 left in the half, ahead only 23-22.
Cercone scored 15 of his 16 points in the first half.
The Frannies bounced back from a tough loss to Nichols in Monsignor Martin play the night before to hand CBA its first loss since it was beaten by Bishop Grimes on Jan. 14, 2020.
"When I'm out, or when we need something, in fast breaks, he's really good," Ryan said of Cercone. "It brings energy to our team and he gets the steals and pushes the pace for us."
Out of the timeout, Samuel Greco's 3-pointer, followed by John Grable's layup off a steal, opened the Marauders' lead to 28-22, but again, the Crusaders chipped away and pulled within one on Luke Granto's 3-pointer with 1:47 left in the half. Granto's shot, though, was the last successful field goal of the half, and gave the Crusaders a 28-27 lead at halftime.
But Ryan asserted himself in the second half. His three-point play with 3:38 left in the third broke a 38-38 tie and kicked off an 11-0 run by the Crusaders. Inside of that run, Ryan made a 3-pointer with 1:24 left in the third, and completed a three-point play with 57.5 seconds left that helped the Crusaders take a 52-42 lead into the fourth.
The Marauders, meanwhile, made only four shots in the third.
"They were making it tough for us to finish at the basket," Michael said. "We're kind of a make-or-miss team, meaning that we shoot a ton of 3s, and they've got to go in or not. Sometimes, it's just the game, and we got some great looks that didn't go, and they really took care of the ball in the third quarter."
Meet the top players from WNY on the 2021 boys basketball honor roll.
The Marauders, though, cut Canisius' lead to five in the first three minutes of the fourth, before Ryan answered again, with back-to-back baskets, including a layup off his own rebound with 4:25 left that gave Canisius a 57-48 lead. But the Crusaders called a timeout with 3:27 left after Solomon Jackson III's second 3-pointer of the fourth, which again narrowed Canisius' lead to five, at 59-54.
Lucas Ingrando, though, fouled Isaiah Odom, and Odom's three-point play brought St. Joe's within two at 59-57, 15 seconds after the timeout. Then, Jackson's dunk off a steal with 1:17 left cut Canisius' lead to 61-59.
But with less than a minute left, Granto's 3-pointer, off a pass from inside by Ryan, gave the Crusaders a 5-point lead – and some breathing room.
"We stayed calm," Ryan said of the final two minutes. "Instead of going into the momentum of their team, we stayed calm and were able to handle their pressure."