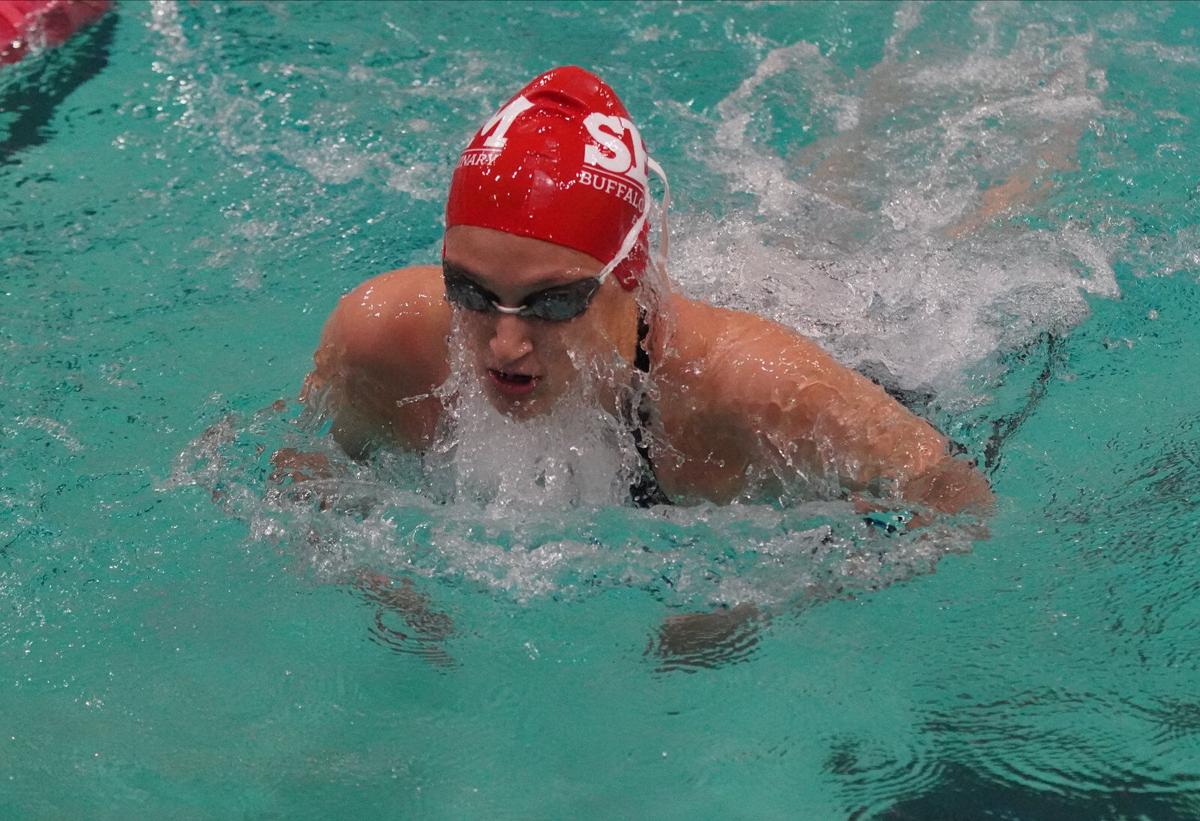 ITHACA – Elle Noecker and Alexis Trietley figured to be in the hunt for state titles at Saturday's New York State Public High School Athletic Association and Federation swimming championships.
Trietley, an Olean senior headed to Colorado State, won the 100-yard freestyle and added a second in the 50-yard freestyle, and Noecker, a Buffalo Seminary sophomore, was second in the 200-yard IM and the 100-yard breaststroke.
"It's amazing knowing all my hard work paid off," Trietley said after winning the 100 gold by .85 seconds with a time of 50.54. "I can't believe I broke 51 seconds!"
Before an overflow crowd at Ithaca College's pool, the soft-spoken senior did just that to edge Lucy Walker of Ardsley, a Section I school. Trietley trailed by .12 halfway, then had a great sprint for the victory.
"It was a great way to end my senior year," she said as Olean's assistant coach, Ben Wright, beamed.
"People don't know the dedication it takes to get to this point," Wright said. "Lex has been working for this since she was 7 years old. I'm extremely proud of her."
Trietley came up just short in the 50, despite posting a 23.13. Sabrina Johns of Section I's Horace Greeley won the race in 22.85. 
"It was great to be here with my teammates," Trietley said of the camaraderie between all Western New York swimmers.
Noecker teamed with Gretchen Gwitt, Lauren Levy and Sophie Noecker to help Buffalo Seminary place third in the opening race, the 200 medley relay, while Section XI's Northport-Commack won and Orchard Park was fourth in the NYSPHSAA standings.
"I was so excited," Elle Noecker said. "It's been such a fantastic season."
She then took second against N-C's Denise Phelan, one of the few multiple winners at the meet, in the 200 IM. Noecker clocked a 2:02.61 to Phelan's record-setting 1:59.95. Phelan edged her in the 100 breaststroke, 1:01.07 to 1:03.62.
Hamburg's Jess Humby was third in the 100 breaststroke, one of the fastest races of the day.
"I'm over the moon about it," Humby said after her final state meet ended with her best effort. "And I'm glad to have the Section VI team cheering me."
There was plenty of that right from the start as the Western New York contingent – Section VI and the CHSAA athletes – supported each other from the opening relay.
"It was a strenuous race," Orchard Park's Mia Bogulski said of the 200 medley relay showdown against Northport-Commack, Buffalo Seminary, Burnt Hills/Scotia-Glenville and others. "But it felt really good. I was super-hyped for it."
Everyone was, especially since the 2020 state meet was canceled due to the pandemic. 
"I wanted the team to place as high as possible," relay anchor Emily Blake said after Orchard Park was just 2.13 seconds behind the winners. "I felt some pressure, but I was more excited."
The start was exciting as Isabella Mikulec and Natalie Kassirer kept Orchard Park within striking distance as each posted her best time. The sophomores teamed to clock a 56.43 for the first half of the race, just 1.1 seconds behind the N-C team.
"It was a good way to start the race," Mikulec said
"I was trying to race the girl next to me," Kassirer, the relay team's lone sophomore, said. "I was really nervous."
It didn't hurt the effort as the Orchard Park relay team was on pace to set a season's best time for the year. Despite Blake having one of the best times of the 10 anchors, she could not make up enough ground and the team settled for fifth overall, fourth among public schools.
"It was a good way to end it," Blake said of the fast finish to the race, "(and) our careers."
Orchard Park finished eighth in the 400 free relay in 3:37.97 for its second top-10 finish. Freshman Penelope Choroser swam the first leg and three seniors followed in Mikulec, Blake and Bogulski.