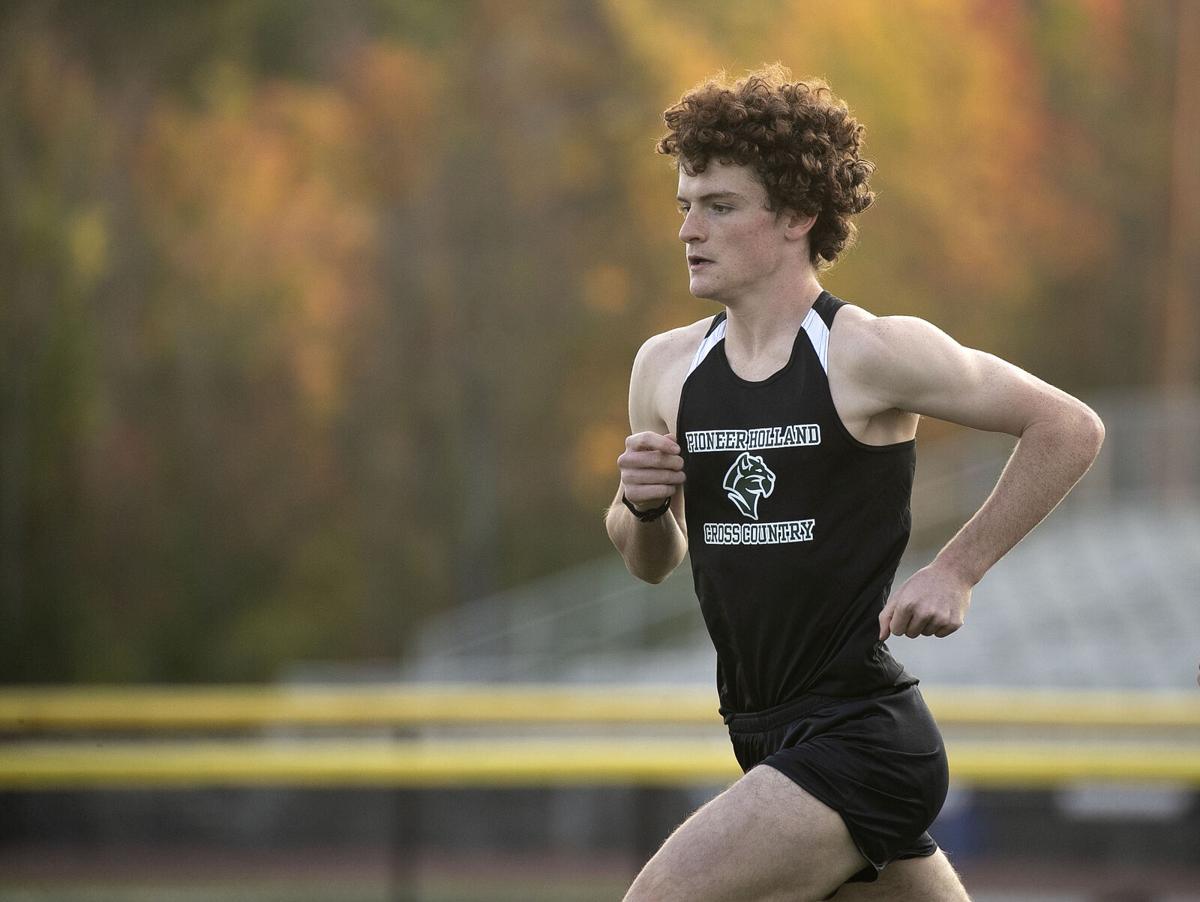 "Be True to Your School," the Beach Boys once sang. That ethic has been part of high school sports probably as long as Riverdale High, Archie, Jughead, Betty and Veronica.
But if you're cross-country runner Brody Jones, which school are you true to?
Jones is a junior at Holland Central School, but when he runs, his uniform bears a PH monogram, for Pioneer and Holland because the team combines athletes from the two schools.
That divided loyalty probably seems awkward to those brought up in traditional old-school ways.
Jones, the Section VI Class B runner-up in 2019, doesn't see it as unusual at all.
"We don't know anything different. The kids at Pioneer feel more like my teammates than the Holland kids," said Jones, who based on his accomplishments last year, might be the best returning runner in Section VI.
Jones is undefeated in his dual-meet runs at East Aurora and Maryvale this season with two meets left before the ECIC championships on Oct. 30 and Nov. 1 on the East Aurora High course and the sectional meets Nov. 14-15 at the Bemus Point Golf Club course in Chautauqua County. The state and federation meets for this season have been canceled because of the Covid-19 outbreak.
Jones doesn't claim to be in top form yet.
"I'm probably the fittest I've been right now, but its not showing in my times," Jones said. "This summer I concentrated more on strength training and conditioning than just running. I'm in good shape, but it usually takes me a until later to get my times down.
"I know it will come eventually. I want to improve my times by the end of the season. I want to get to 15:30 for 3 miles and 16 for 5K.
Four of the six runners named first team All-Western New York in boys cross-country last fall have graduated and moved on. The two remaining are Jones and Kyle Urban of Alden. They were co-sophomore runners of the year in WNY in 2019 and each won an ECIC championship.
Jones won last year's overall ECIC and Class B runs in 15 minutes, 25.60 seconds over a 3-mile course at Knox Farm in East Aurora. Urban was the Class C winner and second overall in 15.33.04.
In the Section VI run over 3.1 miles, Jones finished second in 16:36.99 in the Class B race, 3.75 seconds behind champion Vinny Pagliaccio of West Seneca East. Pagliaccio has graduated. Urban was the sectional Class C winner in 16:37.73.
Jones finished 11th in the New York State Public High School Athletic Association Class B race in 15:09.9 for 3 miles. 
Jones is a leading candidate for WNY Runner of the Year, although there is no shortage of contenders. In addition to Urban, Zach Winnicki of Lancaster, Joshua Peron of Frontier, Jack Lenz of Amherst and Jack Heraty of Orchard Park are among the region's best. And, one of East Aurora's usual fleet will join the top tier.
There is friendly rivalry among the top runners.
"I've been training with a lot of the best runners in the section and have talked to them all personally," Jones said. "We're competitors, but we all look out for each other. It's one of the friendlier sports."
Jones is familiar with the East Aurora course, having competed there and trained there, and he's excited about Bemus Point as the sectional course.
"I ran in the sectionals at Bemus my freshman and eighth-grade years," Jones said. "I like that course. It brings back good memories. I've always raced real well there."
Jones played other sports when he was younger but concentrating on running – he ran the 3,200 in indoor track last winter – seemed only natural.
His oldest sister, Kasey, was a cross-country and steeplechase champion at Edinboro University. Another sister, Riley, and a brother, Zach, are on the track teams at the University at Buffalo. Riley is a distance runner. Zach was a sectional 400 meter hurdles champion and a pentathlete at Holland.
"There's a lot of running my family," Brody said, "but it was not like I was forced into it. When I got to seventh grade, though, I kind of gravitated to it."
Jones is one of only three Holland students on the Pioneer/Holland combined team. The runners from the two schools run together at Pioneer sometimes or in public areas. Naturally, there is some commuting back and forth.
Although cross-country is an individual sport, there is cooperation among teammates and the spirit of one runner trying to motivate another. It's sort of a brotherhood.
"I think a lot of guys go off of each other," Jones said. "A lot of the newer kids don't have as much experience. There's a little bit of a learning curve going on right now."
Jones and Jerad Hediger used to challenge each other as the top runners on the team last year. Hediger was third behind Jones in the Section VI meet. Hediger has graduated as have two other standouts from last year's team and another runner, Cody Scholl, did not come out for the team this year. Still, coach Mary Doud, who teaches physical education at Pioneer, should have a team that will be competitive in the scoring in the ECIC and sectional meets with Jones and Bryce Schoepflin leading the way.
Pioneer finished second to perennial power East Aurora in the Section VI Class B team scoring a year ago.
Catching up to East Aurora will not be easy, despite the Blue Devils' graduation losses. EA has won the sectionals all but three times this century and had captured 19 consecutive divisional titles.