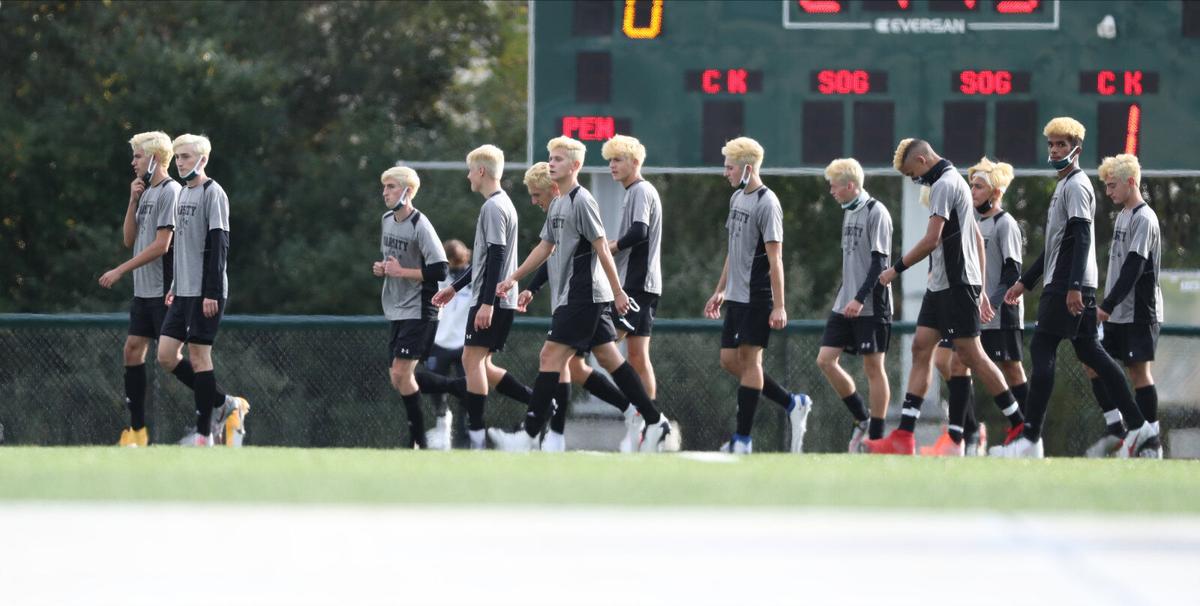 It's hard to miss Williamsville North boys soccer players on the pitch.
The bright bleached-blond locks each player sports during this time of year serves as a dead giveaway that they are the Spartans (or "Blonds" as they call themselves on Twitter), not the road-white or home-dark uniforms they wear on game days.
The decision to move ahead with fall sports in the state means the tradition continues for another uninterrupted year at Williamsville North, as those who make the varsity soccer team bleach their hair blond. That also means there's a sense of normalcy within the boys' soccer community during this unusual season featuring a late start and finish, but no New York State Public High School Athletic Association championship tournament.
"You can't think of Williamsville North without thinking of blond hair," said 20th-year Clarence coach Mike Silverstein. "It's part of their ritual. It's been there ever since I've been here."
The dye jobs take place after the Spartans are done with tryouts and the season-opening roster has been finalized. 
North's team captains each year organize a supervised gathering at a home, where teammates show up for a gala featuring food and hair dye. The moms mix the hair dye, according to co-captain and junior midfielder Ryan Bailey. That way, no one has to worry about someone accidentally having their hair turn green.
"It's kind of something that they look forward to; the final day of cuts, they plan the bleaching," said 10th-year coach Dave LaMastra, who doesn't know who started the tradition. "It's like a rite of passage for these guys. It's kind of a big deal. It gets them close together and keeps them connected.
"They plan it on their own. The captains take it among themselves to do it every year."
It's a bonding experience, and that's the point of North players doing it every season. A team must be on the same page if it wants to attain success. Thus far, North is off to a 2-0 start, with wins over league rivals Orchard Park and Frontier.
Go into another team's facility, and the guests are easy to recognize.
"It's just the team's identity. It brings everyone closer," senior defender Jacob Adelman said. "When you go out, everyone knows who we are. You have to wear it proudly."
It should be noted that getting the dye job is optional. Last season and this year, every player on the team opted to go blond. In 2018, not everyone got the paint job. And that's OK. It's about having fun bonding, not getting in trouble for going against parents' wishes.
Adelman recalls the excitement of learning he made varsity, and soon would be sporting a badge of honor.
"When you play JV, you look up to the Blonds," he said. "It's motivation (to get better). Everyone wants to do it."
"It's always a good time and soccer season is always fun," Bailey said.
While the goal every year is to compete for the Section VI title, it's easier said than done, with Class AA being a gauntlet. It figures to be the same this year, but the Spartans have extra motivation to win their first crown since 2015.
That was the last time LaMastra dyed his hair blond. The salt-and-pepper haired coach only gets bleached if North wins sectionals.
North is off to a good start in league play, but ECIC I figures to be its usual dog fight. Lancaster is the reigning Section VI Class AA champion, while Clarence is searching for its sixth section title in nine years and fourth in five seasons. Silverstein said the Red Devils have seven newcomers in the starting lineup.
Last year's section runner-up, Orchard Park, drew the tough opening schedule. It has lost to Williamsville North, Lancaster and Clarence each by a goal. North scored with 4 seconds left, while Lancaster scored 4 minutes into overtime. Nonetheless, the Quakers could be one of the final four teams standing, as each of those defeats have come on the road. They should be battle tested by the time sectionals roll around, as they play Monsignor Martin champion St. Joe's, runner-up Nichols and St. Francis in nonleague clashes.
Season information
The season has begun for most teams who started practice on or around Sept. 21.
Teams can play up to 16 regular-season games. The Section VI seeding meeting is 10 a.m. on Nov. 7.
The playoffs begin with pre-quarterfinals Nov. 9. The section finals will be Nov. 18-21, with the highest remaining seed serving as host.
This year, teams must have a .500 record or better to qualify for the playoffs, according to Williamsville East coach Tony Schippa. There will be just an overall Class A champion, as there won't be a Class A-1 or A-2 bracket.
Robey earns first win
The Chris Robey era at Kenmore East began on a triumphant note as the Bulldogs defeated CSAT 6-0 on Monday. Nick Insinnia and Spencer Raybuck each scored three goals. Robey succeeds Rolfe Freidenberg, who stepped down after 13 seasons as varsity coach to spend more time with his own children and watch them play sports.