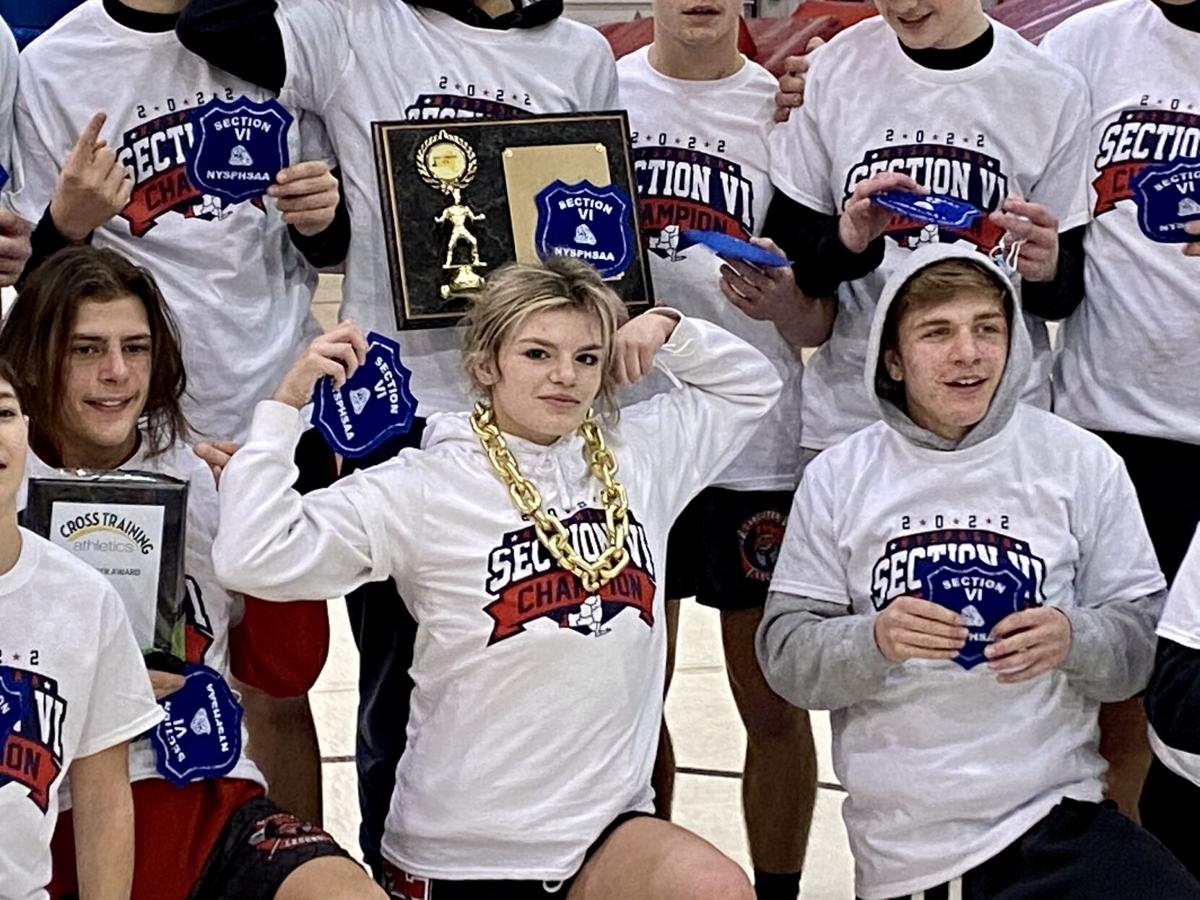 Gold glistened around the neck of Trista Blasz after she secured a trailblazing victory for herself, her team, and gender equality in her sport.
An emphatic pinfall win by Blasz in the closing match clinched the Division I title for host Lancaster on Saturday in the Section VI Dual Meet Team Championships.
"The sickest female win we've ever seen," senior captain Myles Gronowski said.
A freshman who has been on the boys team since seventh grade but was initially not allowed to compete for junior varsity by the district's chief medical officer, Blasz said she was nervous going into Saturday's championship match, but proud coming out of it.
"It feels nice just to prove that girls can wrestle, too," Blasz said. "And they should get treated the same as the boys."
Lancaster and Division II champion Newfane will represent Section VI at the NYSPHSAA Duals on Jan. 29 at Onondaga Community College's SRC Arena.
Blasz, who has been battling a knee ligament injury and cut nearly 10 pounds of water weight coming into the tournament, won a 5-0 decision in her semifinal match and needed only to avoid a pinfall loss against Starpoint's Coen Freundschuh at 110 pounds to ensure the Legends winning their second sectional duals crown since 2019.
With a 5-2 lead late in the second period, Blasz seized her opportunity to end her match and give Lancaster six points toward its 38-26 victory.
"He was riding high, so I head-hunted and brought him to his back and pinned," Blasz said. "I just wanted to get off the mat and know that we won. I didn't want to have to keep going on when I knew I could end it."
Coming off the mat, Blasz was presented with the thick, gold, novelty "pin chain" for her decisive victory.
"We weren't supposed to bring it out today," Gronowski said. "But midway through that second period, I was sensing the pin coming, so I had to go to the locker room and grab it."
Lancaster coach Clint Schaefer was confident that Blasz could close out the match.
"There is not someone on our team that I trusted more in that spot," Schaefer said. "She wrestles more than anybody else. It's fitting that it comes down to her and she can get the job done.
"It's a great day for her and a great day for women's wrestling, which is on the rise in New York. I've never seen a girl even win a match at this tournament, let alone win the dual meet for somebody in the section final."
Tommy Carlsen, whose pinfall win over Starpoint's state-ranked heavyweight Matt Caldwell was pivotal to Lancaster's triumph, said Blasz was "incredibly impressive" in her bout.
"It shows how tough she is," said Carlsen, a junior. "That she is a girl wrestling guys out here and she wins the dual for us, that's huge. She's one of the toughest kids in the room, no doubt."
Fourth-seeded Lancaster, which lost by tiebreaker against Niagara Wheatfield at the most recent Section VI duals in 2020, upset No. 1 Niagara Falls, 30-25, in Saturday's semifinal. Had Blasz gotten pinned in the final match, the Legends would have lost again, due to a point deduction for unsportsmanlike conduct earlier in the championship dual.
"We weren't supposed to win this thing," Schaefer said. "The kids showed up and wrestled. It was incredible to watch them come together and compete. They earned it."
Lancaster also got pinfall wins from Michael Schaefer at 160, in just 18 seconds, Evan Stencel at 172, and Carter Tadusz at 138. Winning by decision were Gronoski (7-2) at 132, Micah Harry (8-3) at 152, and Sam Judasz (8-5) at 189.
Starpoint, the second seed, defeated No. 3 Niagara Wheatfield 30-26 in the semis, and provided stiff competition for Lancaster in the finals. Pinfall winners were Thomas Browne at 215, Griffin LaPlante and Kole Haseley at 102. Major decisions went to James Leurer (11-3) at 118 and Gage LaPlante (13-0) at 145.
Top-seeded Newfane won eight of 12 contested matches with six pinfalls to dethrone three-time champion Falconer, 43-24, to claim its first Division II title.
Seventh-grader Brayden Kellison-Neglia moved up in weight for a last-minute pin at 110, and Aiden Harris got a fall at 118 with 22 seconds left. Freshman Ayden Buttery (126) and Aidan Gillings (138) won by pin in the second round. Jakob Lucinski won by major decision (11-2) at 102 and Adam Huntington earned a decision (4-0) at 145.
But it was heavyweights Simon Lingle (215) and Chuck LaRose (285) who put the Panthers over the top with third-round falls.
"They've been our workhorses all this season on top," Newfane coach Matt Lingle said. "We were confident that they would do that for us."
The decisive pin from the long-haired LaRose got the Panthers' sideline jumping as they chanted his nickname, "Bubbles."
"Chuck is an odd fellow," Simon Lingle said. "But he's a really good teammate and a really good wrestler. Securing that win was huge for us.
LaRose was elated to come through with his team depending on him. "When your whole team pushes you and you do good," he said, "it's a really happy feeling."
Newfane received a bye into the finals after third-seeded Portville pulled out of the tournament. No. 2 Falconer defeated No. 3 Iroquois, 39-30, on Saturday to reach the finals for the fourth time in five seasons (last year's tournament was canceled).
Dalton Caldwell won by pinfall at 160 for Falconer, as did Devyn Morrison at 189. Decisions went to Karsen DePasquale (3-2) at 132 and Jacob Clark (9-7) at 152. Brodie Little won by forfeit at 172 because two Newfane wrestlers in that class broke their ankles during practice.
Matt Lingle felt relief and pride in his team finally overcoming the perennial powerhouse.
"Some of these guys have been wrestling all of their lives," Lingle said. "And this is their dream, to be on a team like this and work for something like this."