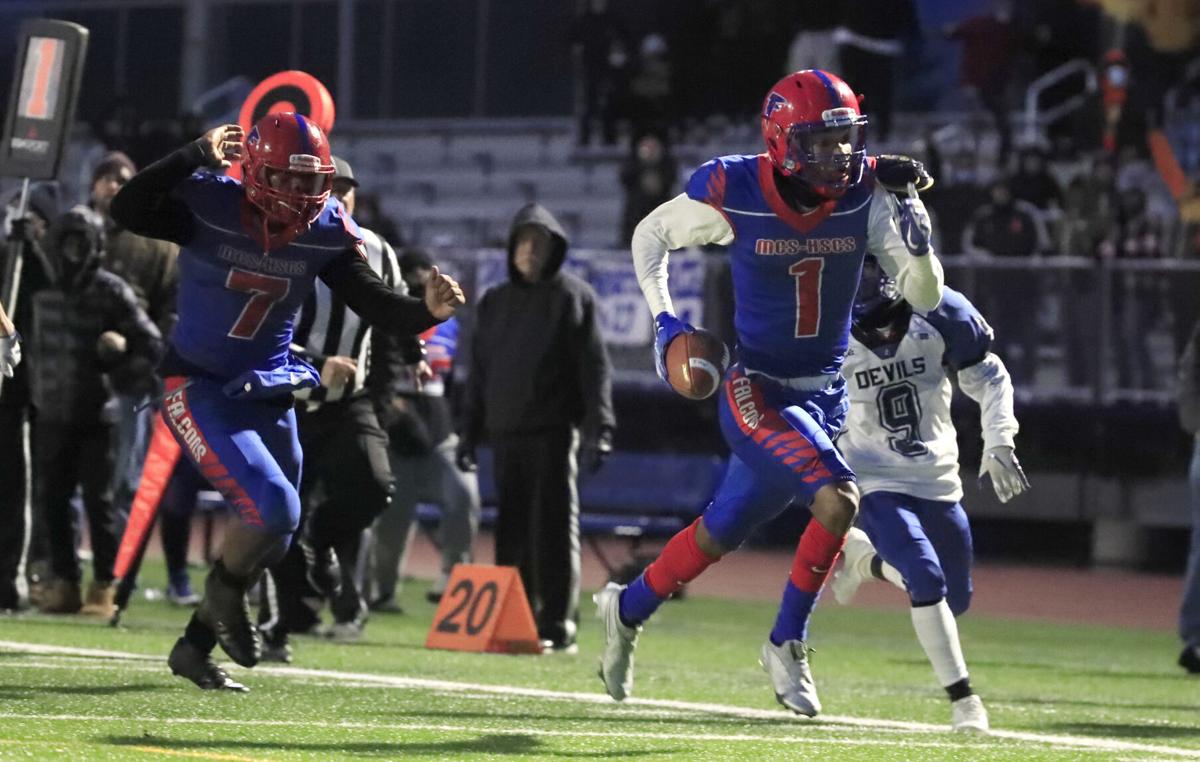 With a little more than two minutes left to play, and WNY Maritime/Health Sciences and Batavia tied, 14-14, a hero was clearly needed to settle the outcome of the Class B Far West Regional.
Addison Copeland of Maritime/Health Sciences answered that call.
"I knew we needed a touchdown," the Falcons' senior wide receiver/defensive back said. "It was either them or us at that point. That series was going to decide the game. I never want to send the seniors that started with me off on a bad foot."
Copeland took off on a spectacular run of 22 yards for a touchdown. Considering the circumstances and stakes, it should be one of the top local plays of the year. The score led Health Sciences (10-2) to a 22-14 win over the Blue Devils (11-1) at Williamsville South High School late Saturday afternoon.
Copeland took a pitch and tried to go to the right side, only to be greeted by a forest of defensive players. It seemed as if the play was going to be a good-sized loss … except Copeland escaped.
"It was like fighting my way out of a labyrinth," he said. "There was a lot of left-right, back-forward. There was a lot of movement, but I got it done."
"That's his athleticism and his speed," Falcons coach Tyree Parker said. "If you don't have that speed, you don't get to the corner. I have to credit his natural ability."
After spinning and heading to the left side of the field, Copeland had more than done his job just by getting back to the line of scrimmage. But he was far from finished. Once Copeland turned the corner, he saw some open space created by a string of blockers.
"I don't know how it happened, but I'm glad it did," he said. "I spun like three times. As soon as I got the breakaway, I saw the end zone. I knew nobody was going to stop me."
Parker added, "I always tell our guys that big guys make big plays at the end of games. Addison is known for that. He's a playmaker."
Copeland somehow slipped through a mass of uniforms from both sides to have clear sailing for the final 10 or so yards, and arrived in the end zone for the winning score.
"I'm so proud of our guys for getting it done," Parker said. "We knew it wasn't going to be an easy game. Tough teams tough it out. In the first few games, we faced a lot of adversity, and those games helped us win this game."
It was a thrilling finish to a wacky game, in which the teams tried all sorts of trick plays and went through joy and disappointment in trying to determine which squad would advance to the semifinals of the state playoffs.
It took 12 seconds for the two teams to send out a signal that this was going to be an unusual first half. Cole Grazioplene of Batavia took the opening kickoff up the middle, and he didn't stop until he had run 77 yards for a touchdown. The extra point gave the Devils a 7-0 lead.
Maritime answered with some flash of its own. The Falcons did not have a passing yard in their last game, but they went deep on their first play from scrimmage. Montrice Webster just missed a connection with Copeland, who said the play motivated him for the rest of the game. After that, the Falcons went back to what they do best: run the ball. It took a while, but Maritime moved down the field one step at a time. Braylen Boyd went 4 yards for the touchdown, and Damien Littleton carried it over on the two-point conversion. The Falcons led, 8-7.
After an exchange of punts, the Devils found their quick strike capability again. Quarterback Jesse Reinhart hit JaVin McFollins all alone down the left sideline, thanks to an obvious blown coverage. McFollins trotted into the end zone, and the kick put Batavia back in front, 14-8, early in the second quarter.
The Falcons answered on their next possession. Copeland had a hand in that drive, too, as he caught an option pass from Zyke Taylor for a 27-yard touchdown. It was 14-14 at the half, and it stayed that way for some time thanks to some big defensive plays and a couple of fumbles. Both teams could have looked back and thought, "if only…"
"In these high-profile games, we've got a lot of young guys on this team," Parker said. "For a lot of our guys, it's the first time they've played in a game of this magnitude. They had the jitters in the first half, and we were careless in our assignments."
Batavia still had time for a comeback after the Falcons' score, but Copeland quickly stopped those thoughts. On the Blue Devils' first play from scrimmage, Reinhart's pass was deflected into the waiting arms of Copeland – as if he didn't have enough to celebrate on the day.
"That was huge," he said. "It was a tough game, and we came out on top."
Now it's on to Cicero-North Syracuse High School to play the Central Region champion Maine Endwell, of Section IV. Maine-Endwell beat Section III champion Homer, 48-22, Saturday.