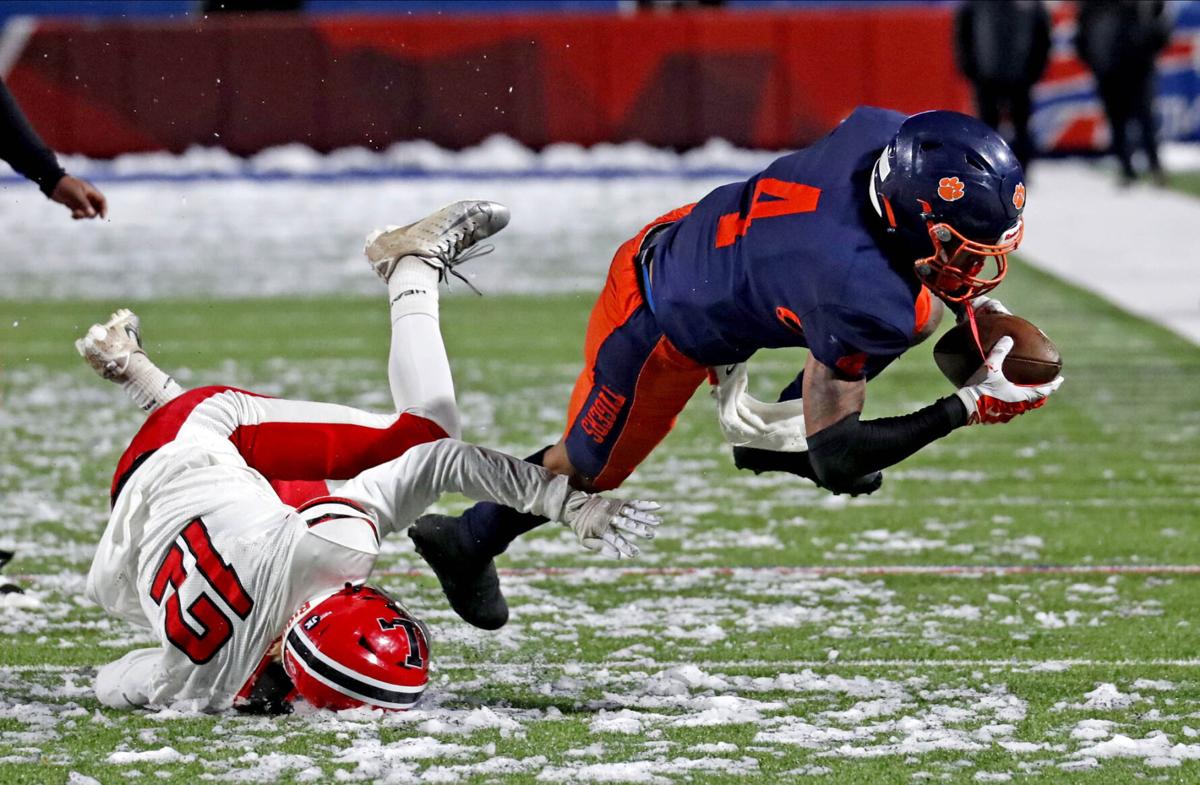 The aftermath of positive tests for Covid-19 within the McQuaid Jesuit High School football team has momentarily stolen the spotlight of the state tournament and is creating a stir, putting the future of the New York State Public High School Athletic Association Class AA Far West Regional game against Bennett in doubt.
McQuaid got a temporary restraining order Saturday against the Erie County Department of Health preventing health officials from precluding McQuaid from participating regardless of vaccination status as long as players had tested negative for three consecutive days.
According to McQuaid, "Some players and an assistant coach had tested positive earlier in the week." That led to the program being placed on pause for 72 hours beginning Tuesday evening.
Erie County Executive Mark Poloncarz announced via Twitter roughly three hours before the scheduled 6:30 p.m. kickoff that the game was being rescheduled. McQuaid Jesuit said players and coaches learned of the postponement from the NYSPHSAA while on buses waiting to leave for the game.
For now, the game is scheduled to be played Tuesday night at 6 at Williamsville South, NYSPHSAA said in a statement.
However late Saturday night, Section VI, on behalf of Bennett, announced it will petition NYSPHSAA to have the game declared a forfeit by McQuaid and have Bennett advance to the Class AA state semifinal next Saturday at Cicero-North Syracuse High School. 
"Although we are sensitive to the virus impacting students and a coaching staff anywhere, it is our position that McQuaid should have traveled to Erie County with the ample number of players that they had available that met ECDOH regulations," Section VI president Brett Banker said in a statement. "Since that did not occur, we will be asking the Executive Director of NYSPHSAA to declare a forfeit and move a very deserving, Bennett High School team forward in the state championships. We intend to cite NYSPHSAA's own language regarding an inability to alter the postseason schedule."
The statement noted the section would seek legal remedy to "advocate for our champion" and that McQuaid needed to comply with Erie County regulations because Section VI was the host section. 
The events leading to the postponement became public Saturday with McQuaid tweeting shortly after noon that the "playing of tonight's football game may be in doubt."
Poloncarz then tweeted after 3 p.m.: "Pursuant to an order from@NYSPHSAA, and in consultation with the @ECDOH and @MonroeHealth Departments, tonight's football game between Bennett HS and McQuaid HS of Rochester is postponed due to a COVID-19 outbreak with McQuaid's team. McQuaid tried to force the game to be played by judicial order, in contravention of health departments standards, but to the credit of @NYSPHSAA they postponed the game until a full court hearing can be held in the next few days. I would have postponed it if necessary."
An Erie County Department of Health spokeswoman said the department has nothing to add beyond Poloncarz's statement.
In its court filing, McQuaid said players who had two consecutive negative tests and were asymptomatic attended practice Friday. McQuaid said county health officials informed the school on Friday that it wanted the players tested again Saturday, which McQuaid agreed to. 
The filing also says McQuaid was informed for the first time Friday evening that Erie County officials would not allow unvaccinated players to participate. "This supplemental, extra-regulatory demand would impose upon McQuaid Jesuit a restriction that would effectively preclude its ability to field a team that could safely participate in the contest," the filing said.
Dr. Robert Zayas, executive director of the NYSPHSAA, confirmed to The News that the Erie County Department of Health wanted to place certain restrictions on McQuaid before allowing them to participate.
McQuaid, noting the same restrictions were not placed on Bennett players, opted to go to the courts.
"The signed temporary restraining order prevents the Erie County Department of Health from enforcing public health Covid regulations," Zayas said. "NYSPHSAA's Championship protocol states the New York State Department of Health and local departments of health will have final jurisdiction over NYSPHAA Regional and State Championship events pertaining to matters of public health.
"NYSPHSAA fully supports the decisions of health experts and will continue to rely upon their guidance, advice and directives involving the health and safety of student-athletes as we continue to address this public health crisis."
McQuaid issued a lengthy statement on the situation, ending with this from school President Rev. Phil Judge, "All of us hope that we can allow our players to safely compete in a game they have worked so hard for. We look forward to that in the near future."
Should the game be played, the winner could be at a disadvantage having just four days to recover while the Central Region champion, either Cicero-North Syracuse or Corning Painted Post, would go into the game at full rest.
It should be noted that Bennett last season had its season end due to being placed on Covid-19 pause before its sectional playoff game against Lancaster, which received the forfeit win and advanced to the sectional final. The Tigers tried to get the game moved to another day when its pause would have ended, but the section declined to reschedule the date stating playoff dates were locked in.
However, the Covid guidelines that season are different than the ones being employed at the moment. It took one positive case last season for a team to be placed on pause for 10 days.