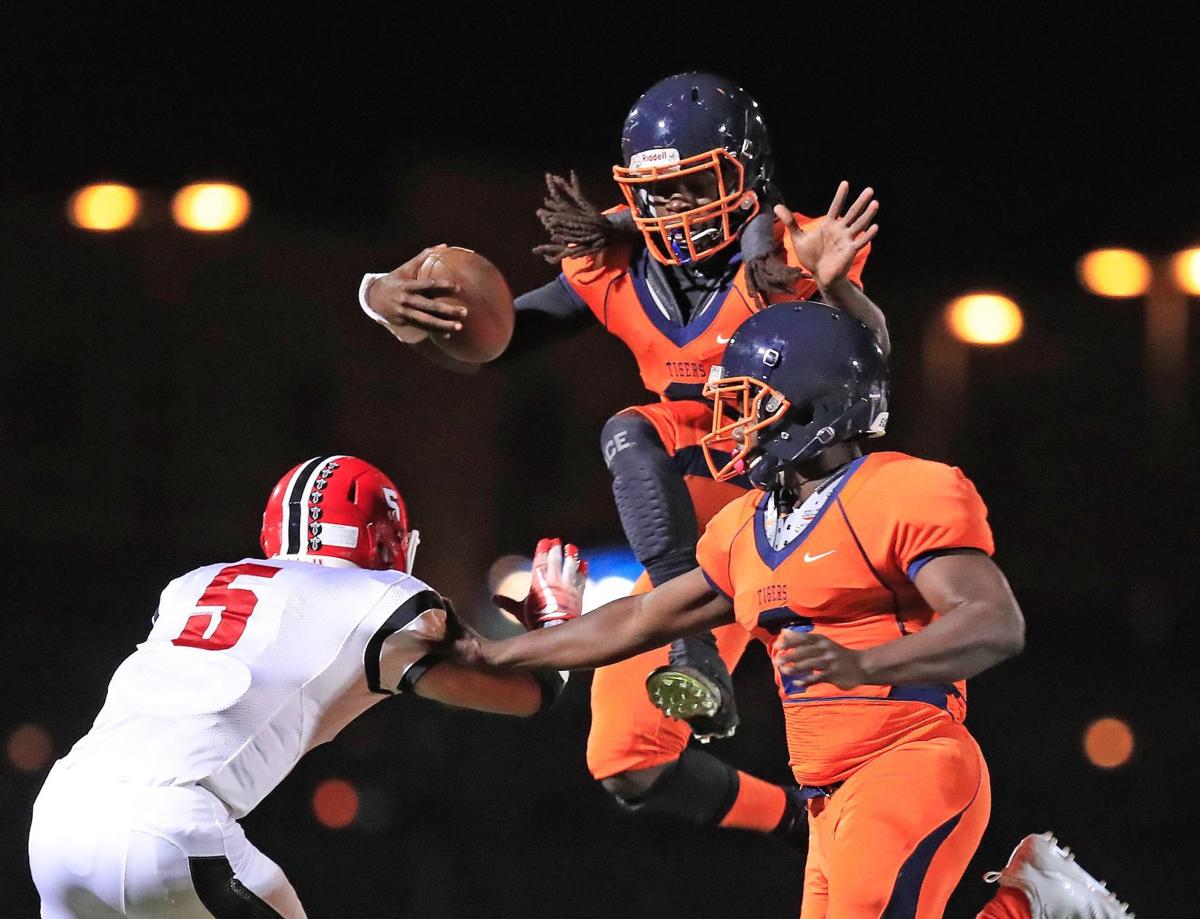 One couldn't help but look to see if there was any laundry on the field – coach Steve McDuffie included – when D'Jae Perry took it to the house from 60 yards out midway through the fourth quarter.
After all, Bennett had been whistled for 19 penalties and had multiple touchdowns called back due to holding, etc.
Alas, no yellow could be found on the turf. As a result, the Tigers put themselves in position to deliver the shot heard around New York State on Thursday night -- a sound that will reverberate in the annals of Buffalo Public Schools Athletics for the rest of time.
Perry's second long touchdown run of the second half provided the go-ahead points as Bennett took down state No. 1 Lancaster, 42-35, at All High Stadium.
Perry's TD, highlighted by a few timely defensive stands from the Tigers and an insurance 4-yard TD run by Aaron Smith with a minute to go brought an end to a thoroughly entertaining contest played before an estimated crowd of more than 1,500.
What they saw was a game featuring plenty of offense, just enough defense, lots of Bennett penalties, but lastly enough resolve by the Tigers, who became the first Western New York team in more than two years to beat two-time defending Section VI Class AA champion Lancaster.
The last area team to tackle the Legends was Kenmore West in the Section VI Class AA semifinals in 2015.
Since that loss, Lancaster had posted 24 straight wins over area teams and had gone 26-2 overall.
Bennett, in becoming the first ex member of the Harvard Cup to beat the Legends, scored the game's final 21 points. They showed composure to overcome the frustration of having more than 100 yards in gains called back due to penalties. The Tigers, despite having four touchdowns taken off the board, still  overcame deficits of 28-16 and 35-21 in winning their fourth straight game.
"Four touchdowns called back and we still found a way to win," McDuffie said. "I'm so proud of these kids. First off glory goes to the good man above. The football gods seem to be with us. But these kids are resilient. They work their tails off every day. They mustered up enough just to keep going and keep playing. I couldn't be prouder of them…. All the credit goes to these young men wearing the blue and orange uniforms."
"This is like the biggest win I have ever had (in my career)," said Perry, who rushed for 274 yards on 13 carries and two touchdowns. "I am so proud of my team."
For most of Thursday night's Class AA football showdown at All High Stadium, it seemed like the last team to score would wind up winning.
Bennett (4-1, 4-0 in division) led 16-7 after the first quarter as a 52-yard run by Justin Campbell and an 18-yard scoring strike from Smith to Austin Grimes accounted for the early scoring.
However, Lancaster (4-1, 4-1) – last year's state runner-up – responded emphatically mixing in hard running from Brandon Wingard along with three touchdown passes by Jason Mansell to take a 21-16 lead into halftime. The Legends had two chances to punch it in from the 8 in the final seconds of the half, including an untimed down, but failed to go into the locker room with a bigger edge.
That proved to be costly in the end. Still, Lancaster added to its lead when Mansell connected with Nick Meara with 6:25 left in the third to make it 28-16. Bennett responded with a 52-yard Perry run 55 seconds later with a two-point conversion pass from Smith to Campbell.
Shawn Davis then took the ensuing kickoff 85 yards for a touchdown to increase Lancaster's lead. That wasn't enough to demoralize the Tigers. Semaj Clemons' 6-yard TD run with 2:30 left in the third pulled them within 35-30.
With roughly 10 minutes left, Bennett seemed to have pulled ahead on a 45-yard TD run by Perry. However, a holding penalty – at that time the Tigers' 16 infraction of the game – negated it with the possession ending with a punt.
The Tigers' 19th penalty occurred on the first play of what proved to be the go-ahead drive. A 22-yard completion to Devotie Pompey gave them a first down. One play later, Perry made another mad dash to the end zone.
This time the score stood and the Tigers, who won last week at Williamsville North via a game-ending Hail Mary, just rolled with the positive momentum until the clock finally struck zero.
"I was looking for a flag," McDuffie said. "That play stood, I was happy I was celebrating (with the team)."
"To win 24 straight Sectional games is an incredible accomplishment," Lancaster coach Eric Rupp said. "Credit to coach McDuffie and Bennett, they were the better team tonight."