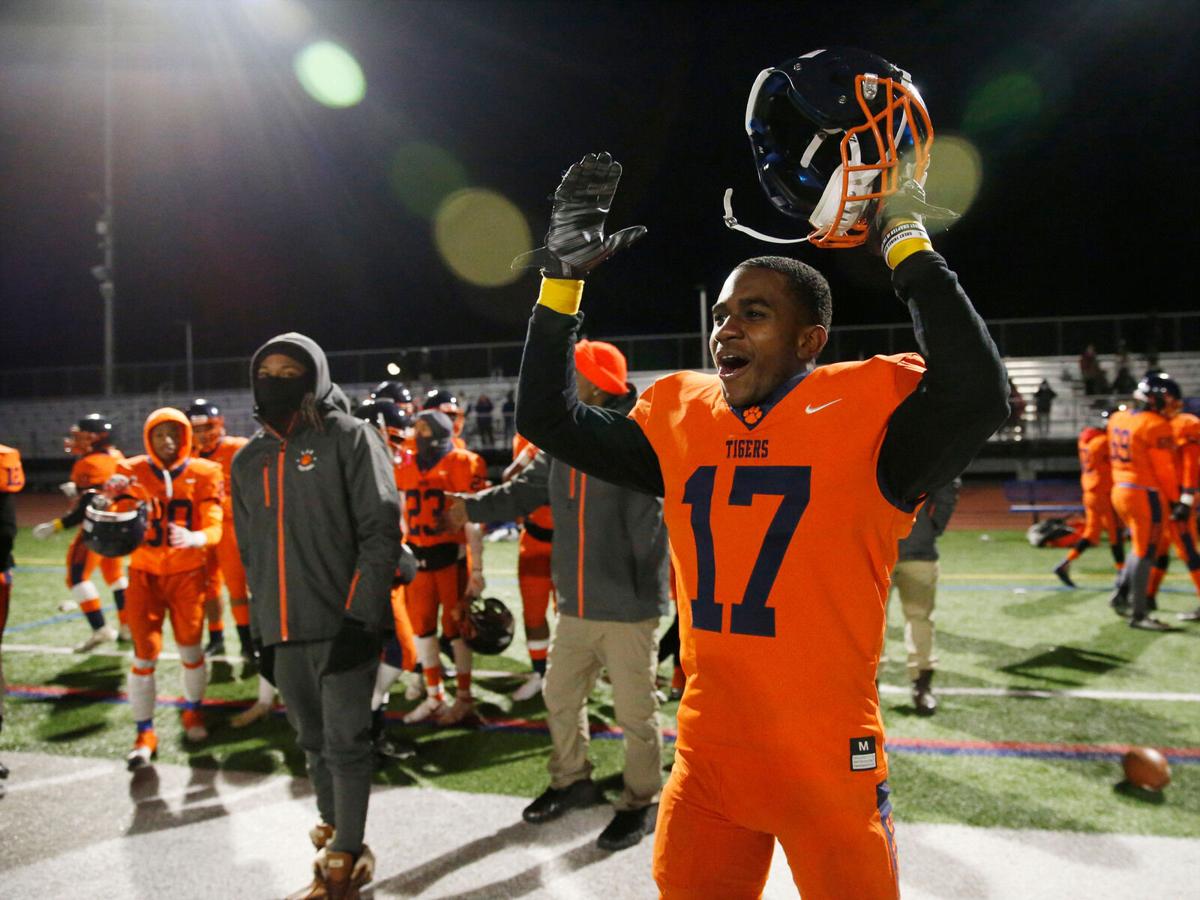 McQuaid won the off-the-field battle to be able to participate in the Class AA Far West Regional football game on its terms, but once it lined up between the lines against the Bennett Tigers on Tuesday night, it was all Bennett.
Because of that, the Tigers' historic season continues.
Section VI champion Bennett defeated its Section V counterpart, 26-14, to earn a spot in the New York State Public High School Athletic Association semifinals for the first time.
Jayden Lewis caught a 53-yard touchdown and returned an interception 65 yards for another score. Teammate Dominac Allen also scored twice as the Tigers (10-1) scored the first 26 points of the game.
They then made the defensive plays that thwarted comeback attempts by the Rochester-area private school ranked fourth in the state sportswriters' poll. Lewis finished with two interceptions and a fumble recovery. The Tigers, ranked 11th in the state, had five takeaways.
The Knights (9-2) scored twice in the fourth quarter, the final time with a minute left. By then, the Bennett faithful in the stands had been serenading them with Na Na Hey Hey Kiss Him Goodbye lyrics.
Bennett is slated to return to action at 6 p.m. Saturday at Cicero-North Syracuse High School, where it will face the host Northstars for the right to advance to the state championship game at the Carrier Dome.
"It's an honor for us and our coaches," Bennett junior lineman Rashard Perry said of reaching the Final Four.
"The kids understand they're representing the city of Buffalo," winning coach Steve McDuffie said. "I think this is a victory for everybody and I couldn't be prouder of the kids."
The game was supposed to be played Saturday. That's when the drama began, as word of cases of Covid-19 in the McQuaid camp made the rounds on social media.
In total, nine players and two coaches tested positive in a stretch that began Nov. 15. The team went on mandatory 72-hour quarantine. After three straight negative tests by non-infected members of the team, they took another test Saturday morning at the insistence of the Erie County Department of Health.
However, McQuaid claimed Erie County wanted to place an additional restriction on the team – preventing unvaccinated players who weren't infected from playing in the game. Jeremy Toth, attorney for Erie County, said the health department's message Friday to McQuaid about only vaccinated players being allowed to play was not a new restriction, but one that was part of the protocol all along.
Just a few hours before kickoff, officials on Saturday afternoon announced the game would be postponed. The postponement came after State Supreme Court Justice Mark Montour issued a temporary restraining order blocking the health department from enforcing the requirement that only vaccinated players on McQuaid could play in the game.
Justice Emilio Colaiacovo, who presided over Tuesday's court appearance, said McQuaid's legal challenge was made "moot" by Erie County's determination that their players met the standards to test out of quarantine. McQuaid's attorneys said they planned to file court papers Wednesday to drop their lawsuit.
As this played out, Bennett could do nothing but wait.
Section VI filed a petition with NYSPHSAA to have the game declared a forfeit in favor of the Tigers, but that did not happen.
NYSPHSAA issued the following statement an hour before Tuesday's kickoff:
"Prior to a temporary restraining order filed NYSPHSAA was prepared to award a forfeit victory to Bennett High School if McQuaid refused to abide by local health department requirements. According to NYSPHSAA legal counsel, forfeiture of McQuaid was not an option due to the signed temporary restraining order, despite the fact that Erie County directive was in place to protect the health and safety of all involved."
Bennett and the Buffalo Public Schools hierarchy were not pleased McQuaid got a chance to reschedule because during the Fall II sports campaign last spring the Tigers' season ended early when they were placed on Covid-19 pause before a sectional semifinal contest against Lancaster. In that instance, just one player tested positive. The team's pause ended two days after the scheduled game but Section VI guidelines prevented playoff games from being moved/rescheduled for Covid reasons.
The Tigers took out their frustration on McQuaid on the field. The Knights may have been shorthanded but still had stretches where they looked dangerous on offense. But Bennett's defense led by Perry (nine tackles, three sacks), Lewis and Jamario Toliver (10 tackles) delivered plays that squashed drives. The Tigers also had the athleticism to negate McQuaid's.
"We were just trying to stay focused on what we had to do," Perry said. "We didn't really care (about the off-field drama). We just wanted to come in here and win and come next Saturday just get another one."
"We came out aggressive on both sides," Allen said. "We stayed aggressive and came out with the win. If feels good. We didn't let up. We came out ready to play."
Bennett took the lead for good when Antonio Davis III went vertical down the left sideline to Lewis for the 53-yard TD. There were two open Tigers on the play behind the McQuaid defense in that instance with 1:24 left in the first quarter. That came after Bennett converted a fourth-and-1 at its own 44 with Edgar Key III gaining three yards.
Lewis pounced on a backward lateral for a fumble recovery on Bennett's 35 to end McQuaid's bid for a retort score of its own. After a holding penalty on the Tigers, Allen took a handoff 75 yards for the touchdown. A Torey Anderson conversion run made it 14-0.
Allen scored with 5:10 left in the second quarter on a 9-yard run to make it 20-0.
With McQuaid driving in the third quarter, desperately trying to get a score to make Bennett sweat, outside linebacker Lewis returned an interception 65 yards for the touchdown.
The touchdown is Lewis' seventh pick-six of the season and 14th interception.
McDuffie said there is a chance the school district may ask the NYSPHSAA if it could move the state semifinal game from Saturday to Sunday so that the Tigers wouldn't be at such a competitive disadvantage heading into the semifinal.
Five days rest is better than four. Right now the Tigers are focused on doing what they can to prepare for the next biggest game in program history.
"I think that's only fair if they reschedule the event to Sunday," McDuffie said. "It was a very, very physical game. Our opponent will be on seven days rest. It will put us at a competitive disadvantage. … I think since they made an exception for McQuaid and let them play, they should be willing to make an exception for us and give us an extra day's rest."
Aaron Besecker contributed to this story.