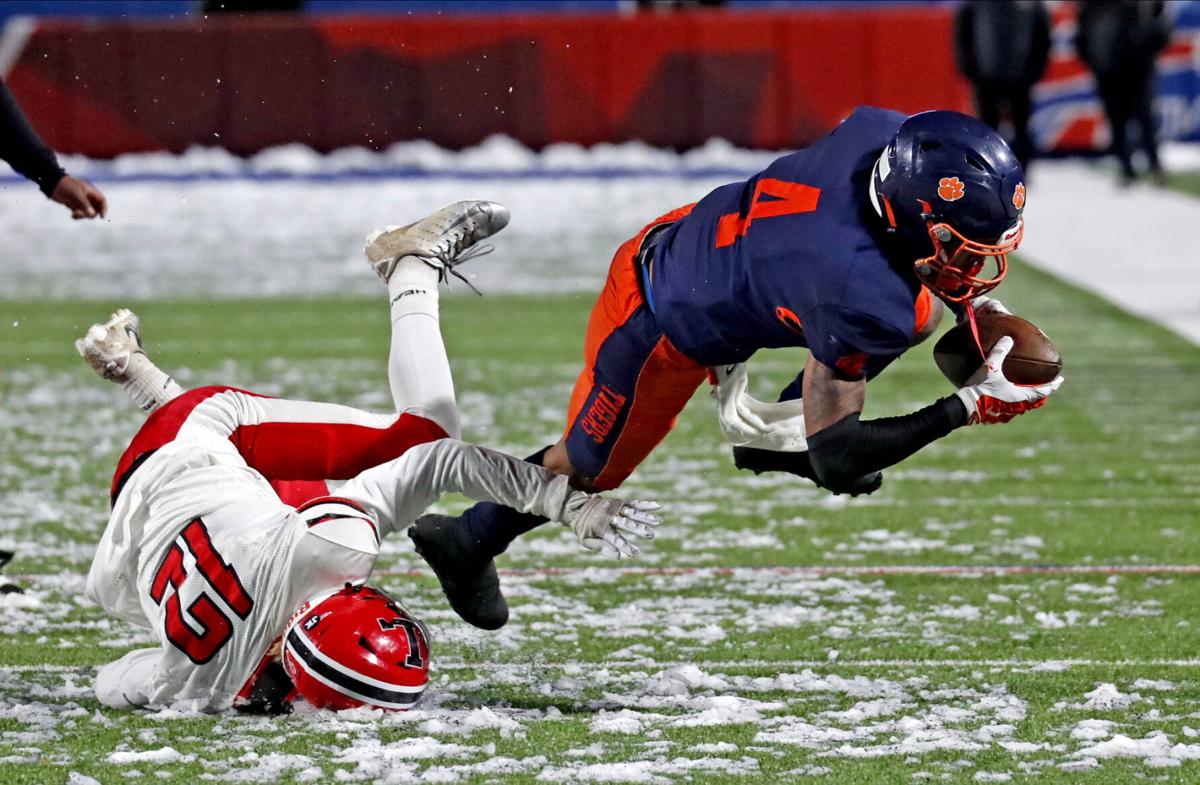 Bow down to the Bennett Tigers, the new kings of Section VI Class AA football.
Bennett's quest to become one of the hunted in Western New York became reality Saturday night, as it ended Lancaster's five-year reign as champion with a 14-10 victory on a blustery fall evening at Highmark Stadium.
Dominac Allen played a key role for the Tigers. The senior rushed for a game-high 322 yards on 32 carries and scored a touchdown. Teammate Edgar Key III ran for the go-ahead touchdown in the fourth quarter, as Bennett won its second Section VI championship in program history and first since capturing the Class A crown in 2016 when current Green Bay Packers linebacker Isaiah McDuffie was a senior for the Tigers (9-1).
"I am really proud of the kids," winning coach Steve McDuffie said. "The kids fought through a lot of adversity. It feels great because I always thought this was just a village approach. This isn't just a victory for us. It's a victory for the Buffalo Public Schools. … It feels really, really good."
"That was like the greatest feeling ever," Key said.
Lancaster (9-2) entered the game trying to match Sweet Home's record for consecutive Section VI championship game wins at six. The Legends came close to earning the six-pack of titles. They fell short because of Bennett's collective resiliency as the Tigers limited them to a season-low point total by bending but not breaking when defending the red zone.
"Congratulations to the Bennett Tigers," Lancaster coach Eric Rupp said. "I am proud of what we've accomplished. When we took over six years ago, the program had two sectional titles and hadn't won since 1999. I am very proud of all the hard work of the players and coaches."
Bennett had a takeaway and forced a turnover on downs on two Lancaster possessions inside the 20 during the second half – including the last with roughly 4 minutes left. Noah Kimble came close to giving the Legends the lead as his fourth-down pass to the end zone just went off the hands of an outstretched receiver. The play wouldn't have counted due to a hold against the Legends. Instead, Bennett got to decline the penalty and did not give up possession the rest of the way.
It was somewhat familiar to what Lancaster did to Orchard Park in last season's Class AA final when it ran off the final 8-plus minutes in a 28-21 triumph.
"Our kids really, really rose to the occasion," McDuffie said. "We dethroned a five-time Section VI champion."
The Tigers did it by finding ways to get Lancaster's offense off the field, which wasn't easy since Micah Harry had 177 of his team's 224 rushing yards. The Legends ran 61 plays for 303 yards, but they couldn't completely limit the on-field time for a Bennett offense coming off a 70-point performance in last week's semifinal against Orchard Park.
Lancaster had the Tigers on their heels during the game's first possession. It moved the ball down the field with its line opening up holes for Harry. He gained 64 of the team's 69 yards on the drive that ended with Caleb Dunbar's 23-yard field goal.
That drive wound up setting the tone for Bennett as it turned out.
"That first drive was the theme of the game," McDuffie said. "The kids really buckled down and did their assignments."
Allen scored on a 92-yard run early in the second quarter to give Bennett a 6-3 lead.
Lancaster had two great chances to score in the third quarter. It cashed in on just one of them.
The first attempt ended with Bennett's Adrian Anderson recovered a fumbled snap near the 5-yard line with 6:12 to go in the third quarter. Lancaster cashed in on its next possession. A 25-yard run by Kimble set up a 7-yard touchdown run by Harry. Dunbar's PAT kick made it 10-6.
But the Tigers had one more touchdown drive in them. A 31-yard run by Allen paved the way for Key's go-ahead TD with 10:14 left. Anderson's PAT run made it 14-10.
Plenty of time for a big finish by either team.
Bennett seized the moment, as McDuffie believes the gauntlet schedule it played when it faced Clarence, Orchard Park and Lancaster in back-to-back-to-back weeks prepared them well for it.
"They got some drives on us and we were able to stiffen up," McDuffie said. "The guys did a really good job tackling …. I think it was just an all-around defensive effort. I'm so proud of the guys."
Bennett faces Section V champion and private school McQuaid on Saturday night at Williamsville South in a New York State Public High School Athletic Association Far West Regional/quarterfinal game.