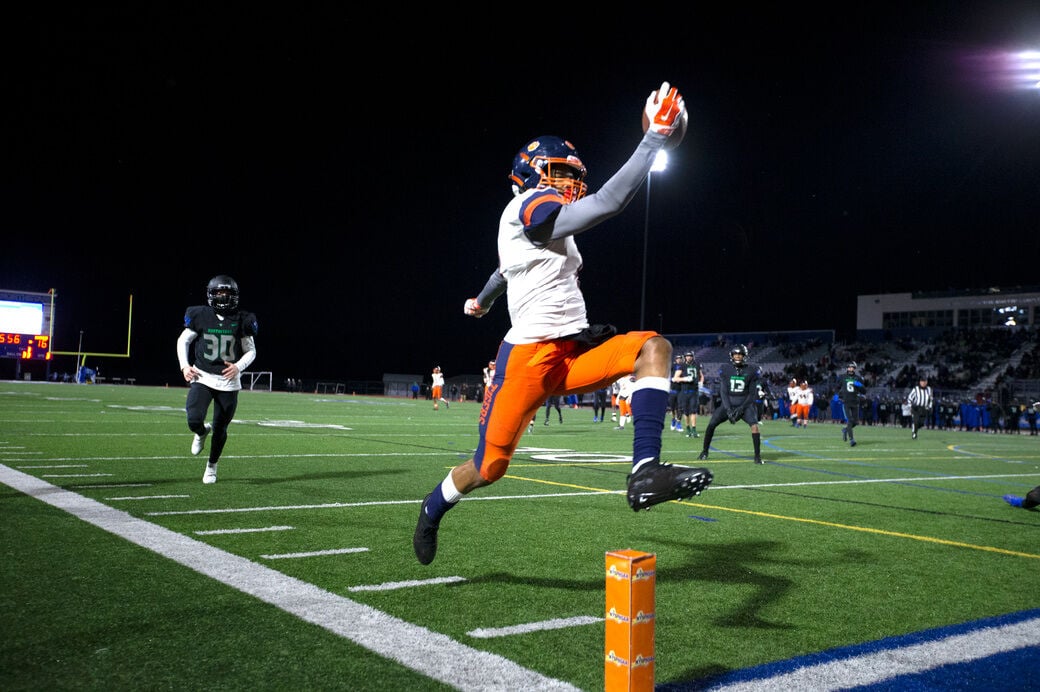 CICERO – The Bennett Tigers have earned the day off.
That's their reward for doing something they've never done before as a football program.
Bennett has become the second Buffalo Public Schools football team to reach a New York State Public High School Athletic Association championship game.
The Tigers did it essentially by winning two state playoff games four days apart, as they concluded a busy gauntlet of a week by crushing Section III champion and host Cicero-North Syracuse 38-0 before a mostly pro Northstars crowd.
Bennett took the lead seconds into this state Class AA semifinal clash on a Dominac Allen 60-yard touchdown run. The Tigers led 16-0 after one quarter and then secured their historic victory with a 22-0 second half that included two defensive touchdowns.
"This moment feels great," Tigers linebacker/running back Jamario Toliver said. "I have to thank my teammates. Our coaches. All the working pays off."
Bennett earned its spot in the semifinal by beating Section V champion McQuaid 26-14 on Tuesday night at Williamsville South High School in a game rescheduled from its original Nov. 20 date by NYSPHSAA due to McQuaid getting a temporary restraining order against Erie County regarding restrictions it wanted to place on the Knights. McQuaid had at least 11 reported cases of Covid-19 on the team in the days leading up to the state quarterfinal.
None of that matters now, as Bennett attempts to become the first Section VI team since Jamestown in 2014 to win a championship in the state's highest classification. The Tigers (11-1) play Section I champion Carmel (12-0) at 3 p.m. Saturday at the Carrier Dome at Syracuse University.
Carmel advanced with a 47-13 win over IX-Newburgh Free Academy.
Bennett looks to join South Park (Class A, 2015) as the only former Harvard Cup programs to win a state title in football.
"I'm just real proud of the kids," winning coach Steve McDuffie said. "It goes back to my favorite quote. 'Adversity doesn't build character, it reveals it.' They came in on short-days rest. They worked really hard. They didn't let the situation get to them."
The Tigers pounced from the start. Allen gained 12 yards on his team's first play. Impressive. The next carry was even more impressive as he took it to the house. Torey Anderson's PAT run made it 8-0 just 40 seconds into the game.
While Allen is a special player, he's not the only good running back on the team. Toliver – who shines at linebacker – and Anderson have moved the sticks and scored touchdowns when it's been their turn to tote the rock.
Toliver's 6-yard touchdown run with 6:20 left in the first quarter – along with Allen's conversion run – made it 16-0.
"That gave us some momentum," McDuffie said of the start. "Time after time we have incredible athletes. Dominac Allen has proven he's a special athlete. …. That kid is capable of playing at any level of football."
C-NS had a couple decent drives in the first half. But while Bennett's defense may have bent, it did not break. Twice, the Northstars drove inside the red zone and the Tigers got them off the field without yielding points. Bennett also had two drives stall inside the red zone before halftime.
The Tigers scored three times within a 6-minute stretch in the third quarter to put this game to bed.
Allen scored on a 28-yard run. Jayden Lewis intercepted his state-leading 12th pass, returning it 60 yards for his eighth pick-six touchdown. Javier Brown returned a fumble 60 yards for another score.
So much for having just four days to recover and prepare for this game.
"We just wanted to win so we just kept practicing and practicing," Lewis said of the no-day off short week.
Allen finished with 13 rushes for 167 yards and two TDs, while Anderson rushed for 100 yards on eight tries while Toliver had 11 carries for 73 yards. Rashard Perry led the defense with 10 tackles including six for losses, three sacks and one forced fumble. Lewis had six tackles and a forced fumble to go with his pick six
The preparation process resumes Monday, after a well-earned day of rest.
Bennett extends Section VI's streak of having at least one champion reach a state final each season there's been a tournament since 2011. Including Catholic state championships, at least one Western New York football team has won a state title since 2011.
"We stick together," Lewis said. "We want it. We just have to get to it and keep it going."