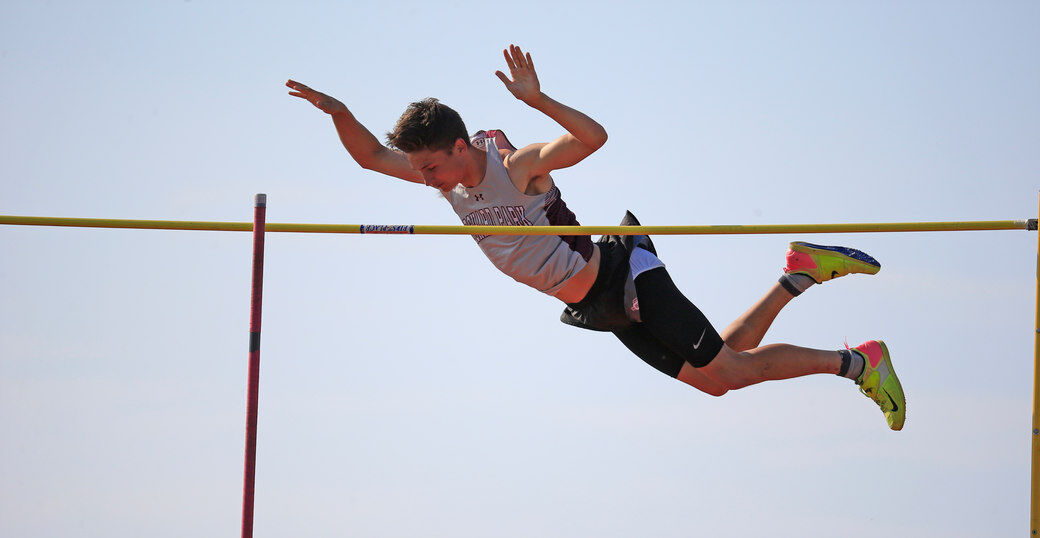 Normally, the high school track and field season would be at or close to the end by now. However, we are just getting to the competitive climax of the schedule in Western New York, even though the New York State Public High Schools Athletic Association and Federation championships will not be held.
A week of 11 league meets that wrapped up on Saturday leads into Section VI competition this week. There will be four days of class championship meets: Class A is at Pioneer and Class B is at Falconer on Thursday; Class BB is at Olean and Class D is at Randolph on Friday; Class C on Saturday at Allegany-Limestone and Class AA on Saturday at Lancaster.
Two divisions of the sectional championships will follow, with the Division 2 meet at Falconer on June 23 and the Division 1 meet at Hamburg on June 24.
According to MileSplit.com, there were 11 performances by WNY athletes last week that met MileSplit US Second Team standards as elite performances at the silver level.
Two were posted by Josh Peron of Frontier in the ECIC I meet Friday at Clarence. Peron's winning times of 21.86 seconds in the 200 meters and 47.84 in the 400 met the standards.
Kyle Urban of Alden qualified with his 9:35.39 clocking in winning the 3,200 meters in the ECIC V meet at Alden.
Orchard Park pole vaulter Kegan Mancabelli qualified with his winning vault of 15 feet even in the ECIC I meet.
Qualifying among the girls were: Noel Barlette, Orchard Park, 1,500 meters, 4:59.09; Anna Ridge, Clarence, 1,500 meters, 4:59.82; Gwyneth Goldowski, Frontier, 400, 57.57; Lillie Bogdan, Frontier, 800 meters, 2:19.32; Alyssa Armitage, Starpoint, pole vault, 11 feet, 6 inches; Natalia Surdej, Lancaster, shot put, 37-2.5 and Lanee Hall, Sweet Home, triple jump, 38-6.25.
A glimpse at some of the highlights in the public schools league championship meets over the last week:
Zymere Covington of Hutch-Tech was a triple winner at the All-High championships, winning the 100 meters in 11.2, the triple jump at 37-8 and high jump at 5-8.
Zayd Watts of East won both hurdles events, the 110 in 14.9 seconds and the 400 in 1:03.7.
In a tight finish, City Honors won the boys 4x800 relay over Hutch-Tech by .9 seconds.
On the girls side, Markira Garner of McKinley won the 100 (12.3) and 200 (25.9), and Nya Lockett of McKinley won the 100 hurdles in 15.9 and triple jump in 31-9.5.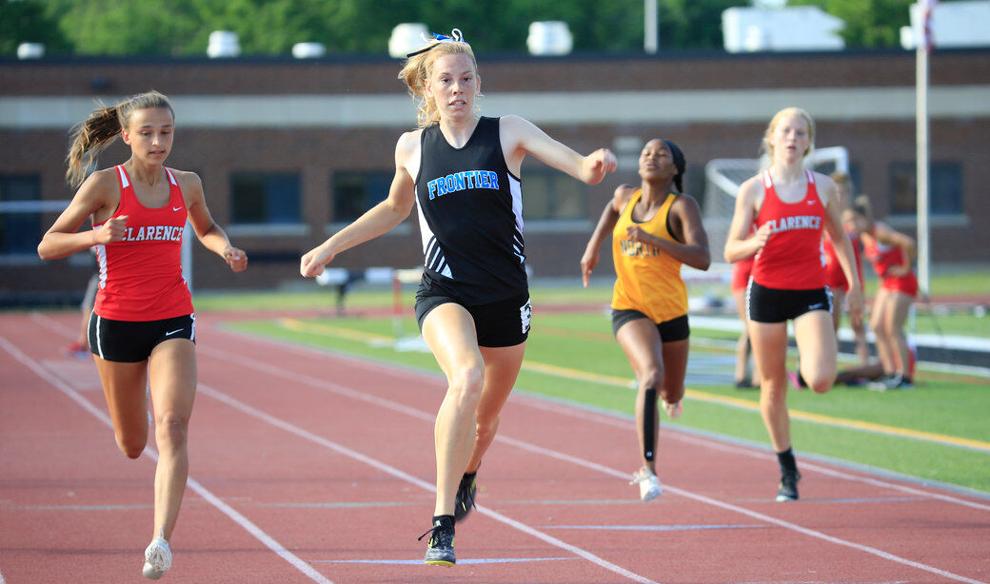 In addition to winning the 200 and 400, Peron took second in the long jump. Jamestown hurdler Nathan Hall won the 110 (17.13) and 400 (1:01.20). Orchard Park's Mancabelli also won the long jump with a leap of 21-6.
Christopher Bertola of Orchard Park turned in an impressive 4:31.64 clocking in the 1,600 meters. Zach Winnicki of Lancaster took the 3,200 in 9:40.35.
Barlette of Orchard Park also won the girls steeplechase in 7:40.64. Goldowski of Frontier added the 200 (25.20) to her win in the 400. Miranda Burnett of Williamsville North won the 400 hurdles in 1:07.76 and the high jump at 5 feet. Surdej, the latest in the outstanding throwers developed at Lancaster, doubled with her win in the discus (101-07).
Lea Philarom, who as a seventh-grader at Frontier won the state all-around in gymnastics, showed her leaping form in winning the long jump with 17-2.5.
Omarion Thomas of Williamsville North swept 100 (11.49) and 200 (22.79). Amherst had double winners: Jack Lenz in the 800 (2:02.9) and 3,200 (9.55.2), and Teddy McDuffie in the long jump (20-6.5) and high jump (5-6).
Among the girls, Claire Danyluk of Hamburg had first-place finishes in the 100 (12.54), 200 (25.44) and 400 (59.34).
Starpoint received double wins from Veda Jauch in the discus (117-1) and shot put (33-3.75). Lanee Hall of Sweet Home won the 100 hurdles in 17.04, in addition to her triple jump performance.
Mallory Grubb of Amherst won the 1,500 in 5:02.7 and the steeplechase in 7:24.3.
Cheektowaga dominated both the boys (seven winners) and girls (eight) in the meet at West Seneca East on Saturday.
Sprinter La'Niyah Leak on the girls side led with victories in the 100 (12.99) and 200 (27.51), while Katrina Chandler of the Warriors won the shot put and discus.
Nicole Kuehner of Iroquois won the 800 (2:19.29) and 1,500 (4:56.47), and Madison Snayczuk of Pioneer took the long jump (15-9.25) and triple jump (33-0).
The Cheektowaga boys were particularly strong in the sprints and throws. Isaiah Harris won the 100 in 11.35 and 200 in 23.08, and Jaydon Dubard hurled the discus 148-8 and threw the shot 54-0.
Another Warrior, C.J. Krzanowicz, won the 400 hurdles (59.95) and long jump (20-04.5).
Evan Castlevetere of Iroquois won the 1,600 in 4:53.94.
Depew had two double winners, and Tonawanda and Maryvale had one each on the boys side, but East Aurora had six first-place finishes.
Nick Florczak of Depew won the 100 (11.72) and 200 (23.97), while Wildcats teammate Matthew Russo won the discus (160-8) and shot (48-2). Hunter Hollock of Tonawanda won the 400 in 55.14 and the high jump at 5-8. Maryvale's Nasrullah Muslim Dost won the long jump (19-8) and triple jump (38-6).
East Aurora was even more dominant on the girls side, with top finishes in 13 events. EA's Saige Ticon won the 100 (13.29), 200 (27.03) and triple jump (29-5.5). Kaitlin Whalen of Depew was a double winner, taking the 400 hurdles (1:12.15) and 2000 steeplechase (8:28.78).
East Aurora swept all three girls relays and all running events with Megan McLaughlin (800), Emilia O'Leary (1,500) and Kailyn Houghton (3,000) dominating middle and long distance events, as expected.
The ECIC division with the schools of smallest enrollment has some of the most impressive individual standouts. Brody Jones of Holland won the 800 in 2:04.61 and 1,600 in 4:56.13. Najim Walker of JFK took the 200 in 23.92 and won the long jump (19-0.25).
Springville's Nyah Solly was a triple winner on the girls side, taking the long jump (16-0.25), triple jump (34-1.5) and pole vault (9-0). Paige Hoffman of Holland doubled in the 200 and 400, while Hannah Goetz of Springville took the 800 meters and 2,000 steeplechase.
A seventh-grader, Kristen Melnik of Springville, was a double winner, leading the pack in the 1,500 in 5:13.56 and 3,000 (11.17.23). Marinna Heichberger of Springville won the shot (30-5.25) and discus (102-2).
In her final league meet before heading to Syracuse University, Sydney Nowicki of Lockport won the 800 (2:23.98), 1,500 (5:01.36) and 3,000 (11.26.52).
Another Lions standout, sprinter Kayniah James, won the 100 (12.41) and 200 (26.44) in the meet at Kenmore East. Skylar Pointer of Lockport won the shot put and discus. Lew-Port basketball and soccer star Sophie Auer, a sophomore, won the pentathlon with 2,363 points.
Lew-Port's Justin Pavan was a triple winner, taking the 1,600 in an impressive 4:28.84, the 3,200 in 10:14.46 and 3,000 steeplechase in 10:37.6.
Collin Thompson of Lockport had an impressive double in the sprints, winning the 100 (10.90) and 200 (22.61). David Litten of Niagara Falls won the shot put (38.5) and discus (118-5.5).
Chris Shabazz of Albion won the high jump at 6 feet, the long jump at 18-11.25 and the triple jump at 40-0.75 in the league meet at Wilson. Dominic Diugiulio of Albion won the discus at 129-10 and shot at 39-7.
Among the girls, Nadia White of Roy-Hart (400 and triple jump), Lauren Wagner of Akron (800 and 1,500), Ashlan Joseph of Newfane (100 hurdles and 400 hurdles) and Beila Asmus of Akron (shot and discus) doubled. Freshman Kylie Bowman of Newfane won the 3,200 in 12:04.43.