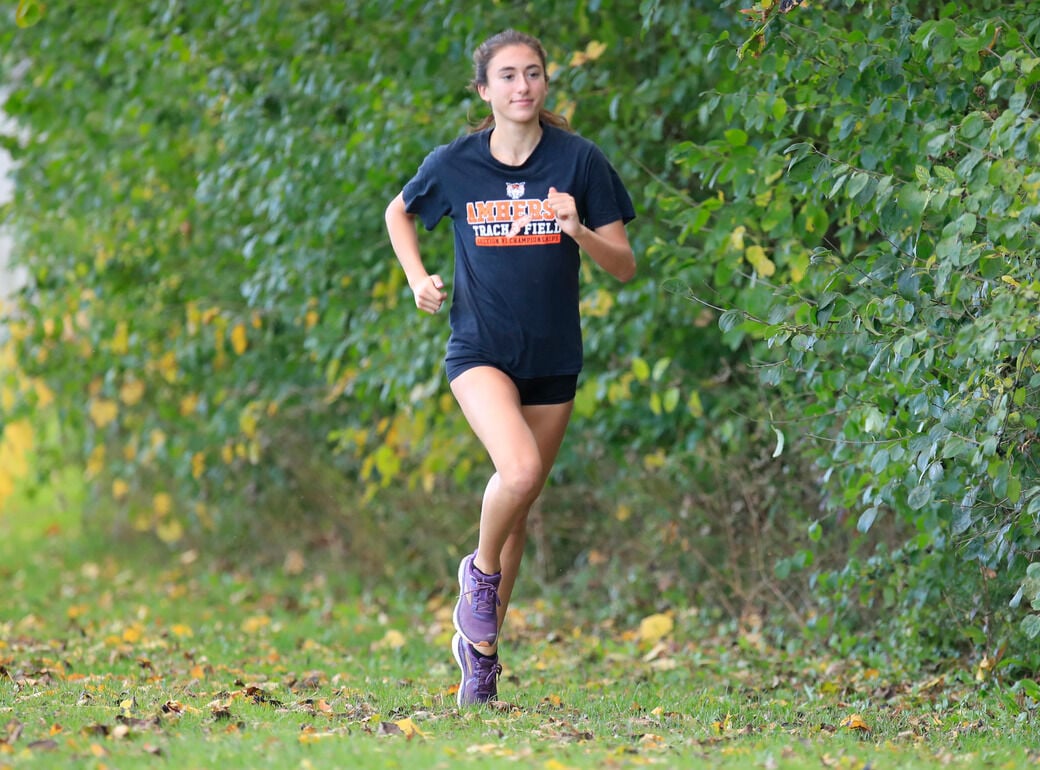 There seemed to be little doubt that Mallory Grubb would take to cross-country running quite easily.
Already a Section VI champion at 3,000 meters on the flat track, Grubb decided to give cross-country a try for Amherst Central last fall. After her fourth-place finisher in the freshman mile and 15th among the Emerging Elites girls in the 2-mile at the New Balance Nationals in Greensboro, N.C., in June 2019, she seemed a natural for the hill-and-dale racing of cross-country. And she has been.
In her first cross-country race for the Tigers, as a sophomore, she finished second overall in the Knox Farm invitational in East Aurora. Two weeks later, she was first in her race at the prestigious McQuaid Invitational on the Genesee Valley Park course in Rochester. Grubb won the unseeded varsity AA-2 (medium/large schools) over a field of runners from 50 teams. Her winning time was 18:04, 11 seconds faster than the next finisher.
More impressive, Grubb was the fastest Western New York runner, even speedier than large school runners and championship performers in other races.
That was just the start of a successful 2019 season. Grubb ended up as a first-team Class B All-State selection after she finished third in both the ECIC and Section VI runs and fifth among Class B runners in the state meet in Plattsburgh.
Remarkably, Grubb did all that while also being the second-leading scorer with eight goals and five assists and making All-ECIC II first team with the Tigers' soccer team as a midfielder and forward.
Although her interest in soccer predated her signing on for the modified track team as a seventh-grader at Amherst, running is her focus now.
It was a decision that was forced upon her somewhat because of the physical rigors of the sport.
"I definitely do miss soccer. It was a hard decision, something I was thinking about for a long time," Grubb said. "I tried to do both, but I was always exhausted. I was definitely stressed. You don't have time for the body to recover when every day there's a game or a workout."
Last year, Mallory was able to train with her sister, Maxana, who was also a teammate in soccer two years ago and is a sectional champion. They ran together, even though the older Grubb sister specializes in middle distances while Mallory goes for the longer distances.
Maxana is running cross-country this fall as a freshman at Virginia Tech. Last month, she ran the 6K course at VaTech in 25.04.8, even though she's using cross-country basically as training for her specialty events.
In track, the longer the race the better for Mallory.
"I like the 3,000 a lot," she says. "I can build up speed, but I'm not good at maintaining it like you have to in the shorter distances."
Mallory hopes that scaling down her activity will help her get faster in cross-country.
How's the less taxing schedule working out?
"I'm not sure yet," she said. "We haven't had the opportunity to run in the difficult meets."
She means the ECICs and sectionals that await when the competition and the importance of the meets will serve as motivation to push harder.
Grubb says she has no specific time goals in mind. "I just want to go faster than last year," she said.
Mallory is helped by training with some of the Amherst boys cross-country team, which included senior Jack Lenz, who qualified for the Class B state meet last year and won his first two races this season.
There will be no New Balance nationals this year because of the Covid-19 pandemic, but competing in the New Balance outdoor nationals in 2019 gave Mallory the confidence that she could compete at such a high level and helped her realize the training and dedication it takes to go against the best whether scholastically or in college.
With another year of scholastic competition ahead of her, Mallory says she hasn't gotten into the college recruiting process yet. One reason is that campus visits are curtailed by the Covid-19 situation.
As of now, Mallory isn't planning on following her sister to Virginia Tech. Although they are only two years in age apart and close, "I think I'll do my own thing," is how she puts it.
Strictly a cross-country runner in her junior year, Grubb is off to another strong performance this season with three first-place finishes in dual meets. There is only one senior runner, Paige Stelley, on the team, so the young Tigers are 1-3 in duals so far after going 4-1 a year ago in the ECIC. They have one meet remaining Tuesday against Starpoint at Grover Cleveland Park. Mallory touts a seventh-grade teammate Abigail Lamb as a runner to watch.
With the dual meet season about to wrap up, Grubb and the other Western New York runners are pointing to the league championships next weekend and the Section VI championship meets at the Bemus Point Golf Club course in Chautauqua County on Nov. 14-15. Those competitions will climax the 2020 season because the state public schools and federation runs have been canceled.
There will be top competition for Grubb in the girls ECIC and sectional races. To start with, defending Class B and overall ECIC champion Megan McLaughlin will be running on her home East Aurora High course. Kayla Schmidt of Williamsville South, who was fifth last year, is a challenger.
In Class A, Syracuse commit Sydney Nowicki of Lockport, of course, is the defending Niagara Frontier League and Section VI champion and was 16th in the state Class A run. She will defend her NFL title in the league girls meet Friday at Lewiston-Porter. The boys race is Saturday. Both Lockport teams are 5-0.
Megan McLaughlin and East Aurora will defend their league and sectional Class B titles, but will not have the opportunity to win another state Class B title.
Maple Grove was second in the state girls Class D run a year ago. Ava Crist, who was sixth in the state, and Christina Peppy, who was 10th, are back from that team. Lukas Baer of the Grove's boys team also is a leading contender for sectional honors. The CCAA championships will be run Friday at the Bemus Point course.
Wagner, Crist, Megan McLaughlin, Grubb, Schmidt and Nowicki are returning first-team All-Western New York runners. Only two All-WNYers, East Aurora's Kris Ertel, who was first team all-state in Class B, and Fredonia's Emily Brown, who was second-team all-state in Class C, are not back.
Pavan top returnee in NFL
Niagara Frontier League cross-country observers point out that Justin Pavan, a senior at Lewiston-Porter, should be considered a serious contender for Section VI individual honors in Class B. Pavan was second in last year's NFL boys championship and fifth in the sectionals. He was 24th in the state meet.
St. Francis wins first title since '89
St. Francis claimed its first Monsignor Martin Athletic Association dual meet championship since 1989 by edging Canisius, 28-29, on Wednesday at Como Lake Park. Four Raiders seniors are four-year runners. They were freshman when St. Francis shared the regular season title with St. Joe's and won the All-Catholic meet. They are Ryan Baker, Matt Vilardo, Andrew Sovinski, Liam Donovan, Caleb Edbauer and Peter Sovinski. This year's All-Catholic boys and girls meets will be Sunday, Nov. 1, at Como Lake Park in Lancaster.
Bowman is unbeaten in two races for Newfane
Kylie Bowman of Newfane was a winner in two Niagara-Orleans League runs a year ago as an eighth-grader. This year, she has wins against Roy-Hart, Barker, a triangular versus Akron and Wilson and a triangular Saturday against Medina and Albion. Bowman won in 20:59 at Albion as the defending champions Newfane girls finished the regular season at 6-0. 
A year ago, Bowman finished sixth to lead Newfane to the championship of the Section VI, Class C meet.
Nick Baes, who was second in league boys race last year, will lead Newfane's title defense in the league meet. The Newfane boys beat Medina, 22-35, on Saturday in a triangular meet to finish the regular season at 6-0. Medina was 5-1. 
The Niagara-Orleans boys and girls runs are Saturday at Barker, with the girls race scheduled for 11 a.m. and the boys at 11:45.
Jamestown's Carlson breaks course record
Drew Carlson of Jamestown broke the Martin Road Complex course in Jamestown on Saturday with a clocking of 16 minutes, 49 seconds in a meet with Southwestern, Allegany-Limestone and Olean. He held the record of 16:53.3, which he set two weeks ago. Angelina Napoleon of A-L established a girls record for the course of 19:30.2 The previous mark was 20:18.6 by Kylee O'Dell of Clymer-Sherman-Panama last year. The record times came despite the runners having to battle through cold wind and standing water.
Get in the game with our Prep Sports Newsletter
Sent weekly directly to your inbox!