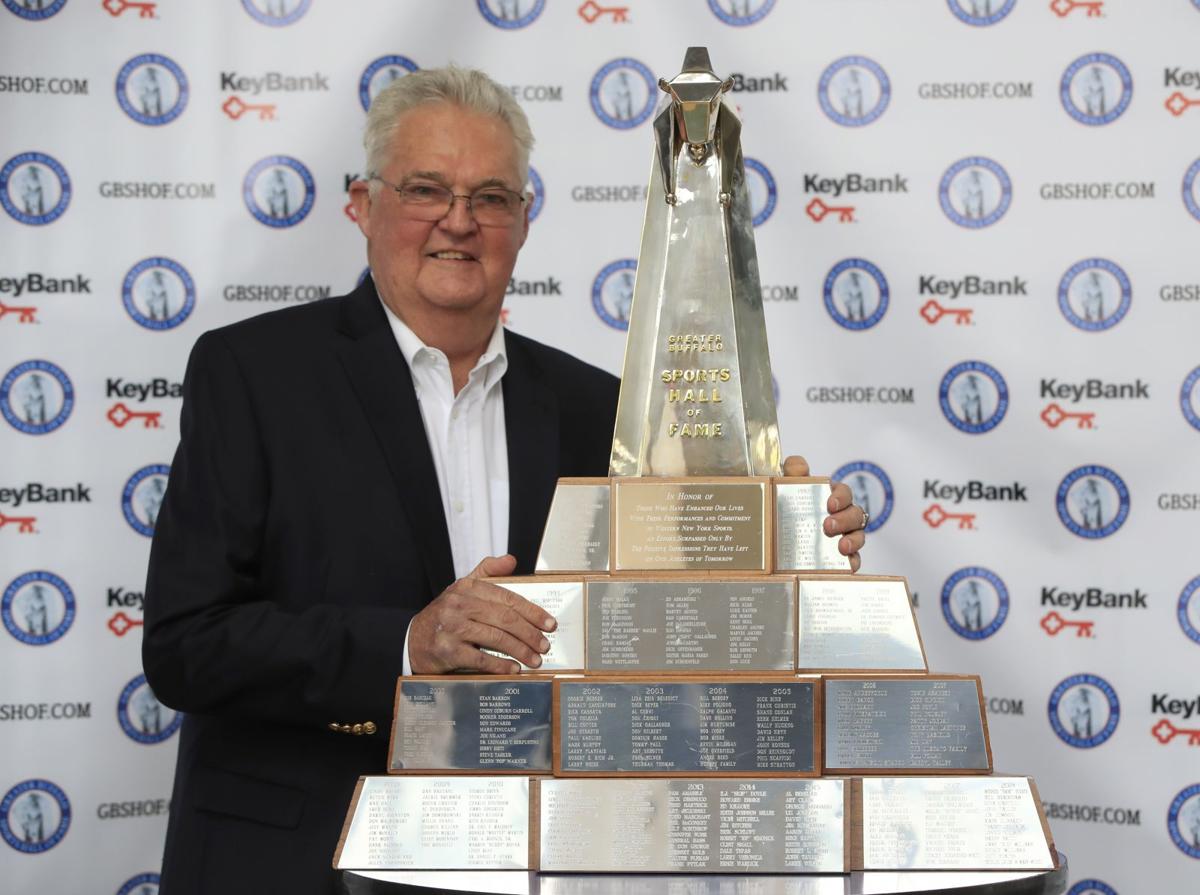 This is part of a series highlighting this year's class of the Greater Buffalo Sports Hall of Fame. The 13-member class will be inducted Nov. 7. Tickets are available at GBSHOF.com. 
Chuck Crist was intent on winning the starting quarterback job at Penn State when he arrived on campus in 1968.
All he wanted was a chance.
"When I got to camp the very first day, I went in to get my equipment and I told them my name, 'Chuck Crist,' " he said. "He goes, 'What position?' I said quarterback. So he flips the page and he looks and he goes, 'There's 16 of them here and you're not one of them.' And then he flips the page and says, 'Oh, defensive back. There you are. Number 2.' "
Crist, who is among 13 athletes being inducted into the Greater Buffalo Sports Hall of Fame on Thursday, had been offered scholarships by the Nittany Lions' football and basketball programs after being named team MVP in four different sports during his senior year at Salamanca High School.
He figured Penn State football coach Joe Paterno would try to move him to linebacker or defensive back, but that he'd also have an opportunity to prove his value behind center. That opportunity never came.
But Crist, 68, said he has no regrets about how his athletic career unfolded after playing for the Penn State basketball team and seven seasons in the NFL as a defensive back with the New York Giants, New Orleans Saints and San Francisco 49ers.
Crist recounted that first day at Penn State football practice in an interview with The Buffalo News, beginning with his surprise about being left off the list of candidates to play quarterback.
"I said, 'Whoa! That wasn't the agreement,' " Crist said. "And I was a brash young kid. I chose Penn State over Syracuse and, believe it or not, West Point and West Virginia. I just said, 'Look, I need to see Coach Paterno.' And I went in and had a meeting with he and (assistant coach) J.T. White and said, 'That wasn't the promise. The promise was I'd come here, play football my freshman year' – because we weren't eligible to play varsity at that time – 'play both sports my freshman year and then we'd make a decision.'
"He goes, 'Well, you looked at the list. You see how many guys we have there. We just think you'd be a better defensive player.'
"And we talked a little bit and I said, 'Coach, you're wrong. I'm a basketball player.' I shook his hand, went out, got my stuff, went home and came back with the regular student body and never looked back."
Crist played basketball for four seasons at Penn State, was named team captain his junior and senior seasons and was elected team MVP as a senior, after helping lead the Nittany Lions to a 17-8 record in 1971-72.
He averaged 8.8 points per game and shot 40.6 percent from the floor in his three seasons with the varsity team.
"As I look back, I wouldn't have done it any differently," Crist said. "I got to play in some of the top arenas – Madison Square Garden, we went to Tennessee, Florida, West Virginia, Georgetown."
But Crist knew he had no future in professional basketball and took advantage of an opportunity to try out for the Giants, who invited him back for training camp.
Defensive backs coach Emlen Tunnell was blunt.
"At that time, we had 16 defensive back in camp," Crist said, "and he goes, 'To be honest with you, you don't have a chance. But I've been around this business for a long time. Stranger things have happened.'
"A couple of days later, a couple of guys got hurt. They traded two defensive backs, they cut a couple more, the first day of the season in 1972, I'm on the roster, basically as a special teams kid.
"Fifth play of the game, Spider Lockhart, our starting free safety, goes down with a shoulder injury. (Defensive coordinator Jim) Garrett goes, 'You're in.'
"I said, 'I'm in what?' I said, 'I'm in deep (trouble), because I don't know what I'm doing.'
"He goes, 'Just get deep and don't let anybody behind you.' "
Crist recorded 20 interceptions, two forced fumbles and 11 fumble recoveries in seven seasons of pro football, starting 66 of the 92 games he played. He spent three seasons with the Giants, three with the Saints and finished his career with the 49ers.
Crist was inducted into the Cattaraugus County Athletic Hall of Fame in 2003 and the Chautauqua Sports Hall of Fame in 2015.
"You just never know," Crist said. "It all just kind of happened. I'm so grateful for the people at Penn State, the coaching staff, basketball and football, because the football staff, they never pressured me. They understood and they just kept in touch and it just happened."