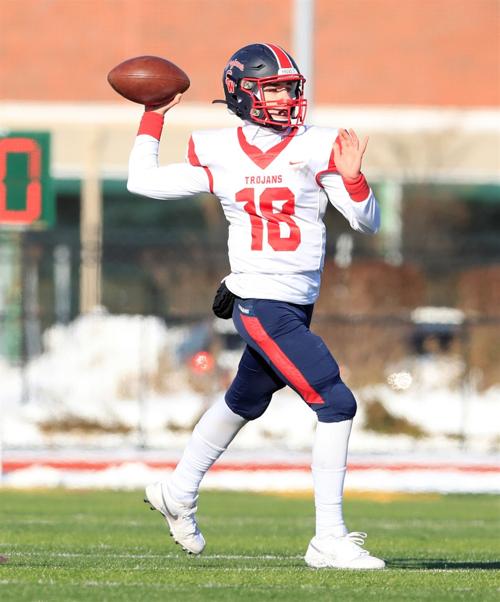 Southwestern senior Aidan Kennedy is the type of football player who leaves it all on the field, according to his coach Jake Burkholder.
And that could be trouble for the Trojans' opponent this week, as it's officially playoff time for Section VI teams.
The field for the Section VI football postseason is officially set.
It took a comeback led by Kennedy on Friday against Falconer/Cassadaga Valley/Maple Grove, but Southwestern qualified for the postseason tournament with a 36-24 victory over the Cougars in a game that had win-and-in sectional implications for both teams.
The Trojans (5-3) earned the No. 7 seed in Class C as their reward, along with the right to visit No. 2 Depew at 7 p.m. Friday at the Constantino Athletic Complex.
It's Depew's first playoff game since 2014, while Southwestern will be playing its 21st postseason game since 2014. The Trojans, a state semifinalist with Kennedy at quarterback in 2019, have reached the section final each of the past five seasons.
Just when it seemed as if Canisius was about to rain on St. Francis' upset parade with an un…
While Southwestern has lost thrice, the defeats have been by a total of four points – all coming in the closing seconds of each clash. Each of those teams (Iroquois, Salamanca and Fredonia) also qualified for the playoffs with a combined 23-1 record.
Southwestern isn't the run of the mill second-to-last seed in a tournament.
"Our kids haven't faced a whole lot of adversity and had to learn to overcome that (this regular season)," Burkholder said. "It helps build some character for these kids to learn that they could overcome things. The mistakes we've made have all been fixable things. That's a plus."
"This season has definitely been interesting for us," said Kennedy, a three-year starter. "I don't think our record really shows what this team is. … A couple plays go different ways and we're looking at different results. I think this team has done a good job battling through games. … We all believe we can play with anyone in the section."
Each playoff qualifier for this single-elimination tournament feels the same way, as the postseason presents a clean slate.
Jobity finished with 10 tackles, a sack and batted down four passes in Maryvale's 45-20 rout of rival Cheektowaga on Saturday.
The Section VI tournament begins Thursday at Foyle/Kling Field in Lancaster, as the five-time defending Class AA champion Legends face seventh-seeded Hutch-Tech. Lancaster (7-1) is the No. 2 seed. Its head-to-head loss to Bennett opened the door for the Tigers to claim the top seed and bye into the semifinals.
Other division champions either earning a No. 1 seed, or at least the right to open the postseason at home, are Class B North champ and two-time defending section champion Western New York Maritime/Health Sciences, Class B South winner Iroquois, Class A South's Jamestown, Class A North champion Grand Island, Class C North's Medina, Class C South champion Fredonia, Class C Central winner Depew and Randolph in Class D.
Section finals will be played Nov. 12 and 13 at Highmark Stadium. Per Section VI co-chairman Ken Stoldt, fans will not be required to show Covid-19 vaccination status. However, unvaccinated fans will have to wear a mask at all times. Vaccinated fans will need to wear a mask when indoors in such places as the concourse, press box, restrooms, etc.
Only four of the six Class D teams opted to participate in the playoffs, which mean they advance to semifinal games, beginning the weekend of Nov. 5. The most intriguing pairing in that bracket features reigning champ Franklinville/Ellicottville facing No. 2 Clymer/Sherman/Panama – which won state titles in this class in 2018 and 2019 – on Nov. 6. CSP was bumped up to Class C last season and suffered its only loss of the campaign to Southwestern in the semifinals. Randolph faces No. 4 Portville on Nov. 5 in the other D semifinal.
In 8-man football, Frewsburg is the top seed in the Section V playoffs and faces South Seneca either Friday or Saturday.
Kimble passed for three touchdowns for the first time at the varsity level to lead the Legends to a 42-13 triumph over longtime rival Depew before a crowd of more than 4,000 at Foyle/Kling Field.
For Southwestern, getting in the playoffs keeps hope alive for a team that returned six starters, including four linemen, from last season's squad that lost in the final to Medina.
They want another chance at winning the champion's plaque, and the 6-foot-1, 200-pound Kennedy has been leading the charge.
Not only has Kennedy gotten the job done with his arm, but he's using his legs to give defenses problems. He is averaging nearly 6.0 yards per rush, forcing teams to respect the running game. He's also helped fortify the defense with his play at safety. He's among the section leaders in interceptions with six.
In Friday's win, Kennedy led a comeback from a 24-16 third-quarter deficit. He completed 15 of 22 passes for 208 yards and three touchdowns, rushed 11 times for 73 yards and a score and recorded an interception. Kennedy's 1-yard keeper with 5:24 left gave the Trojans the lead for good. His interception set up Jameson Walsh's 4-yard touchdown run with 2 minutes left.
"It's his senior year. He wants to go as far as he can and he's the type of kid who is going to leave it on the field every game," Burkholder said. "He is a leader on both sides of the ball for us. He's taken some of these younger kids under his wing … really coaching them up outside of practice and just doing all the things to make sure this program is successful."
What Kennedy is doing goes back to what he learned from his predecessor, current Rutgers quarterback Cole Snyder, who holds program records for career touchdowns (75), passing yards (5,302) and passing yards in a season (2,069). Kennedy has career passing totals of 56 TDs and 4,462 yards.
This season, Kennedy has passed for 1,607 yards and 17 touchdowns. He also has rushed for 10 touchdowns and 539 yards on 92 carries.
"The expectations were high," Kennedy said. "I got pulled up my freshman year to see his (Snyder's) work ethic and what he brought to the team and how he prepared for each game. He gave me the layout how to help this team win and keep the winning tradition of Southwestern. They're big shoes to fill, but he helped me be ready and prepared me and I knew I was ready to take the role and put this team in position to win games."