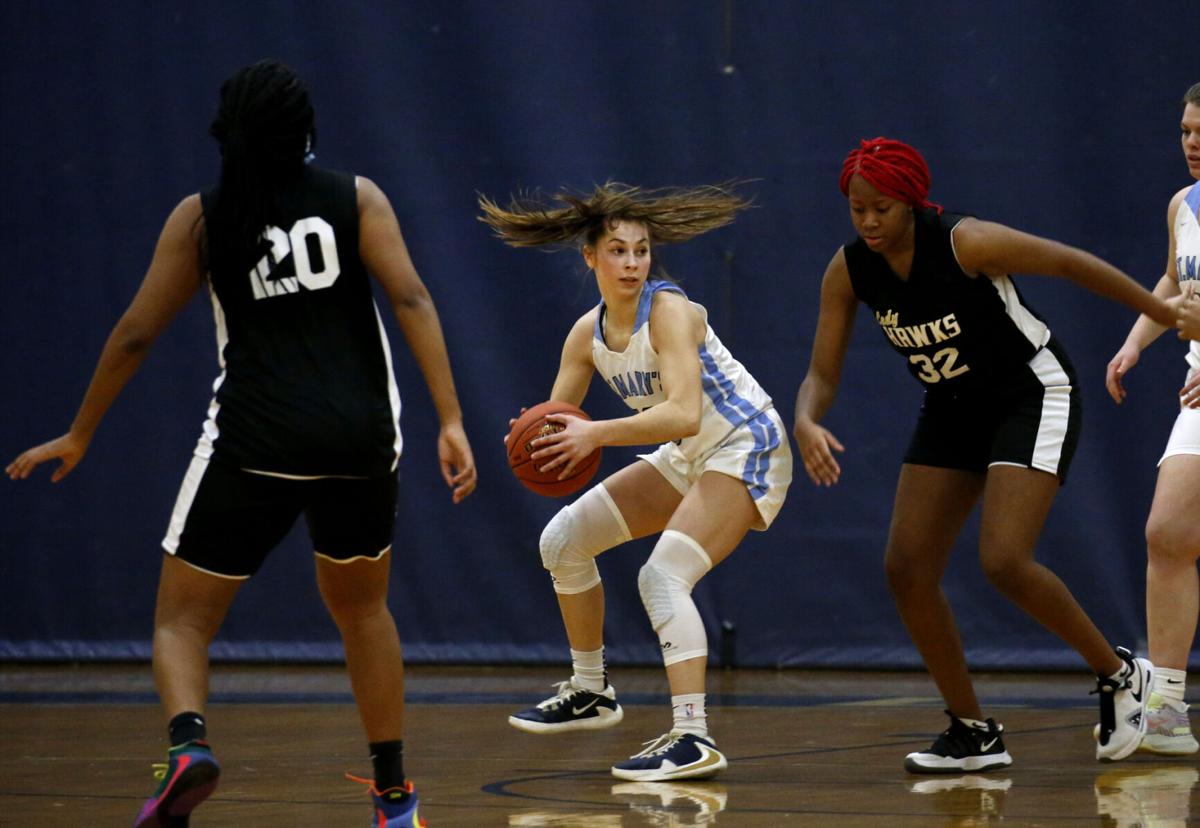 One would think the Cardinal O'Hara girls basketball team would want to play at a fast pace, considering the talent it has on the roster.
Not against a dangerous St. Mary's team that not only has a potential major Division I recruit in junior guard Shay Ciezki, but came in averaging just slightly more points per game as a team (75.3 to 74.8) than a Hawks crew that starts three future scholarship athletes.
Even though it wasn't breakneck pace basketball, the top two teams in the Buffalo News large schools poll still got together and delivered a thriller at St. Mary's field house with Cardinal O'Hara rallying for a 58-53 triumph over their Monsignor Martin High School Athletic Association foe.
Senior Aaliyah Parker scored 10 of her game-high 20 points, including a layup that gave O'Hara the lead for good, during the final 6:35. She also grabbed a key offensive rebound late that enabled The News' top-ranked team to milk the clock.
It's been a while since the all-boys school on Kenmore Avenue has celebrated a basketball victory over its rival on Delaware Avenue.
Parker, a Niagara University signee, finished with 10 rebounds, five assists and three steals, while classmates Mia McCarthy (14 points) and Amelia Strong (13) also scored in double-digits for unbeaten Cardinal O'Hara (6-0), the seven-time defending Monsignor Martin playoff champion.
St. Mary's (7-1), which came out ranked No. 2 in The News' poll, more than looked the part of a team with the potential to end the Hawks' championship reign. The Lancers held the lead seven times and never trailed by more than six.
They had a chance to tie the game, down 50-48 with under 2:30 left, but just couldn't get an inside chance to fall. Seconds later, Parker expanded the lead for O'Hara.
"That's a very, very good team," Hawks coach Nick O'Neil said of St. Mary's. "They played us extremely well, hard. It took a lot for my girls to pull this out."
There's a reason O'Hara wanted to play at a slow pace: Ciezki.
The Amherst Tigers scored early, often and almost at will as they never relented against their longtime adversary in earning an 82-49 victory over visiting Williamsville South.
She came into Monday's tilt averaging 27 points, 8.6 assists and 4.0 steals per game. The Hawks wanted to reduce St. Mary's possessions and make it tough for Ciezki to put up a big number.
Ciezki finished with only 16 points, including just two 3-pointers, while being closely watched by O'Hara junior Courtney McClaney.
"We didn't shoot the ball well, but the girls concentrated (shutting down) a really great player in Shay, and Courtney McClaney did a great job," O'Neil said.
"We know we could play with O'Hara and we gave them our best shot. A couple misses here could have given either team, more so us, a little bit of a cushion, but they didn't drop," Lancers coach Anthony Ottomano said. "We'll come back a little stronger and harder."
Although a very good effort didn't produce victory for the Lancers, it is still uplifting to know they have a nice squad – that includes freshman and former Springville player Mackenzie Owens, who chipped in with 12 points and a 3-pointer that made it 56-53 with five seconds left.
It's rare, but not unheard of, for an athletic director to double as basketball coach, given the time required to do each job well.
"We feel that we get somebody and we're up in the final two minutes or so, the game is our game because it's a veteran-laden team and we have a lot of seniors who have been in big games and they know how to perform in the final couple minutes of a game because it's something they do all the time," O'Neil said.
O'Hara held an early 11-6 lead after a 3-pointer by McCarthy, but the Lancers didn't let this get out of hand early, as it got contributions inside from both Ava Achtyl and Sam Garry in the first quarter. St. Mary's trailed 13-10 after eight minutes and needed just 62 seconds to go ahead for the first time, which it did on two Sydney Ottomano free throws. Ciezki scored five points in the second quarter, including a jumper to beat the clock and send the teams into halftime tied 26-26.
"St. Mary's is one of the best teams in the state, bar none," O'Neil said. "To have this rivalry with them the last couple of years … this is good, we go out there and fight. Coach (Ottomano) does a good job with the kids. It's a fun game. People that were watching it, texted me and told me it was a fun game to watch. We came out on top but we could've easily had come out with an 'L.'"