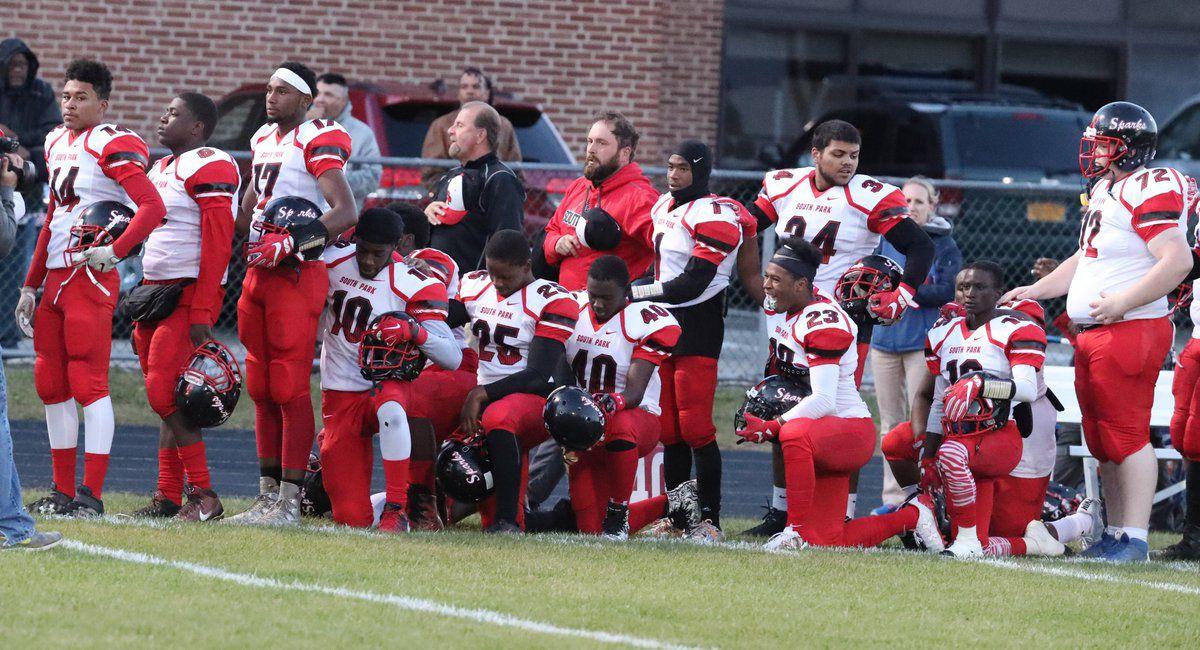 Several members of the South Park Sparks decided to take a stand prior to their game at Iroquois, but they and their teammates needed to make a couple more down the stretch in order to return home with a victory.
South Park remained unbeaten by hanging on for a 36-28 triumph over the Chiefs in a Class A South clash between playoff contenders, but that thrilling conclusion to an exciting game took a back seat to sports and real life intersecting once again.
Except this time it happened on a high school football field for the second time in 24 hours.
On Friday night, six members of the Sparks took a knee during the playing of the national anthem in a form of silent protest similar to what football fans across the land saw last weekend when NFL players and owners did that along with locking arms to dispute remarks made by President Trump.
The situation trickled down to the sport at the scholastic level in Western New York this week. On Thursday, a Jamestown freshman took a knee during the anthem prior to the start of a ninth-grade contest at Dunkirk.
Friday at Latimer Field in Elma, it was South Park's turn to help bring more attention to racial inequality – a scene that began last year with then San Francisco 49ers quarterback Colin Kaepernick taking a knee before the anthem.
"I was very offended at what happened over the weekend," said Sparks senior Jeremiah Sanders, one of the players who took a knee during the anthem.
"The NFL players showed a good example of peaceful protest so I decided I wanted to stay with my fellow minorities, blacks, Latinos, anybody," he said. "I feel we are getting wrongfully (treated). I wanted to protest and show the government we're citizens. We matter."
It's something the South Park players discussed doing all week. They had coach Tim Delaney's support, who stressed they're exercising their first amendment rights (free speech) and that this was a teachable moment.
"The kids are feeling a certain way about things that are happening nationally, but we're all right with them expressing themselves," Delaney said. "Do what you feel but you must understand you may get a mixed reaction."
One person from the stands shouted stand up, but the crowd was pretty subdued as the scene played out across from them.
The goal of the Sparks wasn't to disrespect the flag. It was to bring attention in a peaceful way to something that they view is a serious concern that affects their lives, the lives of their friends and the lives of others in the country.
"I'm going to continue to do it until we have a change in our society, a change in our government," Sanders said.
Regarding those who may disagree with Sanders' decision to kneel during the anthem:
"We're all entitled to our own opinion," he said. "It's all right to protest peacefully. It doesn't matter what people think of me. I'm going to do what's right for my people and city."
The teams likely made the estimated 1,500 forget about the pregame scene by combining for a 29-point first quarter with Iroquois scoring first on Homecoming, turning an interception by Corey Day into six points as the takeaway led to Spencer Slachetka's 7-yard TD catch and an early 7-0 lead.
South Park scored the next two scores, including a 34-yard catch on fourth down by Devonte Fountain and the first of two touchdown runs by Clarence Thomas (153 rushing yards).
C.J. Perillo, who had a sensational game rushing 32 times for 195 yards and two scores, gave the Chiefs their final lead on a 69-yard TD run and then ran in the conversion.
Two takeaways helped fuel a 22-point second quarter that enabled South Park to take the lead for good, including a 35-yard fumble return by Fountain, a turnover forced by Sanders.
But the Chiefs made the Sparks work for the triumph in the fourth – pulling within eight on a 39-yard field goal by Dylan Giancarlo and Perillo's 11-yard TD run. South Park made the two defensive stands they needed to in the final 5 minutes to leave with the victory on a night that started with them taking a different kind of stand.
"We knew what we had to do and we got it done," Sanders said.