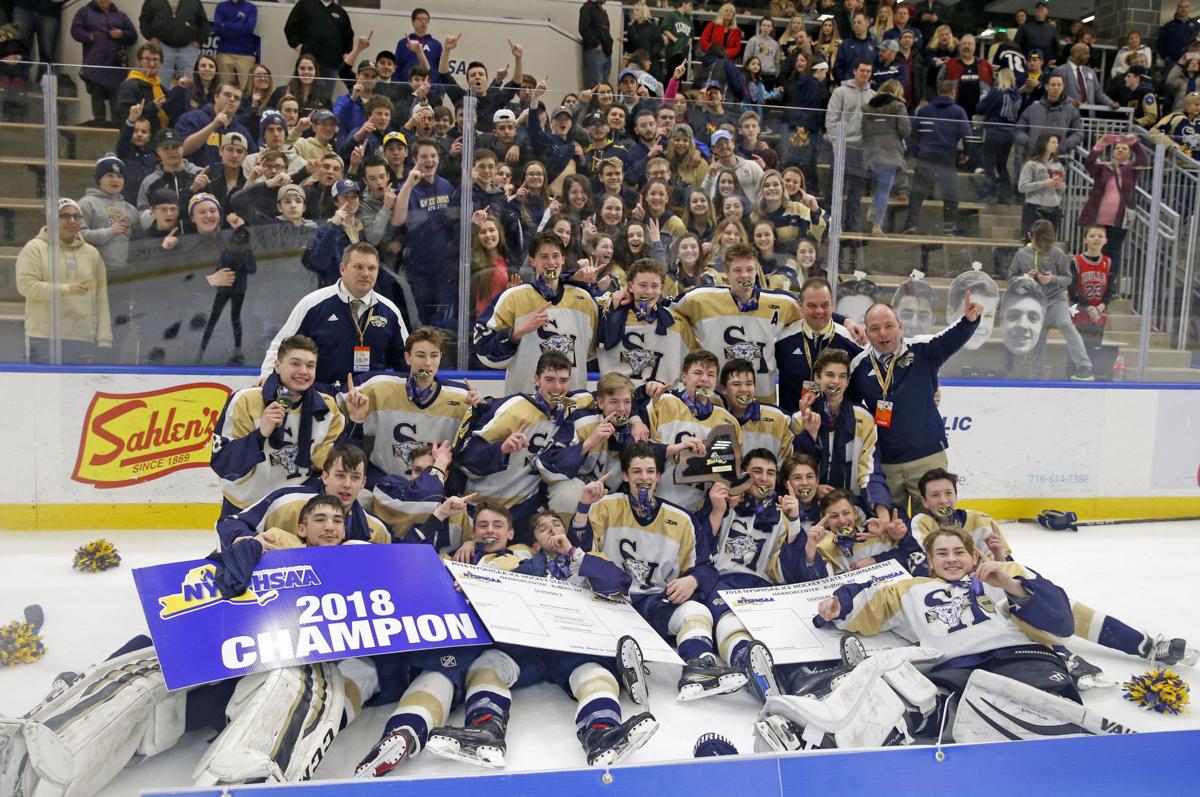 LECOM Harborcenter has been home to the New York State Public High School Athletic Association boys hockey Final Four since 2016.
Whether Hockey Heaven will continue to welcome the event beyond next March is still to be determined.
The coronavirus pandemic resulted in several winter and all spring season state championship events being canceled. The NYSPHSAA offered all venues that lost out on hosting state postseason events a one-year extension to their respective existing contracts. However, boys hockey opted not to take the state up on its offer, the NYSPHSAA revealed following its quarterly meeting last month.
"Harborcenter and Section VI made the decision," Section VI Hockey Chairman Mark DiFilippo told The Buffalo News on May 27.
The NYSPHSAA has opened bidding for the 2022-24 tournaments. Proposals are due Sept. 21 with the NYSPHSAA Executive Committee expected to announce the approved venue Oct. 21.
Section VI and Pegula Sports Entertainment are discussing whether to submit a bid to remain as host, PSE spokesman Don Heins said.
Given how the economic climate has changed since the tournament was previously granted, it's likely that this set of bids could look significantly different.
"We've enjoyed hosting the NYSPHSAA Hockey Championship and would like it to continue at LECOM Harborcenter," Heins said. "We plan to present the NYSPHSAA with a bid that we believe will be fair to both sides. This was our plan long before the pandemic arose."
The first two successful bids by Section VI and PSE were simply too good for the NYSPHSAA to pass up. Those proposals included monetary donations from PSE that covered the cost of the tournament each year. Buffalo earned its second three-year term as host because its proposal was $30,000 cheaper than Utica, whose 27-year run as host of the Final Four ended in 2015.
"We started with a bid that NYSPHSAA couldn't refuse," Section VI Executive Director Timm Slade said. "I think after six years and turnover, they need to re-evaluate if we'll be able to submit another competitive bid.
"We can't do it if (Harborcenter) is not interested in doing it. People at (Harborcenter) and the ice hockey committee want to put a bid in."
Section VI ice hockey chairman Mark DiFilippo said the only way this area could remain host for the state Final Four is by having the event at Harborcenter.
He also said that the biggest reason the sides aren't further along in putting together a proposal is because the pandemic has impacted the Federation's ability to compile a league schedule. Section VI has agreements with 12 facilities to host games during the season. However, most of them aren't sure when they will resume operations, according to DiFilippo. That makes it hard to compile a season schedule for the league when nine of the rinks -- including multi-ice-pad venues Harborcenter and Northtown Center.