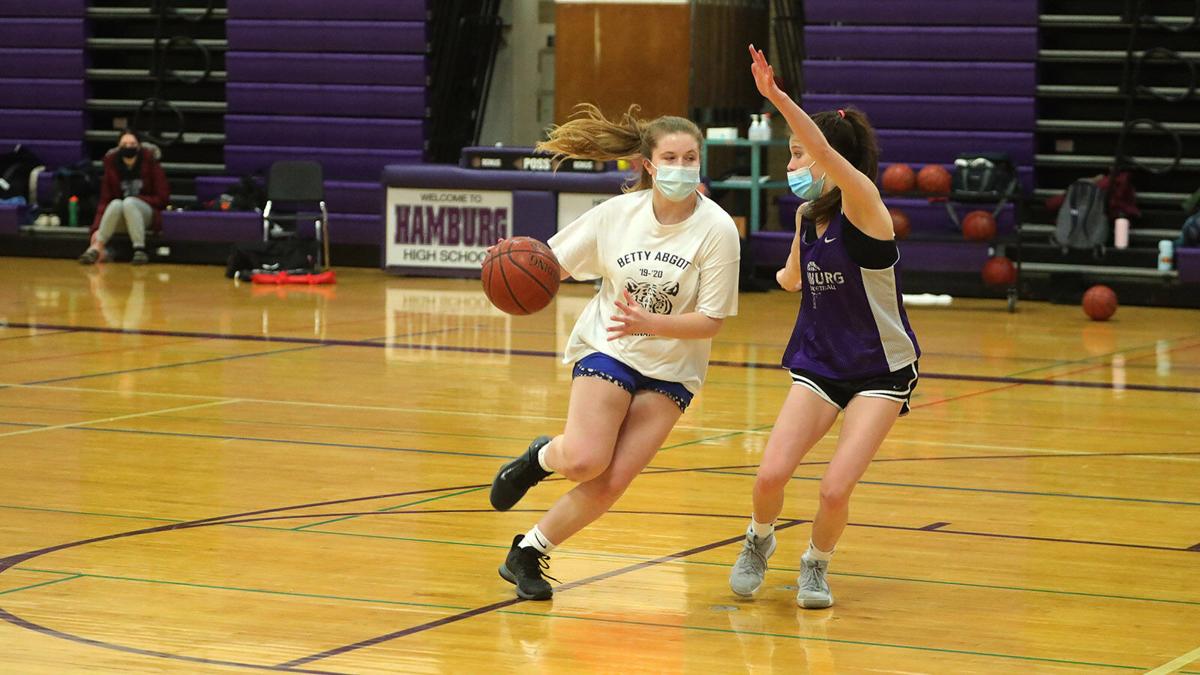 Meghan Kruszka is lucky to be alive, let alone playing sports at a high level, after being hit by a car last spring. The 15-year-old Hamburg sophomore is also an important contributor to the Bulldogs' unbeaten start during this pandemic-impacted girls basketball season.
That's kind of remarkable, considering nearly nine months ago she spent five days in intensive care due to head injuries sustained while out riding her bicycle with friends. Some of that time she was spent in an induced coma.
"My friends told me what happened, but I don't remember anything," Meghan said.
Back on June 5, Meghan said she was hit by a car that came up from behind her while she was cycling. The driver, an elderly man, allegedly didn't see her. Meghan wound up on the hood and windshield before the vehicle stopped, sending her flying to the ground. She went into shock, but was told she said she had a headache and back pain, and wanted water while waiting for the ambulance.
She suffered a skull fracture and two brain bleeds, along with assorted scrapes and bruises.
"Very lucky," she said. "There was a high chance of me not surviving."
"They didn't know what was going to happen because of the pressure on her brain," said Meghan's mother, Jen Kruszka. "The first couple days were bad (she was having trouble remembering names, ripped out a breathing tube due to being agitated). After that second day, it really came together."
After five days in the ICU at John R. Oishei Children's Hospital, Meghan was discharged and sent home.
The return home proved to be a grand event. Meghan's basketball teammates, junior varsity soccer teammates, family and friends held a welcome-home parade.
Folks came bearing presents, lawn signs were made and there were streamers. People in cars also honked their horns. In a show of support, a couple of her male friends shaved their heads. She had a bald spot on the left side of her head because of her injuries.
"It definitely made me a laugh and gave me something to laugh about," Meghan said. "It was just nice to see everybody's faces."
The road to recovery still continues for Meghan. She suffers from migraines, an ailment that plagued her prior to the accident. She missed most of last season because of migraines. Her doctor put her on a trial medicine that seemed to have been working, but since the accident, it's back to the drawing board.
Meghan usually has headache after she wakes up. She takes daily pills, monthly trigger-point injections, botox injections every three months and chiropractor visits twice a week. It's kind of a miracle she's able to play.
"I give it up to her drive," said Pat Kruszka, Meghan's father.
"Both coach Stegers (head coach Amy and assistant Andy) understand what she's going through," he said. "They're awesome. They make sure both windows are open in the gym at practice so there is proper ventilation, because when she overheats sometimes, that triggers it."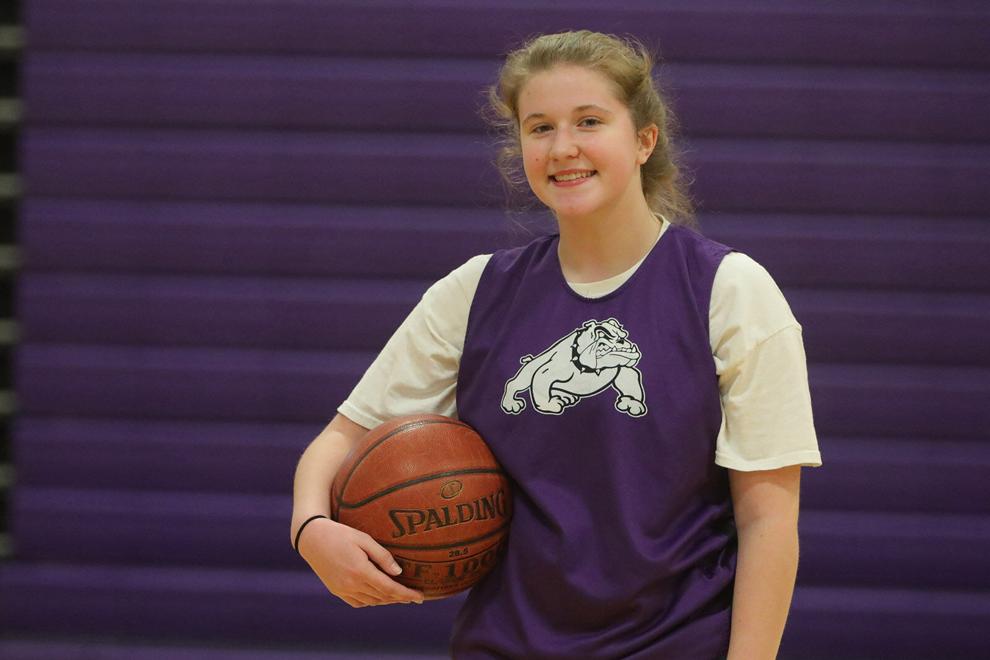 Meghan is grateful she's able to keep playing sports. She's even more grateful for her teammates, including her older sister Hannah, who helped her recover and have helped her return to being a contributor on the team.
She had 11 points and three assists in a 66-59 season-opening win over Williamsville South.
"It's just really impressive she is where she is right now," Amy Steger said.
Hamburg is in an impressive spot after scoring a win over Williamsville South. The Bulldogs rallied from an 11-point deficit for the win and now control their own destiny in what figures to be a three-team race for the ECIC II crown. Hamburg, which returned four starters from last year's Class A-1 championship team that lost to Will South in the overall Class A final, faces the other division favorite Amherst on Feb. 27 and then has a rematch the next game with South.
Six-foot-3 sophomore Clara Strack pulled down what's believed to be a school record 28 rebounds and had 17 points. Teammate Madison Harrison added 19 points and 11 boards.
"It was our focus of the offseason to help the girls realize how good they are and to be comfortable playing that way," assistant coach Andy Steger said. "We have a pretty strong starting five that are pretty balanced and versatile. I think they're at the point in their careers where they can see what they can do."
Ciezki No. 2 for St. Mary's
Shay Ciezki now ranks as the second-leading scorer in the history of St. Mary's of Lancaster girls basketball.
She entered Tuesday night with 1,111 points, which trails Raeann Stilwell's total of 1,776. The junior moved into the spot following a 32-point effort Monday in the Lancers' 81-75 victory over Amherst.
St. Mary's rallied for from a halftime deficit in that one with Ciezki pouring in 22 during the final 16 minutes. Transfer Mackenzie Owens had 26 points, draining six 3-pointers.
• Defending Class AA champion Orchard Park is off to a 0-2 start, which includes a 55-53 loss to Clarence, last year's runner-up. The Quakers only returned two starters and are a young team, according to coach Gary Janus. One of the young ones to keep an eye on, who is a returnee, is ninth-grader Sydney Fenn, who had 27 points and eight rebounds against the Red Devils.
• The Section VI Executive Committee has finalized classifications for the postseason. There will be Class AA, A-1, A-2, B-1, B-2, C and D. There are only 16 teams in Class C, so the section opted for one bracket. Unlike the boys, girls have just 27 Class B schools, so the committee decided to keep the split to two brackets. The boys added a B-3 because they have 32 Class B teams. The reason for the difference: Some teams combined due to size, while others opted out of the pandemic-shortened season.
• Cardinal O'Hara is off to a 4-0 start and has given up more than 30 points just once – in a 71-60 victory over Sacred Heart.