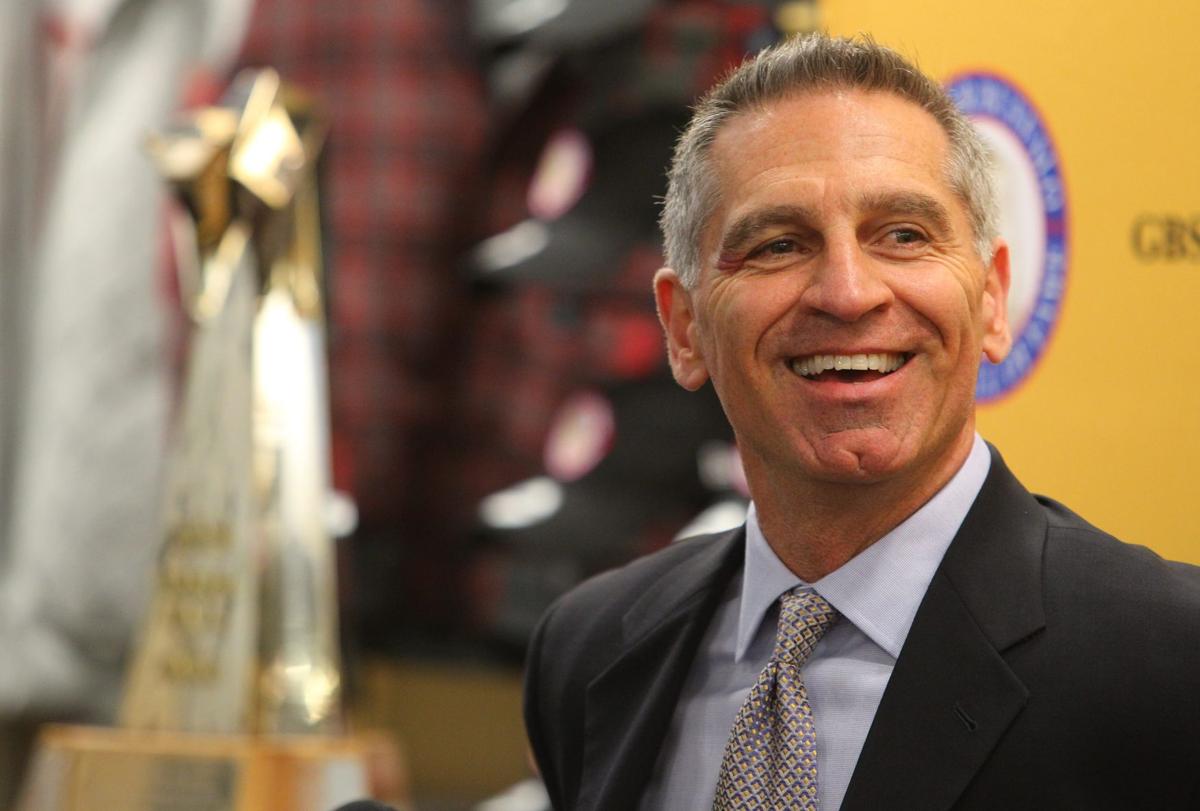 This is the first in a series of Saturday stories profiling the Greater Buffalo Sports Hall of Fame's Class of 2013.
Phil McConkey is often asked, even by those closest to him, how at 5-foot-nothing and weighing about 50 cents, he thought about playing in the NFL? Even a football novice understood the probabilities were stacked high.
His answer never wavers: "I never thought I couldn't."
There have been better athletes enshrined into the Greater Buffalo Sports Hall of Fame and certainly more with better statistics. But it could be argued that no one has overcome greater odds to reach his chosen profession than Philip Joseph McConkey.
He grew up poor on the city's West Side but became a star player for Canisius High School. When it was time for college, only Navy was willing to take a chance on the 5-foot-10, 140-pound McConkey. After a stellar career at Navy as a wide receiver and return specialist he fulfilled his five-year commitment to the Academy, leaped over more hurdles to become a 27-year-old rookie for the New York Giants and eventually one of the more unlikely heroes in Super Bowl history.
McConkey had some tools – he was fast and tenacious – but there were many players with those attributes who were bigger and stronger.
"But I wanted it more," he said. "I persevered."
He's also asked where did his confidence and tenacity come from? That answer isn't so easy to clarify.
"If I could explain it succinctly enough, we could sell it," said the 56-year-old McConkey. "It would be a hot commodity,"
For starters he gains inspiration from others, using their stories of perseverance as motivation like World War II veteran Louis Zamperini.
Zamperini, an Olean native, survived an airplane crash in the Pacific and was lost 47 days at sea. He fended off constant shark attacks and was nearly capsized by a storm. His meals were small raw fish. After finally reaching the Marshall Islands, Zamperini was captured by the Japanese Navy where he was tortured for three years by merciless prison guard Mutsuhiro Watanabe, who was on General Douglas MacArthur's list of the 40 most wanted war criminals in Japan.
After the war ended Zamperini became an inspirational speaker and had long forgiven his Japanese captors, Watanabe included.
"When I get frustrated with certain things and things seem like they're not on track, I usually bust out of it quickly when I think of other people. I channel Louis Zamperini and I yell his name out, 'Louie! Louie!' "
McConkey is himself an inspiration.
For the first 12 years of his life McConkey grew up on Congress and Lafayette and then on Grant Street on Buffalo's West Side. He fell in love with football and the Buffalo Bills at age 6.
"I think it would have been a lot easier if it were baseball, or golf or tennis or something like that because my stature would have been better in those sports," he said. "I was probably too small to play hockey but for some reason you fall in love with something and it becomes a passion and you don't give up on it until you realize your dream."
His family didn't have a lot of money but his father, Joe, managed to pay for his tuition to attend Canisius High School. His mother, Jeana, provided support and love.
"Believe me, I was a street urchin," McConkey said. "My father was a Buffalo city cop but he worked two or three jobs on the side to be able to put my sister and I through private school. My parents sacrificed an incredible amount for us so we would have better than they did. That was their dream."
Canisius didn't lose a football game during McConkey's last three seasons when they were one of the top teams in the state. He played in the secondary and wide receiver and never came off the field, garnering all the usual honors but in his senior year in 1975 McConkey weighed 140 pounds. That same year the NCAA instituted the 30-95 Rule, meaning schools could offer no more than 30 scholarships annually and 95 total.
Colleges needed size, not someone who looked like he needed a warm meal so they asked him to walk on. Joe nearly killed himself for tuition money, and McConkey knew he had to get a scholarship. There was no more money.
"I couldn't even bear to ask him to go another sleepless night," McConkey said. "The man slept two or three hours my whole life."
Finally the Navy called and McConkey knocked out two dreams: Playing college football and becoming a pilot.
In his last game for Navy, McConkey led Navy to a come-from-behind win over Jim McMahon and BYU in the inaugural Hall of Fame Bowl and was named MVP. McConkey thought that was the end of his career until he started watching the NFL.
"What if I had the opportunity?" he said. "What if? I decided I didn't want to be a grandfather wondering what if so I was going to get out after five years was up and try pro football and people thought I was crazy."
The transition from college to pro football is difficult, and McConkey was 27, barely 160 pounds and hadn't played football in five years. Then again, why not? The first person he approached was Steve Belichick, Navy's backfield coach and scout. "You need to run under a 4.6 to even have a chance," Belichick said. McConkey ran two 40s which Belichick timed in the low 4.4s.
"I'll call Bill," said Belichick, referring to his son, who had just been elevated to defensive coordinator of the New York Giants under head coach Bill Parcells.
Skinny Phil McConkey, the longest of long shots, reported for duty with the Giants in the summer of 1983. There were 120 players in camp and 14 wide receivers so to earn a roster spot it would have to be on special teams. Romeo Crennel, the special teams coach, had a pet peeve: Ball security on punt returns.
"It's one thing I can do better than anyone else in the world, I can safely say, was catch punts," McConkey said. "Tom Landry once said I could catch a punt in a rock slide."
He willed his way onto the roster – becoming the first Midshipman since Roger Staubach to serve a full hitch in the Navy and then make it in the NFL – but keeping the job was never ending.
"I wasn't a season to season guy, I wasn't even a game to game guy, I was a play to play guy," McConkey said. "If I messed up on one play, I could get cut and I knew that."
McConkey actually did get cut by the Giants at the end of training camp in 1986 but was picked up by the Green Bay Packers. A quarter into the season, Parcells noticed he lacked a sure-handed returner and wisely reacquired McConkey. The move paid off in Super Bowl XXI against the Denver Broncos when he scored a touchdown while setting up a field goal and another TD.
The touchdown came in unlikely fashion on a pass that was tipped by Mark Bavaro and caught in midair by McConkey. A mistake with McConkey being in the right place at the right time. Check off another dream for the kid from the West Side.
"I always wanted to score a touchdown in the Super Bowl," he said. "When I look back, it's a lot of emotion for me, mostly really good stuff. When you start thinking about where you came from and how you got to where you are now. It's not like I didn't think that I was any better or special that anyone else but I knew what I wanted."