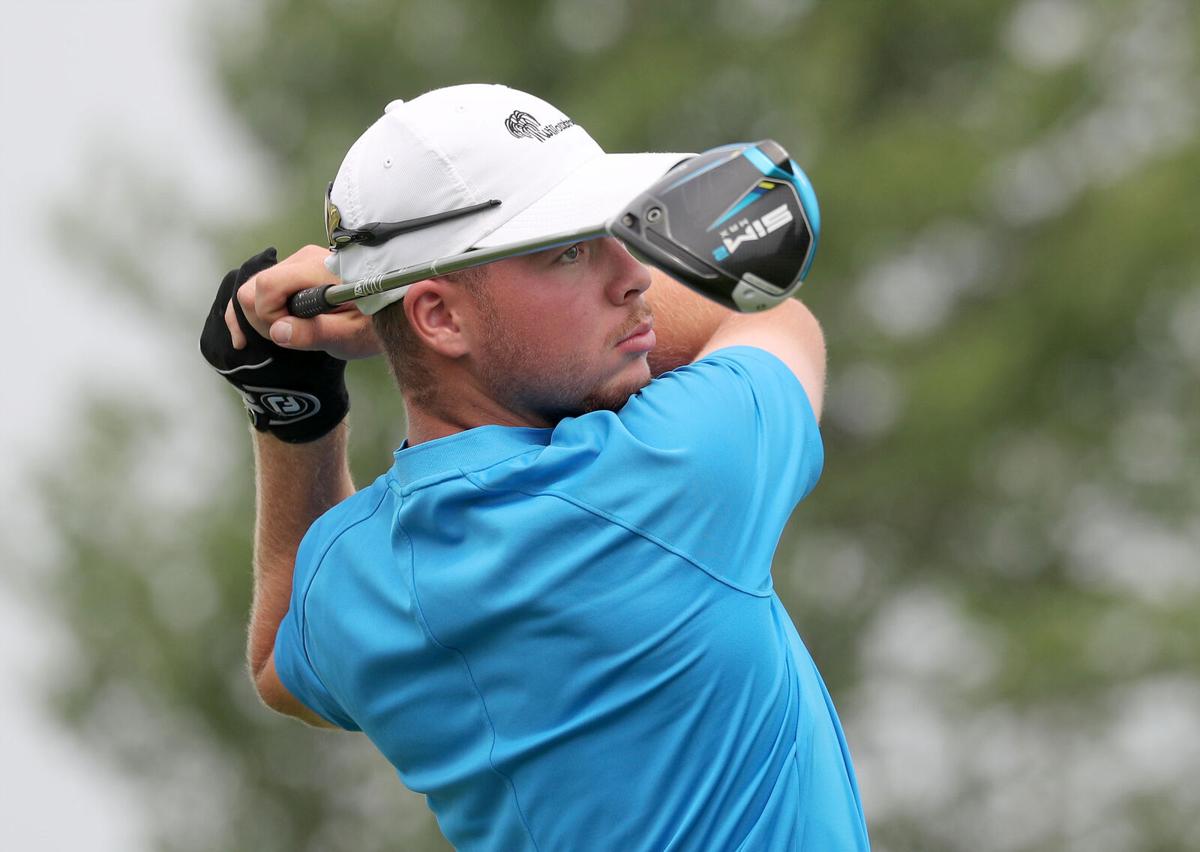 Anthony Delisanti became the 13th player Saturday to claim back-to-back titles at the Buffalo District Golf Association's Individual Championship.
He did it without firing a shot. The final round of the event at Glen Oak Golf Course in Amherst was canceled due to rain.
It was the 98th playing of the event, which crowns Western New York's amateur champion, and it was the 100th anniversary of the tournament, which began in 1921. The event wasn't played during three years of World War II.
It was the first time the event was shortened to 36 holes, from the scheduled 54.
Delisanti, an 18-year-old who just graduated from Niagara Wheatfield High School, last year became the youngest-ever winner of the event. Now he's the youngest ever two-time winner.
Delisanti won by three shots at 10-under par after shooting rounds of 69 and 65. He plays out of Lockport's Willowbrook Golf Course.
The Country Club of Buffalo's Ryan Hart, the 19-year-old son of PGA Tour player Dudley Hart, was second at 7-under after rounds of 70 and 67. David Hanes, 23, of East Aurora's Crag Burn finished third at 5-under.
"No. 1, I was really looking forward to today," Delisanti said. "I'm good friends with Ryan and David Hanes. It would have been a good challenge. I wish we could have gotten it in, but there's nothing you can really do about mother nature."
Delisanti joins a list of back-to-back winners that includes Greater Buffalo Hall of Famers Ward Wettlaufer and Fred Silver, along with Gary Battistoni, John Gaffney and Tim Hume. There have been four other back-to-back champions since 2000: Dave Patronik (2004-05), Jamie Miller (07-08), Jake Katz (10-11) and Raman Luthra (12-13).
"I'm super honored," Delisanti said. "There's a lot of big names on that trophy. It's an honor to win it, and I have a lot of people to thank for that."
Delisanti will start his college career at Division I Valparaiso in Indiana in a month. By virtue of his BDGA win last summer, he has a spot in the Porter Cup Invitational, which features top collegians from across the country, at Niagara Falls Country Club. It starts Wednesday.
Delisanti won't just be happy to be there. Last week, he placed sixth at the Monroe Invitational in Rochester, an event that also includes players from major colleges. Over the first two rounds at Glen Oak, Delisanti made 13 birdies.
Asked about his ball-striking, Delisanti said, "I hit 17 out of 18 greens yesterday and 14 or 15 in the first round. Out at Glen Oak that's kind of what you have to do. Just put it in play off the tee and then hit the middle of the greens. The greens were in great shape, the fastest I've ever seen them."
Glen Oak, opened in 1969, is in its best shape in decades, thanks to extensive removal of trees on some key holes (the par-5 11th and 18th) and the addition of 125,000 tons of sand to the greens over the past two years.
With no let-up in the rain in sight, BDGA Executive Director Jack Travers called the event about 10 a.m.
"With the pending weather throughout the day and the amount of rain the course took overnight and through the day, the course wasn't able to handle it, and it wouldn't have been suitable conditions for a championship," Travers said.
With Glen Oak fully booked on Sunday, moving the final round back a day wasn't an option. Even if the event was at a private club, Travers would not have been able to call 50 to 100 club members and tell them their Sunday round would be either canceled or delayed two hours. Monday wasn't an option either, because some of the field is playing in the Porter Cup qualifier and others have to work.
"We didn't have a viable alternate option," Travers said.
"I'm kind of upset, everyone is a little bit, but it's all right," Hart said. "I understand, the weather is bad. It is what it is. There's always more golf. I'm playing in the Porter Cup next week."
Hart just finished his red-shirt freshman year at the University of Florida, which was ranked No. 20 in the nation this year. He lived in Western New York from age 5 through middle school and now spends summers here. He missed the cut at the Monroe Invite.
"To have two rounds where I played pretty well, it's a good little confidence booster for next week," Hart said.
Hart becomes the first Country Club of Buffalo member to place in the top two at the BDGA in 61 years, since Wettlaufer placed second in 1960.
Orchard Park Country Club's Sydney Shaw, 24, was declared the women's champion. She shot 80 to finish atop a field of six. Shorewood's Kevin Kaszuba edged Niagara Falls' P.J. Alterio in a playoff in the senior division, which had 17 players.