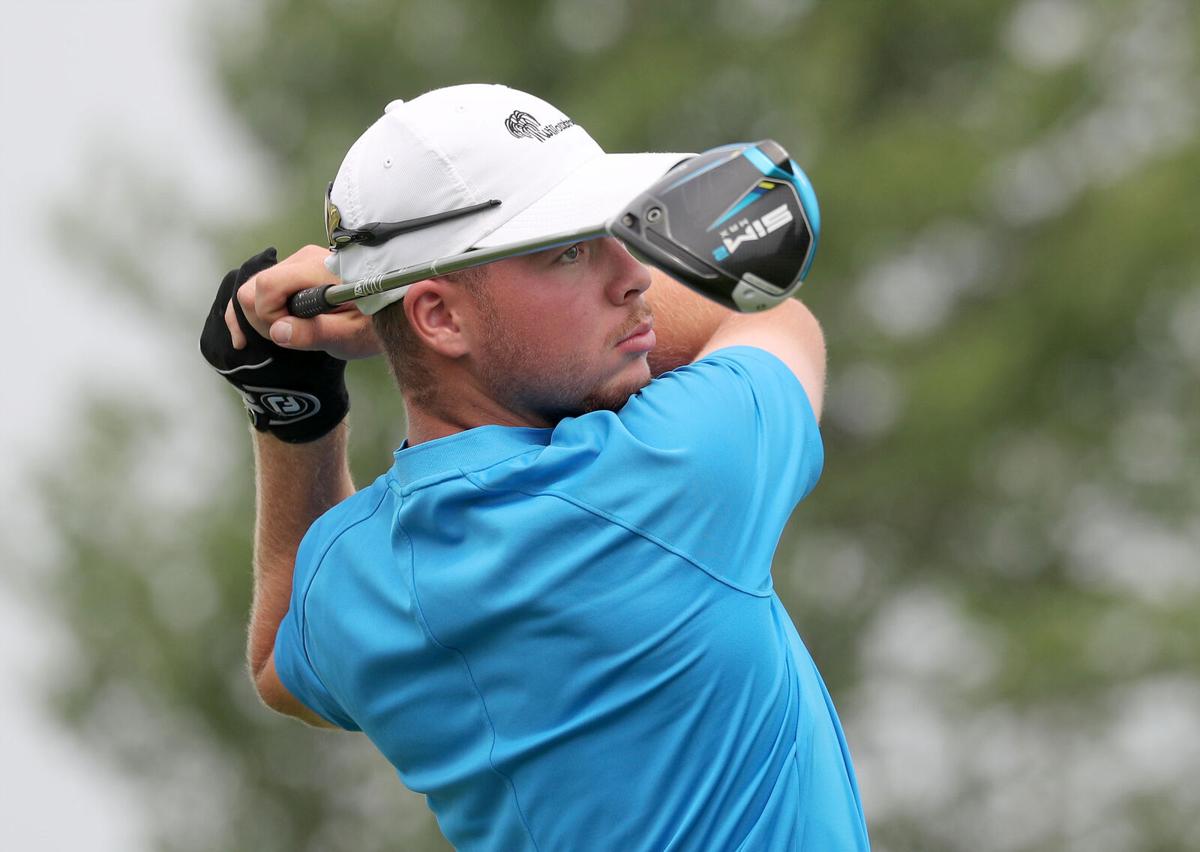 District, section, county and now state. Anthony Delisanti of Sanborn added to his collection of golf championships Wednesday by winning the New York State Golf Association Boys Junior title at Colgate University's Seven Oaks Course in Hamilton.
Performing like a true champion, the 18-year-old Niagara Wheatfield graduate shook off the 4-over-par he shot on the front nine to fire three birdies for a 3-under 33 on the back nine to take the championship with a 36-hole total of 144. His rounds were 1-under 71 on Tuesday and 1-over 73 on Wednesday.
Anthony Delisanti became the 13th player Saturday to claim back-to-back titles at the Buffalo District Golf Association's Individual Championship.
Delisanti was in a three-way tie with Nick Lyons of Loudonville and Shawn Colella of Marcellus after the first round. Lyons and Colella were not around at the end. Colella shot 77 on Wednesday to finish in a tie for third place at 152. Lyons soared to an 81 and tied for 10th at 152.
Before he settled himself, Delisanti had a double-bogey 7 at No. 5 and bogeys at Nos. 7 and 8 on his front nine. Then he had a three on No. 10 and a four at No. 12 for birdies and closed with a birdie-4 on No. 18 to win his first state championship in style.
In 2020, Delisanti won both the BDGA Junior stroke and match play titles, then won the overall men's Buffalo District titles in both. Last week, he became the 13th player in the history of the Buffalo District tournament to win two championships in a row when he triumphed at Glen Oak. That title was won when the final round was canceled because of unplayable conditions. That could not taint his accomplishment.
Many of Western New York's best junior and sub-junior golfers are entered in the NYSGA Junior Boys and Girls tournaments starting Tuesday morning.
He also won the Section VI boys championship at Bartlett in Olean in June and then the Erie County Championship at Grover Cleveland earlier this month.
Delisanti finished three strokes better than runner-up Philip Minnehan of McQuaid Jesuit High in Rochester. Minnehan finished at 72-75-147.
Among those tied with Lyons for third place was Ryan Edholm, a recent Sweet Home graduate, with 74-74-148.
In the 10th-place tie with Colella was former state boys 14U champion Charlie Fischer of Orchard Park at 78-74-152. Owen Rooney from Canisius High was at 152 with 76-76.
Tied for 26th was Kevin Zhao of Williamsville East (81-75-157).
Tyler Delisanti, Anthony's cousin, tied for 33rd at 81-79-160, along with Rocco Randazzo of Lewiston-Porter 82-78-160.
Brothers Tyler (81-82-163) and Jacob Dantonio (76-87-163) of Lancaster were tied for 40th. Canisius High golfer Alex Bakshi tied for 61st at 86-84-170.
Starting his back nine at hole No. 1, Cole Jones of Lancaster struggled to an 8-over-par 44 coming in and ended up tied for third in the Boys 14-and-under division with 73-79-152. Jones had no birdies, two pars, five bogeys and two double-bogeys coming home, spoiling his chances after tying for the first-round lead with eventual champion Jacob Olearczyk of Holland Patent who won with 73-74-147.
Joey Bueme, a sixth-grader at Nardin Academy Middle School, matched Olearczyk's 2-over 74 for the best round of the second day to go with an 83 on Tuesday for a seventh place with 157. Halim Habib (Country Club of Buffalo) tied for eighth with 81-78-159 along with John Giangreco (Amherst) who shot 80-79-159.
Connor Jackson of Williamsville was 21st with 91-81-172.
Lily Zhang, 13, an eighth-grader at Nichols, finished in a tie for second in the Junior Girls Division with 77-74-151, four strokes behind the champion, Julia Zigrossi of Spencerport, who won with 74-73-147.
Gwendolyn Yarnall of East Aurora was ninth with 81-83-164. Victoria Leach of Clarence tied for 15th at 84-85-169. Rosalie Dinunzio of Clarence was 21st with 85-89-174 and Marinna Heister of Olean tied for 22nd at 82-95-177.