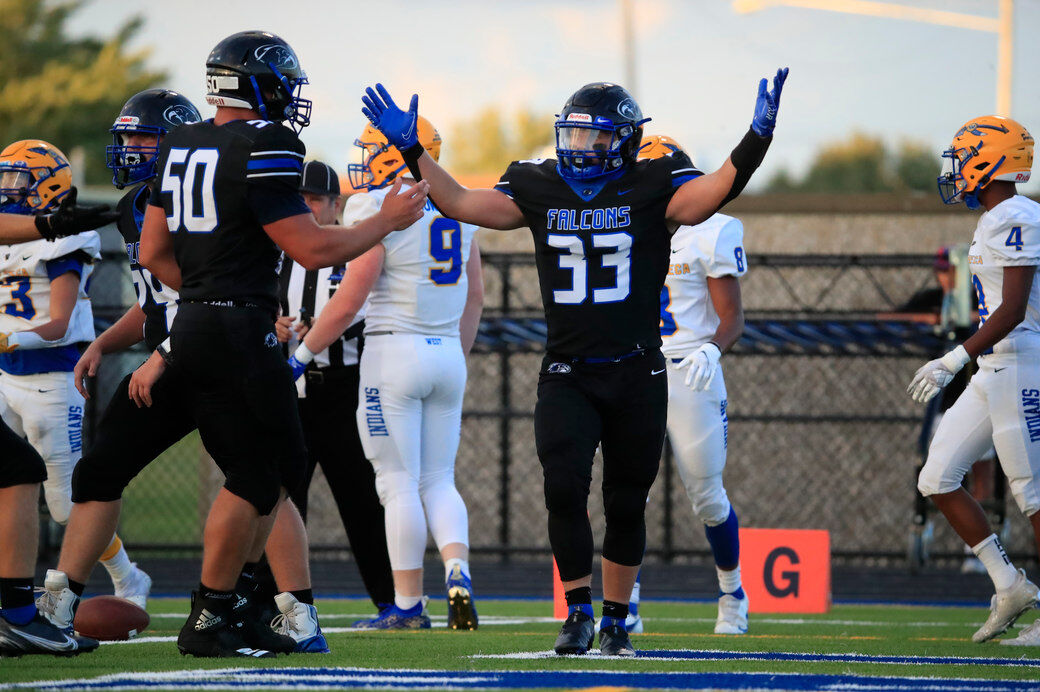 The celebration was wild and natural.
After the Frontier Falcons huddled up briefly in the far end zone following Friday night's 21-12 triumph over visiting West Seneca West, senior Dylan Mack excitedly ran toward the fence behind the Falcons' bench area and started high-fiving fans on the other side. Other Falcons immediately followed suit and with good reason.
Frontier thrived in a pressure-cooker against a fellow potential playoff contender and made the big plays that teams must deliver in order to come out on top.
Senior Vinnie Monaco's 22-yard touchdown run with 9 minutes, 22 seconds left provided the breathing room the Falcons needed to improve to 2-0, with both wins coming against Class A South Division foes. Frontier held a 14-12 lead from just before the midway point of the second quarter until Monaco's TD.
Monaco finished with 23 carries for 185 yards and two touchdowns. Mack scored once on four carries for 80 yards but also played some sound defense for a Frontier unit that put the shackles on West's offense after it had scored on its first two possessions of the game.
"I loved how hard Monaco ran and the way he made people miss," Frontier coach Richard Gray said. "And the offensive line made some great blocks. Conrad Krzyszton and Drew Mascio made some great blocks."
Now, about that postgame celebration.
"It was really great, got a chance to get everyone hyped up for the big win," said Mack, who recorded a fourth-quarter interception and delivered a hard hit in the same period on a wide receiver to thwart a potential big play. "It's great having a school that supports you like they do. It truly is what gets us going."
Special teams left an imprint, too.
Austin Lippert kicked three extra-points, booted three kickoffs into the end zone to prevent speedy West running back/returner Isaiah Simmons from potentially taking one to the house, and he delivered an energy-jolting punt for his defense when he uncorked a 46-yarder that pinned West at its 2 midway through the second quarter.
"Austin Lippert's leg was amazing," Gray said. "On his punts he scooped up a couple bad snaps (and got off good kicks)."
The 46-yard punt gave Frontier's defense a chance to go out and get some mojo as it got off the field for the first time Friday without allowing points. The defense continued rising from that point on with Krzyszton leading the charge with four sacks. The Falcons stopped an offense coming off a 50-point performance in a season-opening win over reigning Section VI Class A champion South Park.
Frontier and West took turns scoring during the opening 16 minutes, 25 seconds with the Falcons striking first. They capped a seven-play, 60-yard drive with Mack's 33-yard touchdown run. Lippert drilled the first of extra-point kicks to make 7-0.
West marched rather methodically down field on its first possession and punched it in on Lucas Freeland's 9-yard strike in the left side of the end zone to a wide open Tevin Mobley 59 seconds into the second quarter. West missed the PAT kick.
Frontier responded with seven points on its next possession when Monaco scored on a 9-yard run and Lippert's PAT kick with 8:35 left in the second quarter. But West needed just 65 seconds to respond as Freeland and Mobley hooked up on a 77-yard touchdown pass play with Mobley getting behind the defense to easily haul in the Freeland pass.
An even tougher test awaits Frontier next Friday when it visits Jamestown.
For now, it's about savoring the victory over a West Seneca West team that came in fresh off its season opening win over defending Class A champion South Park.