Warren Rabb played quarterback for the Buffalo Bills in 1961 and 1962, mostly as a backup. He got released in training camp before the 1963 season. And, best as he can recall, he's never been back to Buffalo.
Still, if the Bills ever win a Super Bowl, he'd like to be in charge of the championship rings.
"They ought to give me a look," Rabb cackles over the phone. "Who else makes rings who played for 'em?"
Rabb, 82, works full time in the ring business. He's been at it for 54 years. He owns a Jostens franchise in Baton Rouge, La., where he was born and where he quarterbacked his high school to a state championship runner-up, and his college to a national championship.
He's more than a figure of nostalgia at Louisiana State University, though. His company produced the rings that were given out on Tuesday to LSU's football national champs at a socially distanced ceremony spread across the team's indoor practice field.
Warren Rabb attended the ring ceremony for Louisiana State University's national championship team on Tuesday night.
The Tigers actually got three Jostens rings for their 15-0 season in 2019: a pair of national title rings — one from the school, one from the College Football Playoff Committee — plus a Southeastern Conference championship ring.
That means Joe Burrow, who quarterbacked the Tigers to their fourth national title, is getting his rings by way of the guy who quarterbacked them to their first.
"Kind of full circle, I guess you could say," Rabb says in a Louisiana drawl that all but drips with crawfish sauce.
So he must still wear his own LSU championship ring. Right?
"Are you kidding me? Man, I never take it off."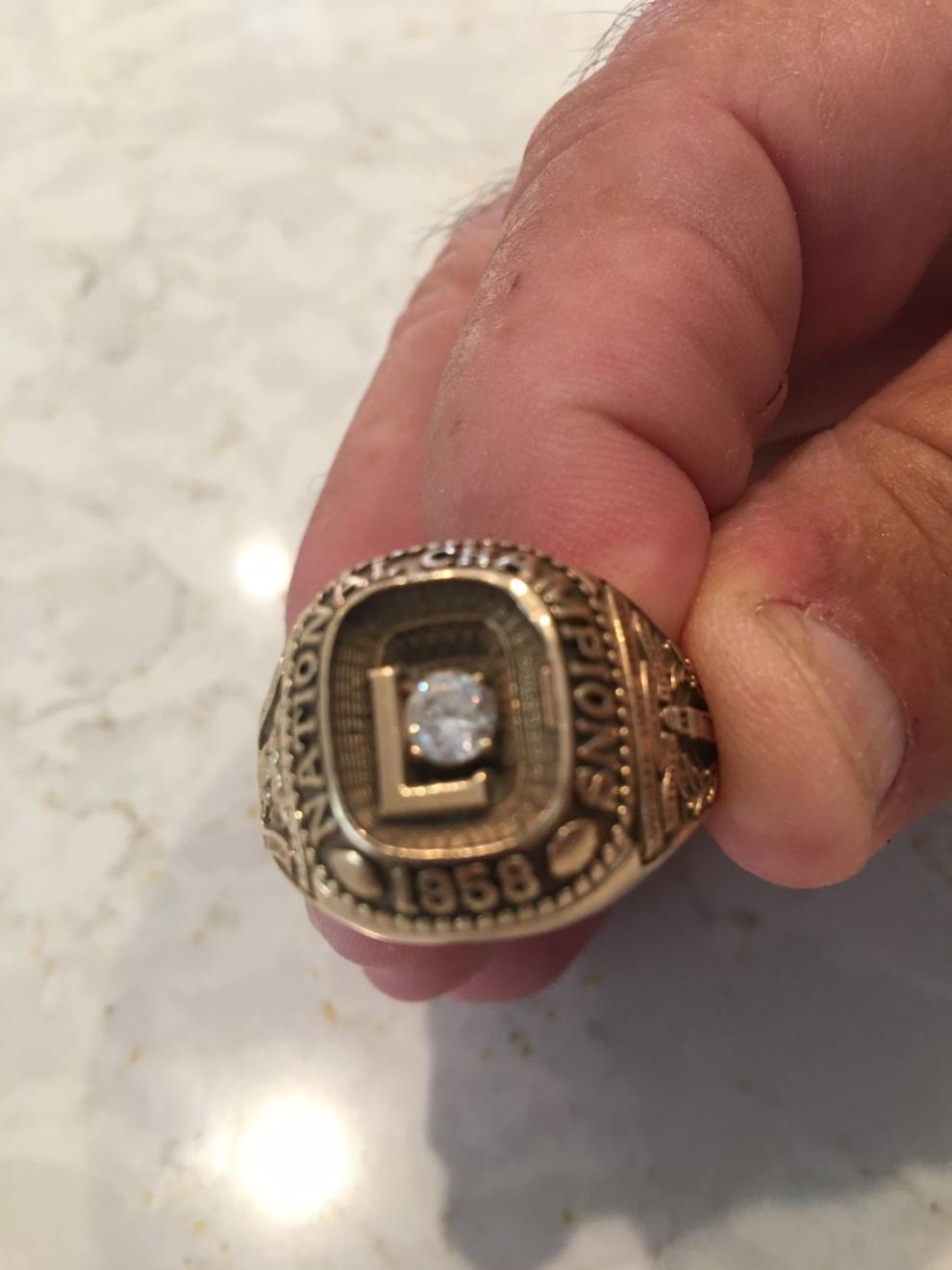 Rabb got only one ring for his national championship, but wears three rings:
The 1958 title ring: "Oh, man, mine's the prettiest. Today it seems like they like the bigger the better, with a lot of bling to it. Mine is small, but hey, just a good-looking ring."
His wedding ring: "I've been married for 64 years. Same woman, too."
His Jostens ring: "The company gives you one when you reach certain milestones in sales, and I'm in the chairman's club, which is as high as you can go."
Rabb says his company does $7 million to $8 million in sales each year, including class rings and yearbooks and other memorabilia.
"When you work for Jostens, you have an area assigned to you and get all the high schools in your area," he says. "We have southern Louisiana, and I work with my son, Jim, and we do pretty well. I don't have to work, but I enjoy working, and I see no retirement in sight."
Rabb says he could never have imagined, when he won his national championship ring 62 years ago, that rings would later loom so large in his life.
"Quick story: When I came back home after football, I thought I was going to go into coaching. Then one day my telephone rang at 1:30 a.m. in the morning, woke me up from a dead sleep. The guy on the other end said, 'I'm looking for Warren Rabb.' I said, 'Well, you got him. But do you know what time it is?'
"Well, he just started laughing and he said, 'I apologize for calling you at 1:30 a.m. in the morning, but I just got into town today. I'm recruiting. And I was at LSU, and the coach and the athletic director told me that you might be a person I should talk to about a selling job.' So you could say that my job with Jostens started at 1:30 a.m. in the morning."
That was in 1966. By then the Bills had won rings for AFL championships in 1964 and 1965. Rabb got released by the Bills before the 1963 season and played that year for the CFL's Montreal Alouettes, then retired. He'd played his first pro season for the NFL's Detroit Lions.
"I was the last cut in Detroit my second year there," he says. "I could have stayed with the Lions. They said they would pay me my full contract, and if anyone got hurt they would move me up. They only carried like 32 football players at that time.
"Well, [Bills owner] Ralph Wilson lived in Detroit, and he came out to training camp to see me and he said, 'Look, if you come out to Buffalo, I think you'd get a chance to play some.' So he talked me into it. And sure enough, I went to Buffalo and I got to play in a few games."
Maybe the most memorable came in his first appearance, in 1961. Starter M.C. Reynolds struggled in a game at Houston and Rabb came off the bench to lead fourth-quarter drives of 77 yards and 50 yards to give the Bills a come-from-behind win, 22-12.
Rabb was 1-2 as a starter for the Bills in 1961 and 5-1-1 in 1962. He remembers good times and good people.
"Played with a bunch of great guys, and I liked them all. Cookie Gilchrist. Elbert Dubenion. Ernie Warlick. Billy Shaw and Stew Barber. Really all of them. For the past few years I've been wanting to go up for the alumni golf tournament. Every year I say I'm going to go, and every year I don't, and I regret it."
Rabb got beaten out in training camp in 1963 by a rookie from Notre Dame by the name of Daryle Lamonica.
"Johnny Mazur, the quarterback coach, was from Notre Dame, and I don't know if I got a fair shake. I was just a young kid and probably had my feelings hurt a little bit, maybe didn't have the best attitude. But that doesn't take away from the good times I had playing in Buffalo. The fans are great. It's a good town."
Rabb is mostly forgotten in Bills history, but he's fondly remembered in LSU's. So are the two running backs who played with him in an all-Baton Rouge backfield: Billy Cannon, who would win the Heisman Trophy the next season, and Johnny Robinson, who entered the Pro Football Hall of Fame last summer for his career as a safety for the Kansas City Chiefs.
Cannon was LSU's only Heisman winner until Burrow won the trophy for last season. The Cincinnati Bengals took Burrow with the first overall pick of April's NFL draft.
"Joe's a great kid," Rabb says, "and he's going to do very well in the NFL."
Burrow wasn't at the ring ceremony, but he'll get his rings. Think of it as Rabb passing the torch to a new generation — and passing it, across six decades, with a nice, tight spiral.