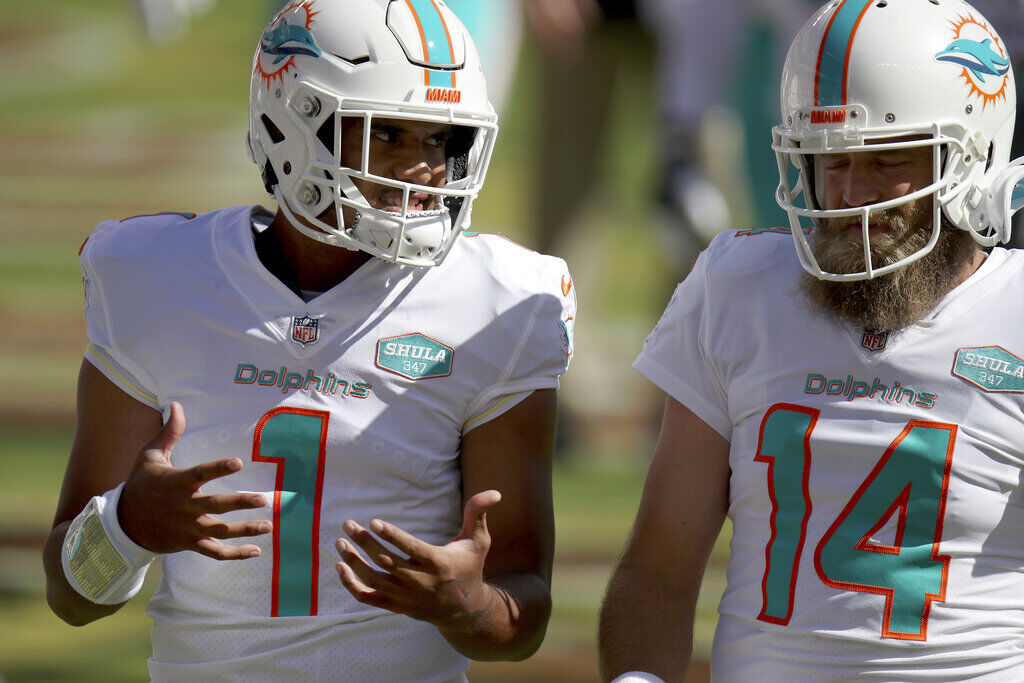 If living in an orange zone and thoughts of Kyler Murray and DeAndre Hopkins aren't depressing enough, consider this, Bills fans:
Where would the Bills be today if Cam Newton's fumble hadn't saved them from a possible overtime loss against the New England Patriots three weeks ago?
Short answer: In trouble.
First of all, they would be 6-4, a half-game behind the Miami Dolphins (6-3) and just a half-game ahead of New England (5-4) in the AFC East. In the AFC Wild Card standings at 6-4, they would be a half-game behind Baltimore, Cleveland, Indianapolis, Las Vegas and Tennessee, all 6-3.
And, if the oddsmakers are right, Miami, New England, Baltimore, Cleveland and Indianapolis will win as favorites in Week 11 games on Sunday.
So, even though the Bills are on their bye week, there should be plenty of interest here in the five games involving those teams.
Here's a capsule look at the Week 11 games:
Game of the day
Chiefs (8-1) at Raiders (6-3)
Record ATS: Chiefs 6-3; Raiders 6-3.
Times O/U: Chiefs 5/4; Raiders 7/1.
The scoop: The Raiders have moved into playoff contention with three wins in their four games after upsetting the Chiefs in Kansas City, 40-32, on Oct. 11. It was Kansas City's first loss to an AFC West opponent since 2018. The Chiefs are 29-4 over the last five seasons against division opponents under Andy Reid. ... Derek Carr passed for three Vegas touchdowns in last month's win, one a 59-yard completion to Nelson Agholor, and another for 72 yards to rookie Henry Ruggs III. In their three wins since the K.C. game, the Raiders are averaging 193 rushing yards per game. They had 112 running plays to 72 pass attempts in the three games. Carr has 16 TD passes and just two INTs.
Outlook: Injuries and Covid-19 positives, especially to the Vegas defense, make it difficult to forecast this one, except defeating Kansas City a second time will be difficult. Look for the Raiders to try to keep Patrick Mahomes, Travis Kelce and Tyreek Hill off the field by eating up time with their running game. If they can get in front early, they can frustrate the Chiefs again. Mahomes and Co. get their revenge, but it won't be easy. Chiefs, 40-24.
Top attractions
Titans (6-3) at Ravens (6-3)
The line: Ravens (-6 1/2).
Record ATS: Titans 3-6; Ravens 4-4-1.
Times O/U: Titans 5/4; Ravens 3/6.
The scoop: Could both Harbaugh brothers, Jim at Michigan and John with the Ravens, both get fired in the same season? If John is not under fire in Baltimore, then offensive coordinator Greg Roman, the former Bills aide, is. Roman is getting heat after recent losses to the Steelers and Patriots. The 17 points Baltimore put up at New England was the fewest in a game Lamar Jackson has started in the NFL. Tennessee is struggling, too, with losses to Steelers, Bengals and Colts in the last four games.
Outlook: Defense has let down Tennessee. The Titans have allowed 20 passing TDs. Injuries, especially on the O-line, have hurt the Ravens. Look for Baltimore to turn to the passing game, even with RB Mark Ingram back from injury. Ravens, 20-13.
Dolphins (6-3) at Broncos (3-6)
Record ATS: Dolphins 7-2; Broncos 4-5.
Times O/U: Dolphins 4/3/2; Broncos 5/4.
The scoop: Aside from the Steelers (9) and Saints (6), the Dolphins have the longest win streak in NFL. Who expected that? If the Fish win this, they figure to run their streak to seven against the Jets at MetLife next week. How are the Dolphins doing it? Although they rank in the bottom third of the league in most offensive statistics, they have averaged 31.6 ppg during their win streak. A plus-five turnover ratio is one answer. Sound special teams is another. Miami rookie QB Tua Tagovailoa has yet to throw an NFL interception.
Outlook: Denver QB Drew Lock (bruised ribs) is day-to-day and may not be available, which means Brett Rypien or Jeff Driskel would have to start. It all lines up for key road win for Miami. Dolphins, 27-20.
Eagles (3-5-1) at Browns (6-3)
The line: Browns (-3 1/2).
Record ATS: Eagles 3-6; Browns 4-4-1.
Times O/U: Eagles 5/2/1; Browns 5/4.
The scoop: Two of the most inconsistent teams in the NFL meet in Cleveland. The Eagles are coming off a road loss at the Giants that left them even with New York in the win column and two better in loss column. If fans were allowed, Eagles QB Carson Wentz (12 TDs, 12 INTs) would be hearing if from the Philly boo-birds. Baker Mayfield of the Browns has thrown no INTs in the last two games. With Nick Chubb and Kareem Hunt, the Browns rank fourth in the league in rushing yards per game (159.0) and third in average per attempt (5.1). The Eagles are giving up 133 per game on the ground, 26th in the league.
Outlook: Browns seem better suited if there is blustery weather at FirstEnergy Stadium, as there was in the last two games there. Browns, 24-16.
Patriots (4-5) at Texans (2-7)
Record ATS: Patriots 4-5; Texans 3-6.
Times O/U: Patriots 4/5; Texans 4/5.
The scoop: With all his success, keeping the Patriots competitive with the many personnel losses this season may be one of Bill Belichick's best coaching jobs. Despite unimpressive numbers (just three TD passes, seven INTs), Belichick is getting more production from Cam Newton as the weeks go by. New England's defense is limiting opponents to 23.4 ppg. ... It's the failure of the running game (87.9), not the play of DeShaun Watson (18 TDs, 5 INTs), that's caused Houston to slip to bottom of league ahead of only the Jets and Jaguars.
Outlook: New England isn't going away for a while. Patriots, 20-13.
Packers (7-2) at Colts (6-3)
The line: Colts (-1 1/2).
Record ATS: Packers 6-3; Colts 5-4.
Times O/U: Packers 3/5/1; Colts 4/5.
The scoop: A duel of NFL quarterbacks who have amassed impressive career statistics. Aaron Rodgers of the Packers has 26 TD passes, his 11th season with 25 or more. Philip Rivers of the Colts passed Dan Marino (61,361) into fifth place on the all-time list with 61,666 passing yards. The Packers have a comfy 2 1/2-game lead over the Bears in the NFC North, but the Colts are in a tight race with the Titans. Tennessee visits Indy next week.
Outlook: Rodgers will be tested on the road by a tough Indy defense and pass rush led by Denico Autry (six sacks). Colts, 28-24.
Rams (6-3) at Buccaneers (7-3)
TV: ESPN, Monday, 8:15 p.m.
Record ATS: Rams 5-4; Bucs 5-4-1.
Times O/U: Rams 3/6; Bucs 5/5.
The scoop: The Rams are coming off a win they needed against division rival Seahawks. Now, they get a tough road test against Tom Brady and the Buccaneers. L.A. is second in the league behind the Colts in total defense (294.4 yards per game); the Bucs are third (300.3 ypg.) and No. 1 (76.6 ypg.) defending the run. The Rams battered the Seahawks on the ground last week with Malcolm Brown and Darrell Henderson. Can they do it to Tampa Bay?
Outlook: Brady will need to be nimble in the pocket and quick with his release because he's sure to face a heavy pass rush from Aaron Donald (9 sacks) and LBs Leonard Floyd and Terrell Lewis. The Rams are only 2-3 on the road. Bucs, 31-24.
Best of the rest
Lions (4-5) at Panthers (3-7)
The line: Panthers (-1 1/2).
Record ATS: Lions 3-5-1; Panthers 5-5.
Times O/U: Lions 5/3/1; Panthers 6/4.
The scoop: Teddy Bridgewater of Panthers was one of the NFL QBs injured last week and questionable going into Week 11 games. The Lions blew big lead, but managed to squeak past Washington on a 59-yard game-winning field goal by Matt Prater on the last play of the game, earning him NFC Special Teams Player of Week. What about Tyler Bass of Bills with three FGs over 50 yards on the road in a tight game?
Outlook: The Panthers were hanging in against the Bucs in Charlotte last week, but a 98-yard TD run and a fake punt that backfired turned the game into a rout. Even though Carolina seems out of the playoff picture, don't see Matt Rhule playing the gambler again in a winnable game. Panthers, 24-20.
Steelers (9-0) at Jaguars (1-8)
The line: Steelers (-10).
Record ATS: Steelers 7-2; Jaguars 4-5.
Times O/U: Steelers 3/6; Jaguars 5/3/1.
The scoop: Ben Roethlisberger is having an impressive season for the undefeated Steelers. The Jaguars have lost last eight and are starting rookie sixth-round draft choice Jake Luton for the third game in a row. Roethlisberger has passed for 22 touchdowns with only four interceptions. Big Ben had thrown double-digit interceptions in 11 of his 17 seasons, with a high of 23 in 2006.
Outlook: The last two Jaguars losses were by two at home and four at the Packers last week, so we're wary. The Steelers on a five-win roll in 2018 won by only four at Jacksonville. It could be a possible letdown for Pittsburgh with a home game against the Ravens coming up on Thursday. Steelers, 27-23.
Falcons (3-6) at Saints (7-2)
The line: Saints (-4 1/2).
Record ATS: Falcons 4-5; Saints 5-5.
Times O/U: Falcons 5/4; Saints 6/3.
The scoop: The Saints are in a comfortable position in their division, one game ahead of the Bucs and owning a sweep of the season series. Jameis Winston, with help from Taysom Hill, will start at quarterback with Drew Brees (ribs, collapsed lung) out of the New Orleans lineup. Despite a losing record and coaching change, Matt Ryan of Falcons is posting good numbers (2,740 passing yards, 15 TDs, 5 INTs). Todd Gurley has run for nine TDs for Falcons. Alvin Kamara of Saints has amassed 1,134 scrimmage yards after 98 last week with three touchdowns in a win over 49ers.
Outlook: Saints have won their last six, but the Falcons seem to play their best in New Orleans. Falcons, 35-27.
Cowboys (2-7) at Vikings (4-5)
Record ATS: Cowboys 1-8; Vikings 6-3.
Times O/U: Cowboys 4/5; Vikings 5/4.
The scoop: Garrett Gilbert almost produced a miracle win against the Steelers two weeks ago before Dallas' bye. The son of former Bills No. 3 QB could get his second start, unless Andy Dalton plays. Dalton was activated this week from the Covid-19 reserve list, an indication that he is ready to start. He suffered a concussion in his last game against Washington. ... The Vikings have come alive and won their last three (Packers, Lions and Bears), all within their division. Vikes' QB Kirk Cousins has posted a 100-plus passer rating in his last three games, while NFL rushing leader Dalvin Cook (954) has averaged 155 yards rushing and 196.7 scrimmage yards in his last three.
Outlook: Cowboys have been stout, but their inability to score in their last three games has hurt. If Dalton is back, Dallas will be a tough out. Minnesota is playing at its best now and trying to put on a stretch run to make the playoffs. Vikings, 23-13.
Jets (0-9) at Chargers (2-7)
The line: Chargers (-8 1/2).
Record ATS: Jets 1-8; Chargers 3-4-1.
Times O/U: Jets 4/5; Chargers 6/3.
The scoop: The Jets beat the spread for the first time in a 30-27 loss to Patriots two weeks ago. The Chargers, who have been blowing leads and losing heartbreakers all season, never had the lead in a loss at Miami last week.
Outlook: The Chargers' only wins are over other AFC last-placers (Bengals and Jaguars), so the hapless Jets are right up their alley. Looks like a Bottom Feeder Grand Slam for the Bolts. Chargers, 33-16.
Dog of the day
Bengals (2-6-1) at Washington (2-7)
The line: Washington (-1).
Record ATS: Bengals 5-3-1; Wash. 3-4-1.
Times O/U: Bengals 5/4; Washington 3/5/2.
The scoop: Rookie Joe Burrow was given a rough ride by the Steelers in a 36-10 loss last week after a string of impressive games. Washington's record is not impressive, but its pass rush is strong. In his comeback saga from a horrendous 2018 injury, Alex Smith of Washington posted a career-high 390 passing yards in the last-second loss to the Lions last week.
Outlook: Bengals have more weapons, but Washington defense should carry the day. Washington, 20-17.
Last week: Favorites were 10-3, 6-5-2 against the spread; 5 games went over the number, 8 were under.
Last week's results: 7-6 outright; 4-9 ATS; over/under predictions 11-2.
Season record: 91-45-1 outright; 60-75-2 ATS; over/under predictions 75/59/2.
Be the first to know
Get local news delivered to your inbox!