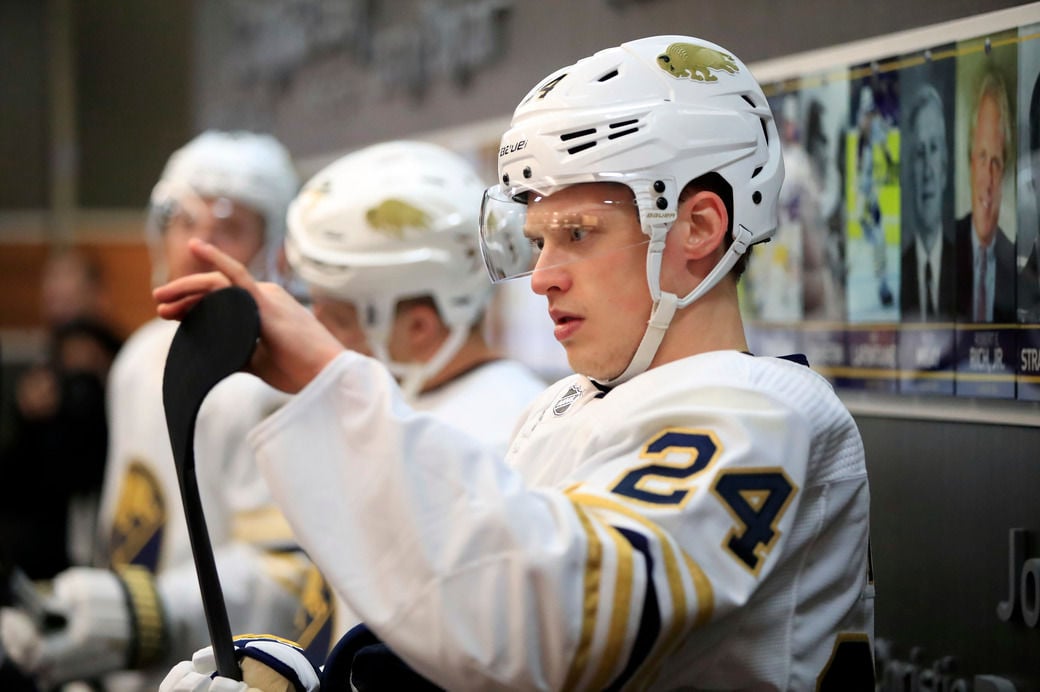 Across two seasons with the Buffalo Sabres, Lawrence Pilut adapted to the smaller ice surface in North America, rounded out his defensive game and was twice named an American Hockey League All-Star.
Pilut, a pending restricted free agent, appeared to be ready for a full-time role with the Sabres when training camp opens for the 2020-21 season. However, coach Ralph Krueger won't have Pilut as an option after the 24-year-old defenseman signed a two-year contract this month with Traktor Chelyabinsk, a Russian team in the Kontinental Hockey League.
During a phone interview with The Buffalo News on Thursday, Pilut declined to divulge details of his conversations with the Sabres' previous management team, who were among the 22 employees fired by owners Terry and Kim Pegula on June 16. Pilut expressed excitement for his "new adventure" in Russia and said he thought the move was best for his on-ice development.
Multiple sources familiar with the negotiations told The News that previous Sabres management, led by former General Manager Jason Botterill, declined to meet Pilut's request for a one-way contract, which would pay Pilut the same amount if he was assigned to the AHL's Rochester Americans. The sources added the Sabres did not present Pilut with a one-way offer until after the KHL deal was complete. Buffalo will retain Pilut's NHL rights until he turns 27 years old, sources said.
"Obviously we had a couple conversations," said Pilut, who signed with the Sabres in May 2018. "I don't really want to get into too much details, but I started to lean toward the KHL and made my decision to go there. It felt good for me."
The move depleted the Sabres' prospect pool and depth on the blue line, the latter of which became a strength late in Botterill's time with the organization. It's possible Botterill was hesitant to offer Pilut the contract because another one-way contract in Rochester might have been a tough sell to ownership.
Pilut's entry-level contract included a $70,000 salary with the Rochester Americans, and he arrived in Buffalo with significant hype after he was named the Swedish Hockey League's top defenseman for the 2017-18 season.
He used his left shot to quickly establish himself as one of the best defensemen in the AHL, compiling 10 goals with 39 assists for 49 points with a plus-26 rating in 67 regular-season games with the Amerks from 2018-20.
His opportunity at a full-time NHL role likely took a significant hit last April when he suffered a shoulder injury during a Calder Cup playoff game in Toronto. Pilut underwent surgery that forced him to miss development camp, the Prospects Challenge and the Sabres' first training camp under Krueger last fall.
"I just focused on getting back to my game after shoulder surgery," said Pilut. "It took me maybe five, six games in Rochester and I really got into my groove again. I started playing that two-way game I know I can and I think that's who I am. That's what I should play all the way through.
"I should be a two-way D who can be solid and jump into the play."
Pilut's absence allowed him to be surpassed on the depth chart by Henri Jokiharju, a 21-year-old defenseman who was acquired from Chicago in July 2019 in exchange for winger Alex Nylander.
Despite appearing in only 37 games with the Amerks this season, Pilut was selected to represent the Sabres and Amerks in the AHL All-Star Classic and finished third among Rochester defensemen with 23 points. His progress led Pilut to be recalled to the Sabres five times in 2019-20, but he only appeared in 13 games and totaled zero points.
"I just focused on playing my game," Pilut said. "I can only play my best and do my best. The rest is up to management. Obviously, I want to play in the NHL. Everybody wants to play in the NHL rather than the AHL."
Pilut said he proved he can defend elite forwards in the NHL. During his second season with the Sabres, Pilut showed more comfort relieving pressure on the breakout and did not struggle with the defensive-zone system implemented by Krueger.
Pilut appeared to struggle with quick turns around the Sabres' net when playing in former coach Phil Housley's system in 2018-19, but he rarely seemed to be caught in a precarious position this season.
"This year I thought I took a lot of steps forward with my defensive game and I didn't really put points up in the NHL, but it felt like I was growing into it more and more," Pilut said. "I feel with the AHL it felt good all the way through. I wasn't happy with my offensive game (in the NHL), but I knew if I kept playing I would grow into it more and more, and the points would come." 
Traktor Chelyabinsk will likely give Pilut an opportunity to play in every situation against professional competition, and the offensive-driven league will help him sharpen his skills without the puck. The move could also allow him to play for Sweden's national team at international tournaments.
When asked if his goal is to return to the NHL, Pilut said he is focused on developing his game with Traktor Chelyabinsk. Pilut described his decision to leave as "difficult."
"Contracts are always difficult to discuss," Pilut said. "It doesn't matter where you're at. It's about your own career a little bit and I did what I felt is best for me right now. It's a lot of offensive hockey in the KHL and it's going to be great to play against top-end players. You have to keep developing as a player."
Be the first to know
Get local news delivered to your inbox!