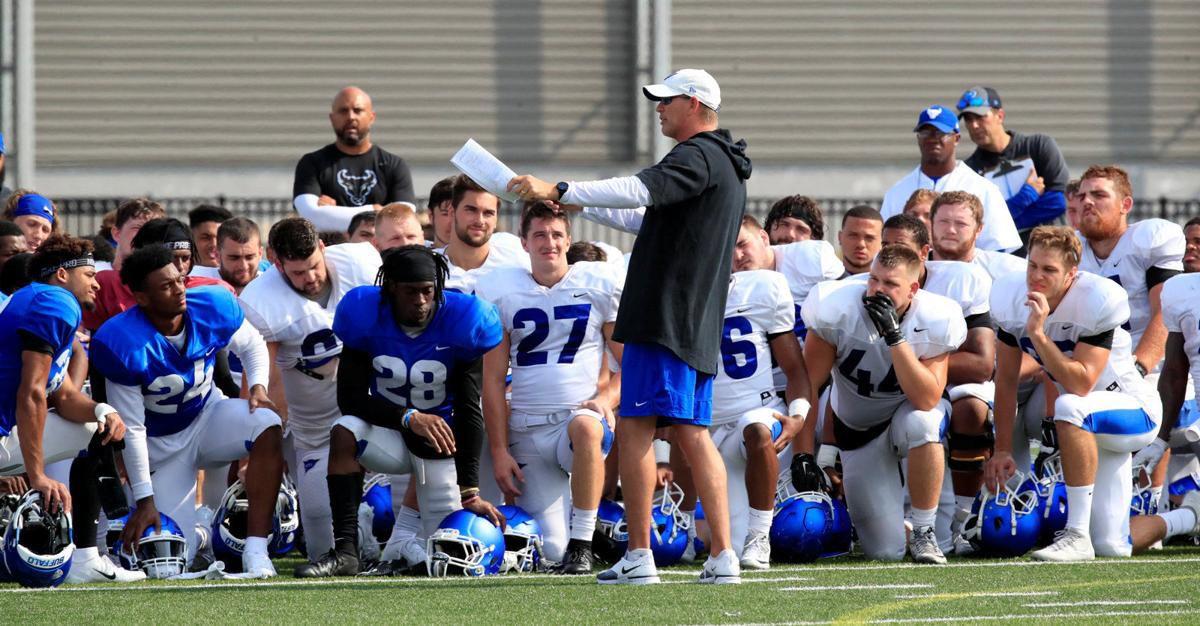 Zach Binney doesn't hesitate to forecast a probability for college football this year.
Binney, an epidemiologist at Oxford College of Emory University in Atlanta, believes at least one player on each of the 130 Football Bowl Subdivision teams could test positive for Covid-19.
It's not an indictment of college football. It's the reality of a highly contagious viral disease that doesn't have a vaccine and that, in some parts of the country, the number of cases is continuing to spike.
"That's not a stretch," Binney said. "That's virtually guaranteed. There's simply too much of the virus for someone not to get sick or become infected at some point. Not because they're playing football, but because of the prevalence and the contagion of the disease."
As college athletes return to campus for voluntary workouts this month, they're getting tested for Covid-19. As of Saturday, at least 48 of the 130 FBS schools have had athletes or athletic staff test positive for the virus or for antibodies. Only Indiana, Maryland, UTEP and Florida Atlantic have confirmed they have yet to have an athlete or athletic staff member test positive.
Some schools are releasing data in the name of transparency, while at least 13 athletic departments at FBS schools, including the University at Buffalo, are citing student and medical privacy as a reason not to release data regarding positive tests. 
UB athletic director Mark Alnutt told reporters on a Zoom video conference call last week that while UB will not disclose positive test results as its athletes return to campus, the athletic department will report positive tests to the Erie County Department of Health, which does not require schools to publicly report testing data.
A UB athletic department spokesperson told The News the data is not being publicly disclosed because it is protected health information of student-athletes.
UB, as an institution, is not disclosing positive test data and said on its website that the university will work closely with the Erie County Department of Health in regards to community notification. 
"If that happens, we're going to follow the Erie County guidelines, for any person who would test positive," Alnutt said. "How we're starting this for football, there's such small numbers that we would be able to isolate the person, so that if they did become positive, we can isolate the student-athlete for the appropriate amount of time and move forward."
Why schools disclose data
The News surveyed several FBS schools that have announced Covid-19 positive tests to find out why they disclosed the data.
"We believe in transparency," John Bianco, associate athletics director for communications at Texas, wrote in an email to The News. "We are reporting numbers, not names, and will not include any information on specific student-athletes."
A Kansas State athletic department spokesperson told The News in an email that the decision to release data was also based on transparency, and that with counties in Kansas providing weekly updates on positive Covid-19 test data, the department aimed to prevent speculation as to how many county numbers were directly tied to athletics.
Clemson announced in the last two weeks that it has had 37 football players test positive for Covid-19. Clemson said in an email to The News that it is releasing data for transparency reasons, and because of the impact of Covid-19.
As of Thursday, the United States has 2,374,282 Covid-19 cases, and 121,809 deaths from Covid-19, according to the Centers for Disease Control and Prevention. Cases have risen in more than 20 states, including South Carolina.
"We believe it (is) important to disclose, in aggregate, the data," wrote Jeff Kallin, Clemson's associate athletic director for strategic communications. "Because this is a matter of public health, informing our community can be an important step in providing a vehicle to reinforce safety measures. Additionally, it's our opinion that aggregate, non-identifiable data may be subject to public records requests, and could eventually require public disclosure."
Some schools that are not disclosing the simple number of positive cases inside an athletic department or a football program cite the Family Educational Rights and Privacy Act, a federal law that protects the privacy of student education records, or the Health Insurance Portability and Accountability Act, a federal law that protect individuals' medical records and personal health information.
Frank LoMonte, the director of the University of Florida's Brechner Center for Freedom of Information and media law professor, disagrees with that premise.
"There's nothing in any federal privacy law that would prevent a college or a team from giving out the number of positive Covid tests," LoMonte wrote in an email to The News. "Privacy laws apply only to 'personally identifiable information' from people's academic or medical records. The number 3, 4 or 5 is not a piece of personally identifiable information. If the athletic department says, 'We had three positive tests,' that doesn't enable anyone to figure out the names of the athletes. Even if you narrow it down to a specific team – 'We had three positive tests on the basketball team' – that still doesn't enable anyone to say, 'Oh, knowing that the number is three, now I can figure out that the players are Aaron and Bob and Charlie.'
"The only time federal law forbids giving out data is if the data is matched up with a demographic identifier that gives away the identity of the individual in a way that compromises privacy."
Of the 48 FBS athletic programs that have released data on positive tests or antibody tests through Friday, 46 did so either through initially releasing that information or confirming reports by media outlets.
LoMonte also noted that the athletic departments that have released that data have not been penalized; the only penalty for violating FERPA, he explained, is that the U.S. Department of Education can impose sanctions, and an entity cannot be sued for violating FERPA.
"The Department of Education clearly knows that colleges are publicizing these statistics and hasn't told them to stop," LoMonte said.
In addition to UB, athletic departments or schools that will not disclose data on positive Covid-19 tests include Ohio State, Miami (Fla.), North Carolina and Syracuse. An Associated Press survey found that half of 66 FBS schools that responded said they would not disclose how many of their players test positive.
"We're going to do everything we can to respect the privacy rights of our student-athletes, while at the same time understanding that this is a news item for you and we're trying to arrive at the right space in the right way to do both," Syracuse athletic director Jon Wildhack told reporters June 11.
Texas A&M athletic director Ross Bjork told the Bryan-College Station (Texas) Eagle that while the number of positive cases among A&M's student-athletes has increased, he would not give the exact number of positive tests. Bjork said the department is following the reporting guidelines of the Brazos County Health District.
UCF announced June 23 that it will stop reporting positive Covid-19 test results from its athletes, coaches or staff members. According to the Orlando Sentinel, that decision was because athletes expressed concern over the privacy of personal health information and the potential to be identified.
Dr. Gale Burstein, the head of the Erie County Health Department, however, distinguishes several factors that remove the burden of reporting from UB, which is testing its athletes as they return to campus. UB is only required to report testing data to the Department of Health, and clinical labs participate in the Electronic Clinical Laboratory Reporting System, in which those labs reports medical test results to ECLRS, a database system that the New York State Department of Health and local and county health departments can access. An ordering physician would also receive test results from the lab that performed a test, including Covid-19 test results.
"The timeliness of the reporting might not be as great as we expect, but New York State laws have to report testing to county health departments," Burstein said. "The state mandates that businesses also report a positive case to the local health department, to close that gap, to make sure we are aware of individual cases and potential contacts."
Also, a low number of positive cases in one location may not require public disclosure, as opposed to a large number of cases that are the byproduct of exposure at a larger-scale gathering such as a party, a sporting event or a concert.
"This is confidential, personal health information," Burstein said. "If UB reports three positive cases, how will that benefit the community in knowing that? We feel that those in close contact are informed and tested, and are in quarantine for 14 days. The public, who has no exposure and lives on the other side of town, that information may not benefit their personal health."
Why it's beneficial to disclose data
Binney notes that schools that are allowing athletes to return to campus are doing so for an optional reason: to play sports. It's not akin to keeping an essential business like a grocery store or a drugstore open, but Binney explained that the burden to keep everyone safe is higher on a college athletic department than it is on an essential service.
"There should be some data released, particularly for people who are coming back to campus and need to know how safe it is," he said.
But, Binney said, some form of data regarding positive tests among college athletic programs will eventually be made public. It could be general numbers that are released by a local health department; the Erie County Department of Health, for example, discloses positive tests by municipality and by ZIP code on an interactive map on its website, without identifying individuals or demographics.
It could also be disclosed by individuals. Oklahoma State football players Amen Ogbongbemiga and Malcolm Rodriguez posted on Twitter that they tested positive for Covid-19.
"If I'm the parent of a player who is deciding whether my child should go back to school, or if I'm a student who's thinking about going back in the fall, I'd like to know whether 2 or 20 have Covid-19 on the football team or the basketball team," Binney said. "That would inform my decision because it would tell me how prevalent and widespread it is. There's a compelling interest in schools to release the number of tests and diagnoses. Not just in the context of athletics, but in the context of the school."
UB began returning football players to campus for voluntary workouts on June 15, and walk-ons and incoming freshmen are scheduled to arrive on campus July 5. Screening procedures will be in place to enter athletic facilities and mandates for physical distancing, wearing a face mask and following cleaning and hygiene mandates.
Athletes from other select teams will begin a similar phased plan to return to campus for workouts starting July 6.
The NCAA released a plan June 11 that outlined the resumption of summer workouts and preseason practices, but there has yet to be a plan announced or instituted regarding college football season, which is scheduled to begin Aug. 29. UB is scheduled to open the season Sept. 5 at Kansas State.
Alnutt told local reporters that he is cautiously optimistic there will be a college football season and that it will start on time, but he rhetorically asked, "What does that season look like?"
"Everyone can give their best guess and everyone has opinion," said Alnutt, who is a member of the NCAA Division I Football Oversight Committee. "My opinion is based on the conversations I've had nationally, in this arena, and in combination with health officials, both at a national standpoint and at the state and local standpoint. I'm cautiously optimistic because of those conversations I've had, more so than what I was in April.
"That's where I stand right now, but everyone has an opinion right now because nothing is official. There's no crystal ball in terms of, what will a month from now look like? What will two months from now look like?"
Penn State president Eric Barron said Monday during a virtual town hall with students that most schools Penn State has interacted with are not planning to fill stadiums and are considering a "very reduced number of students" at football games.
Ohio State hosts UB on Sept. 19 in Columbus; Ohio State president Michael Drake said June 5 the school intends to have a football season, but with social distancing guidelines that would shrink Ohio Stadium's capacity of nearly 105,000 to anywhere from 20,000 to 50,000 spectators. A decision has not been made regarding Ohio State's football season.
"Covid-19 is still here," Burstein said. "We've been effective in getting the numbers down, but it hasn't gone away, and the numbers will increase in states. The same thing will happen to us if we let our guard down. We have to continue to wear masks, socially distance and wash hands."
"There are no reporting requirements for schools. But you can't assume it doesn't exist."
Concerned about COVID-19?
Sign up now to get the most recent coronavirus headlines and other important local and national news sent to your email inbox daily.