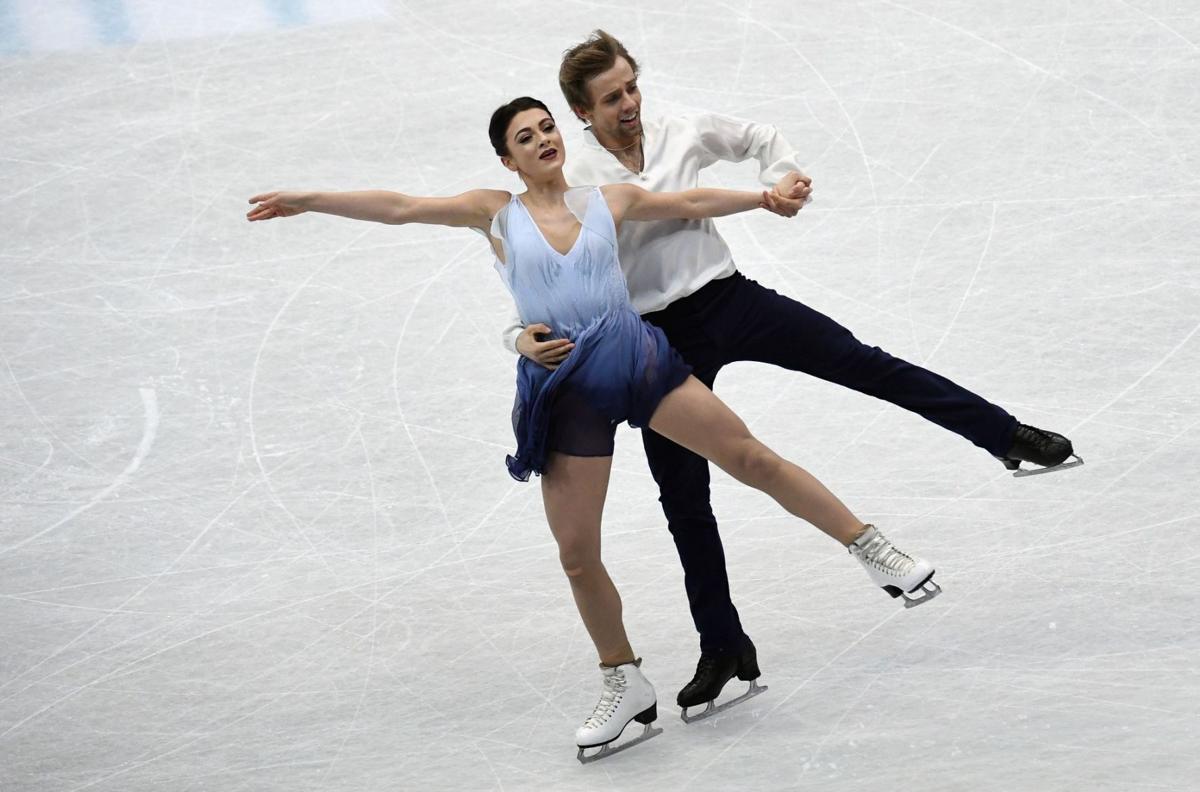 If anything happens to one of the U.S. Olympic ice dance teams in Pyeongchang, South Korea, phones in Western New York may start ringing.
Kaitlin Hawayek, a 21-year-old East Aurora native, is an alternate to the Olympic figure skating team. She and partner Jean-Luc Baker of Seattle are staying in peak condition during the Games in case they are needed.
"It's tedious, because it's like, 'why are we training for something we're not going to,' but you never know," Hawayek said this week during a rare visit home. "It very rarely does happen, but I have a friend who, probably back eight years ago, was sitting in a bar watching football on TV and the team already left for the world championships. He was a first alternate, and they gave him a call and they're like, 'you need to get on the plane tomorrow morning, you're going,' and he hadn't been training because he didn't expect to be going. And say he had been training a little bit harder, the results might've been better. He always tells me that story.
"The likelihood of something happening is very slim, but just you never know," she said. "My partner and I have the mentality that we always want to be ready, just in case, so we keep training as if we were going to the Olympics, basically."
Hawayek and Baker took fourth at the U.S. Figure Skating Championships last month and qualified as alternates based on the strength of their seasonlong performance. Their event begins Monday in Korea.
Hawayek said alternates don't typically travel to the Games due to the cost of travel and putting up extra athletes outside of the Olympic Village. The U.S. already has three teams ahead of Hawayek and Baker in their event, so it wouldn't be immediately short-handed if something minor came up.
Hawayek began high school at Nardin before her international schedule made attending classes in person too difficult. She moved to Detroit for her skating club and took classes online. She and Baker teamed up in 2012 and began medaling at junior competitions worldwide. They most recently took gold at the Four Continents Figure Skating Championships in Taipei City, Taipei, at the end of January.
"I don't know if I've hit there yet," Hawayek said, blushing, when asked when she first realized how good she was. "I don't necessarily think I've made it yet. I think I'm on a path and it's on a good trajectory and I'm happy with the success I've had so far in my career, but I know I have a long way to go still.
"I never considered myself the most naturally talented skater to begin with," she added. "When I was growing up in Buffalo, I wasn't winning all these competitions and I wasn't necessarily like the face of a club that people were like, 'oh, that kid's gonna make it someday.' I just loved to skate and I was passionate about it and I think I'm a very Type A person where, whatever I set my mind to, I really work hard for it."
In Japan, a country that is crazy for figure skating, Hawayek's success may have landed her stardom. But in the States, she remains relatively anonymous – and likes it that way. She doesn't get recognized or stopped for pictures unless she's at a rink. She coaches and works occasionally at a Starbucks to make money, and her and her partner even rely on a GoFundMe page to support their competition expenses.
Hawayek used the analogy of ballet to describe ice dancing: While other parts of figure skating are like gymnastics on ice, she said ice dance is more similar to a ballet on skates. She described the sport as a unique blend between an individual and a team sport.
"It's unique because figure skating, and ice dancing especially, has this image of this intense chemistry, and you have to almost seem like you're in a relationship but you're not," Hawayek said. "There's always that question and it's silly – if there's something between the partners. Most of the time the stories you're telling when you're skating are very romantic and things like that and you're in this sport together and you're sharing all these experiences together, but it's very much like a business partnership in a sense. … It's kind of like Batman and Robin, but not a sidekick. You're pretty much equals."