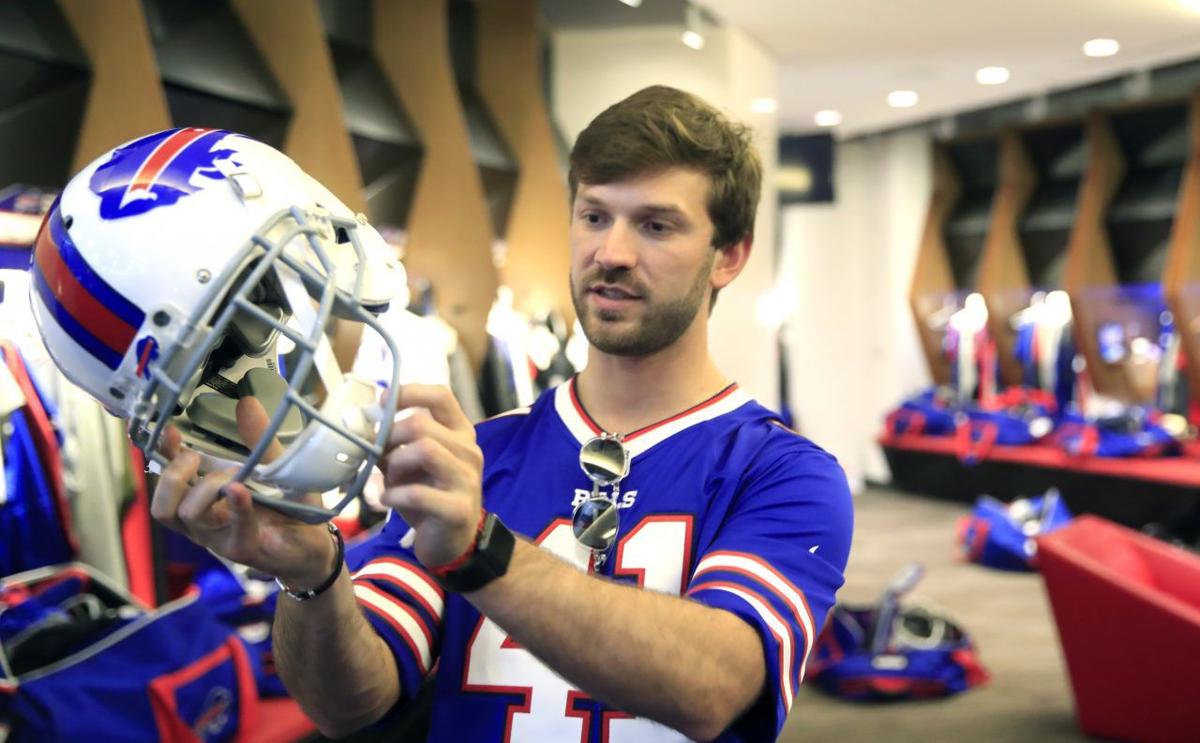 Daniel Suarez remembers his first visit to Buffalo during the developmental years of his racing career. When the native of Monterrey, Nuevo Leon, Mexico arrived on a cold winter day eight years ago, he saw snow for the first time.
Suarez took it all in shivering stride and now, thanks to the help of many along the way, including local driver/NASCAR K&N Pro Series East car owner Troy Williams, Suarez has reached the Monster Energy NASCAR Cup Series.
Suarez returned to Western New York on Monday to promote the Aug. 4 Go Bowling at the Glen Cup race at Watkins Glen International.
While here on a much warmer day, Suarez visited the Fisher-Price store in East Aurora and toured the Buffalo Bills facility at New Era Field, where he received a Bills jersey. He concluded his day at the Roswell Park Comprehensive Cancer Center.
After beginning his Cup career two seasons ago with Joe Gibbs Racing, Suarez is in his first season behind the wheel of the No. 41 Stewart-Haas Racing Ford. When he claimed the NASCAR Xfinity Series title in 2016, he became the first driver born in Mexico to earn a NASCAR national series championship.
Nearly a decade ago, Suarez lived in Western New York with the Williams family, who are involved in the NASCAR Drive for Diversity program.
"I can't forget that day I first came to Buffalo," Suarez said. "It was the first time I ever saw that amount of snow in my life. It was a great experience. Troy was extremely kind to me to invite me to his house. I had to learn English because I didn't speak English very well back then. Buffalo will always bring me good memories and I'm glad to be back here today."
Troy Williams was at Wyoming County International Speedway on Saturday, helping his 16-year-old son Chase get his career started in the track's local Super Stock class. Troy, an Arcade native, speaks fondly of when he served mainly as a driver coach for Suarez. They still maintain a close relationship.
"I remember bringing Daniel to Buffalo for the very first time," Troy said. "He didn't realize that it was cold up here. It was the middle of February and when he landed, he called back home and talked to his mother and said, "Wow!" He told her that he didn't think that Buffalo was going to be like this because he had been in California but it isn't warm in some areas like it is there.
"They don't have these cold days in Mexico. When he came here, he knew hardly any English. Believe it or not, he watched cartoons with my son Chase and learned English. We have a lot of memories. We did a lot of driver training together and I trained him for several years. I still work with him. I still talk to him all the time. He's now with Stewart-Haas. I'm proud of him."
With two races to go until the Cup Series makes it's annual visit to Watkins Glen International, Suarez is not yet in a NASCAR playoff position but is hopeful that the Glen race will serve as a catalyst to get him there.
Suarez has posted two top-five finishes in his only two career Cup Series starts at the fabled Finger Lakes region road course. He placed third in 2017 and fourth a year ago.
"I just love road course racing a lot," Suarez said Monday. "Honestly, Watkins Glen is one of my favorite race tracks. You reminded me that I've had a couple of top-fives there so I know I've been good there, so hopefully I can come back in a few weeks and get a trophy."
Suarez enters the race at New Hampshire this weekend 18th place in points, just four away from the 16th and final playoff spot held by Erik Jones. Ryan Newman is 17th, two points behind Jones. The regular season ends in seven weeks, with the top 16 drivers in points qualifying for the NASCAR Playoff Top 16.
Suarez has very talented Cup Series teammates at SHR, including Kevin Harvick, Aric Almirola and Clint Bowyer.
In one of the biggest shocks in the 2019 Cup Series through 19 events, SHR has failed to win a race this season.
Last season, SHR racked up 12 Cup wins, with Harvick earning eight, Bowyer grabbing two, and Almirola and Kurt Busch notching one victory each. Busch now drives for Ganassi Racing.
Suarez, who is searching for his first career Cup Series race win, earned the pole last weekend at Kentucky and overcame various issues during the race to placed eighth.
Suarez says that the SHR victory drought just exemplifies how unpredictable the sport can be, but he feels confident at the Glen.
"I think my team is going to be good at Watkins Glen as well as the other tracks ahead of us, "Suarez said. "We brought the speed to Kentucky. Before that, we were trying different stuff. Now we are in a little more of a rush to get into the playoffs. We know what we have to do.
"I'm a little surprised that no one at SHR has won yet this year based on everything that they did last year. I was very impressed with their performance last year, but you know, that's racing. Sometimes you are the best and sometimes you have to work to get there. So I feel that this year we have been in a position where we have to work hard to try to get there and I know we will get there. It's just going to take a little bit of time.
"I'm working hard to try to get my first career Cup win and make the NASCAR playoffs. I feel we're slowly moving in the right direction."
Be the first to know
Get local news delivered to your inbox!