The Buffalo Sabres already had a pretty good goalie when Ryan Miller arrived on the scene in 2002, and Martin Biron was still thinking he was the man when Miller arrived for good from Rochester in 2005.
During the 2004-05 lockout season, Miller was a standout down the Thruway for the Amerks. He was a former Hobey Baker Award winner whose role as the top goalie prospect in the organization mirrors what Northeastern's Devon Levi is for the Sabres now.
But in pre-social media era, there was no breathless recitation of the kid's stats, no YouTube and lots of mystery. Biron, now the team's popular television analyst, was chuckling as he told me the story this week.
Details are being kept closely under wraps, but it's expected to be similar to what we saw in April to honor retiring broadcaster Rick Jeanneret.
"Back then, you didn't pay attention and you were thinking the player wasn't coming for four or five years so you're kind of like, 'Whatever,' " Biron recalled. "The first time I really paid attention a little bit more and thought, 'This guy is pretty good' was the lockout year. He had played a couple games for the Sabres, but now you're thinking, 'That's awesome. Good for the Rochester Americans. They have a good goalie now. They have a good team. That's really good.' "
Of course, things took a different turn the next season. The iconic 2005-06 season, which ended for the Sabres in Carolina one game shy of the Stanley Cup final, began with Biron thinking he was the No. 1 goalie. Darcy Regier and Lindy Ruff had different ideas. 
Miller started the first 10 games and Biron didn't see the net until two days before Halloween. Then Miller broke his thumb and missed nearly two months – and Biron won 13 straight games.
"I was like, 'Well, I'm back in the crease. That's the way it is,' " Biron recalled. "We had so much going on then. We were just out of the lockout, they changed the rules about interference, shrunk our equipment. There was already lots to worry about. My first uh-oh was when he came back from his injury."
The Sabres were in Philadelphia and teammates wondered why Biron didn't stay on the ice after practice for extra shots. He didn't need them. He was red-hot and didn't want to use too much energy with another game to play.
"A couple guys said to me, 'No, Millsy is playing tomorrow.' That's how I found out," Biron said. "And I was like, 'Oh, bleep.' He's their guy." 
From that moment, a 2-1 win in Philly on Dec. 19, 2005, Miller was always the guy in Buffalo. It never changed. It stayed that way for the next eight years. Thursday night in KeyBank Center, Miller is getting inducted into the Sabres Hall of Fame. And he's getting the rare honor of having his No. 30 retired, too.
"For everything Ryan did not just on the ice, but off the ice for the City of Buffalo, this will be wonderful," said former teammate J.P. Dumont. "He was tremendous. He's going up there with some pretty big names, too, so that's really cool."
One of them is former Sabres captain Danny Gare, whose No. 18 hit the rafters late in 2005 while Miller was on the shelf with his injury.
"It was a great honor when I had mine, something you always remember," Gare said. "Ryan accomplished a lot. Not only with the Sabres, but other teams in his career, and he did so much for the community, too, especially in Buffalo. Any time he was asked to do something for the organization, he would. And then he performed on the ice."
More than just a great player
The Sabres surprised Miller, 42, with this news when he was in town in June for the announcement of the latest class of inductees to the Greater Buffalo Sports Hall of Fame. He thought he was taking his 7-year-old son, Bodhi, to the arena to see where dad played goal. Instead, a video narrated by Rick Jeanneret rolled on the arena Jumbotron. 
Said Jeanneret: "In five-plus decades, no player has worn the Buffalo Sabres sweater with more authenticity, intensity and pride than you did for 12 unforgettable years." 
That capsulizes it perfectly. Miller was a heart-on-his-sleeve player who easily rates as one of the most fascinating athletes I've ever covered. When you dealt with him on a daily basis, you always got insight and you could ask him anything about the team, the league, equipment, the rulebook. Nothing was off limits.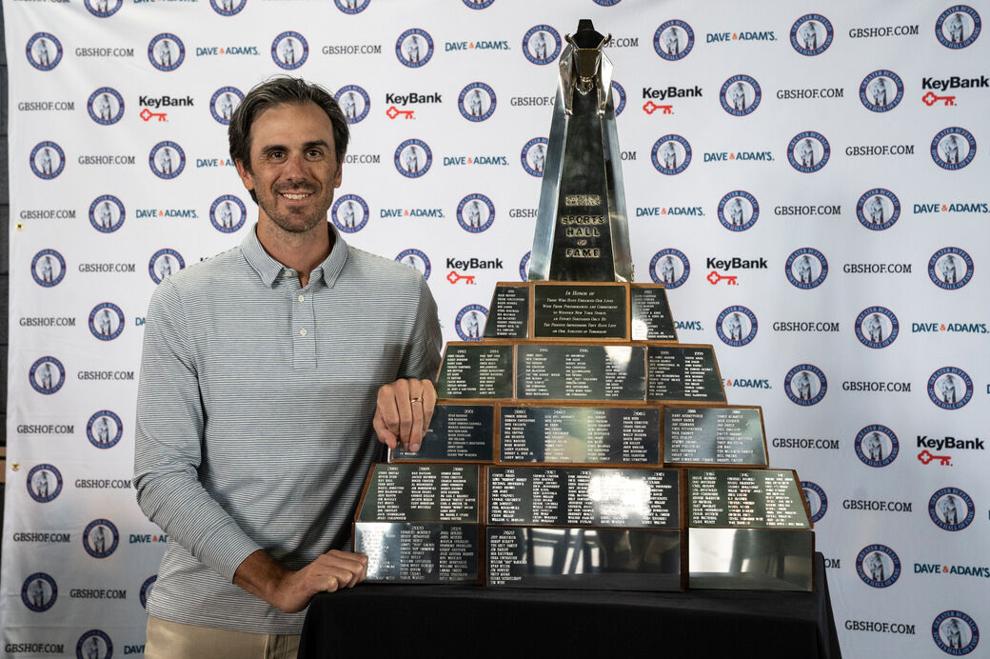 It's no surprise Miller has worked with the league on its competition committee and its goaltending subcommittees. Long term, he should be a GM or someone charged with helping to run hockey at the league level.
Miller was thrilled to get the call from the Greater Buffalo Sports Hall. Then he was inducted in November to the United States Hockey Hall of Fame during a ceremony in St. Paul, Minn. When he visited Sabres practice here in October, he told me he was already working on his speech for Thursday night's ceremony. Nearly three months out.
Said Miller that day: "This one is going to be really emotional for me."
That's because Miller embedded himself in this community, both while in uniform and with his charitable endeavors. At its height in the late 2000s, his "Catwalk for Charity" event to raise funds for childhood cancer research was the team's biggest social gathering of the season for players and fans. 
With Miller, you remember the stressful nights after games and the deep conversations after practice. I followed him to the "Today" Show in New York in 2010 in the wake of his starring role at the Vancouver Olympics. There were some quality rants too: A water bottle chucked across an empty locker room after a frustrating shootout loss in 2008, the infamous piece-of-you-know-what rant about Boston's Milan Lucic in 2011 and a few others.
It was one game in the snow. One day where they played hockey in a football stadium in Orchard Park. But it forever changed the course of special events for the National Hockey League. 
I vividly remember a tremendous conversation on a Sunday morning in Anaheim in 2018 when Miller and I sat down to talk about the 10-year anniversary of the 2008 Winter Classic in Ralph Wilson Stadium. When we got to Sidney Crosby's shootout winner, which was a couple years prior to the Pittsburgh star's Golden Goal in Vancouver, Miller shook his head and laughed.
"I guess you could write that's twice in my career where I made a decision that went wrong on Sid in an important kind of moment," Miller said.
A couple of times, I was the object of his ire, and that was fine, too. You listened to Miller when he wanted to say his piece. His teammates did, too. Just as he is now on the air, Biron was a jovial chatterbox as a player. But Miller had a routine, including his pregame visualizations alone on the bench an hour or so before faceoff. Zip it when he was getting ready.
"We had to learn because it was strange at first," Dumont recalled. "Five seconds before puck drop, Marty would skate by the bench talking to us. Ryan Miller was different, very different. Really quiet. Just getting ready for the game. Just so cool. A tremendous teammate."
"He would battle, battle and battle even in practice," Biron said. "The guys saw his passion and they responded to it. That's where the flip really happened that the team felt, 'Yes, this is going to be our superstar goaltender.' "
Miller took the morning skate on Feb. 28, 2014, prior to a game against San Jose and was going to be the starter. When he didn't show up on the bench an hour before faceoff, we knew an era was over. His trade to St. Louis was announced and his goodbye press conference was held in the first intermission. 
Miller didn't get the Stanley Cup chance he hoped that spring, as the Blues lost in the first round to Chicago. He never got close in Vancouver or Anaheim.
But along the way, he became the winningest American goalie in NHL history. He's 14th all-time with 391 wins, two more than some guy named Dominik Hasek.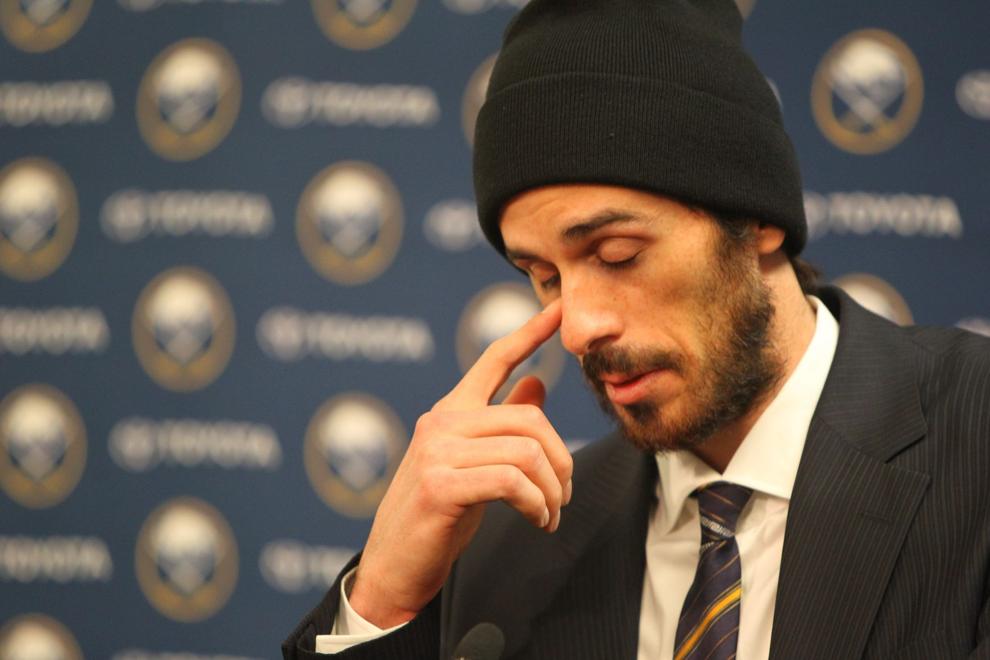 There were plenty of times when Miller was here that you heard the gripes from fans, and how silly they seem now.
By my count, current goalies Ukko-Pekka Luukkonen, Craig Anderson and Eric Comrie are Nos. 20, 21 and 22 to man the Sabres' crease since the night Miller was traded. Linus Ullmark is the only one with 50-plus wins, and he had exactly 50. Robin Lehner (133), Jhonas Enroth and Ullmark are the only ones to play 100-plus games.
Miller played 540 games here and won 284, breaking the records of Hasek in both categories. He's on that pantheon of Sabres greats in goal that started 53 years ago with Roger Crozier, went to Don Edwards and Bob Sauve, to Tom Barrasso and Daren Puppa, to the Dominator and Biron, and then to him.
"Ryan was definitely a staple in the league and in Buffalo, and what he brought on a nightly basis was consistency," Anderson said. "I know a few guys on my teams when they scored on him, it was kind of like a little notch in their belt."
Anderson went 4-2 against Miller while playing with Florida and Ottawa. Their signature meeting was the 2013-14 season opener, as he posted a 35-save shutout while Miller stopped 45 of 46 shots, getting beat by only Erik Karlsson with 1:25 left in a 1-0 Ottawa win.
"We had some good battles, going back and forth," Anderson said. "And it was just one of those things where, when you know the guy and you've got a relationship with him a little bit, you kind of you thrive off of that. You both kind of elevate your game."
Miller will be the eighth Sabres player to have his number retired. Hasek was the last in 2015 and, unless the team does an about-face someday on Mike Ramsey, it could be a couple decades before anyone else has a career long enough worthy of the honor.
"The coolest part is when I go with my kids or grandkids," said Gare, who is now 68. "I can say, 'That's Papa's number up there.' It was years ago, but it's a great feeling, an honor you never forget. It was nice to see 'R.J.' join us last year and now Ryan is getting his due. I'm so happy for him."