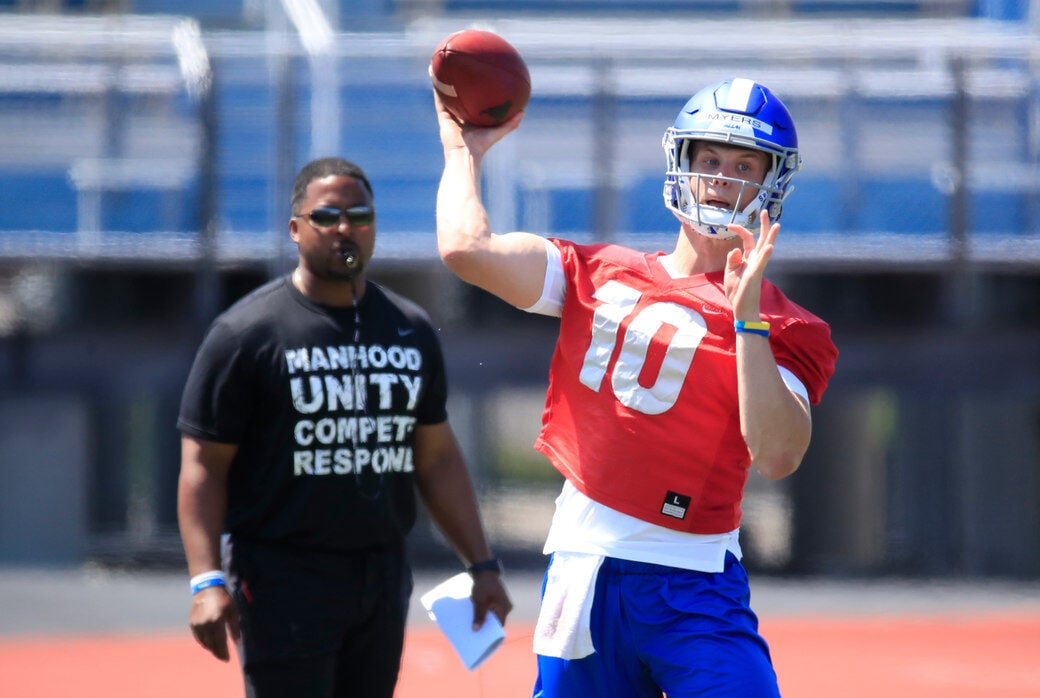 This is part of a series looking at the impact of the NCAA transfer portal on college sports and the University at Buffalo.
In retrospect, Matt Myers never had the full intention of leaving the University at Buffalo football program.
The program, though, appeared to be in flux after head coach Lance Leipold left UB at the end of April to take the same job at the University of Kansas.
Myers, a quarterback from West Seneca West and Bishop Timon-St. Jude, took a step back and evaluated his options, including the possibility that he could leave the Bulls after three seasons.
"I didn't make a decision to leave," Myers said. "I was making a decision based off the situation we had. I wanted to put myself in a good situation. We didn't have a coach at the time, so I felt like exploring my options. Coming back to UB was one of them."
Of the 14 UB football players who entered the transfer portal between April 30 and June 24, four withdrew, and three returned to the Bulls: Myers, linebacker Tim Terry and safety Cory Gross Jr. Wide receiver Daniel Lee withdrew from the portal, but a UB athletic department spokesperson confirmed Lee is no longer with the program.
When UB introduced Maurice Linguist as its new football coach May 10, Linguist said one of his first tasks was to attempt to re-recruit and retain the players who were in the transfer portal, and incoming freshmen and transfers who were considering asking for a release from their national letters of intent.
Myers had several conversations with Linguist in early May, and saw how many of his teammates bought into Linguist's philosophies of coaching and of creating a community within the football program. It reiterated to Myers the significance of UB's hire of Linguist, which led to his decision to return.
After he entered the portal, Gross spoke with Linguist, safeties coach Rod Ojong and defensive coordinator Joe Cauthen, with the intention of building a relationship with each of them through one-on-one conversations about his future and his role at UB.
"After talking with them, I felt this was the best option for me at the time," Gross said. "I knew it was going to be new, coming into this situation or leaving and going somewhere else. It was going to be a new situation, regardless, but I felt more comfortable here with these guys. So I chose to come back."
Myers did not say if he was contacted by other schools while his name was in the portal; Gross said he did not speak with other schools while in the portal.
Myers entered the transfer portal May 6, the day before UB announced Linguist as its new head football coach. He withdrew his name from the portal May 11.
The morning Myers found out Leipold was leaving, he was in the middle of a workout at the Murchie Family Fieldhouse. He got a message saying that there would be a team meeting within 30 minutes. He was aware of the growing speculation that Leipold could be leaving for Kansas.
"When we found out, it was like, OK, but I was very shocked," Myers said.
Gross entered the transfer portal May 7, a day after Myers. Later that day, Linguist was announced as UB's head coach, and Gross withdrew from the portal May 24.
"I was happy for (Lance Leipold), because it was a step up for him," Gross said. "At the same time, there was a moment of uncertainty, a moment of shock, trying to see what direction we were going to go in, who was going to come in and be the guy for us."
For the week between Leipold's departure and Linguist's hire, Myers didn't feel as if his future at UB was in limbo. Instead, it was a matter of meditating on his decision and weighing whether to return to UB. He also had conversations with his family and with Linguist about his role on the team.
What surprised Myers the most about the process? First, it was the actual process of entering the transfer portal. A college athlete has to contact his or her college athletic department's compliance officer, and request to have his or her name put in the transfer portal. Then, the athlete receives an email confirming that they are in the transfer portal, and coaches and recruiting coordinators can see who is in the portal, which is not visible to the public.
"Just the amount of work that goes into saying you're in the transfer portal," Myers said. "All of that, just to have your name be in there. It was different."
Myers didn't anticipate such a strong reaction to his entering the transfer portal, either.
"A lot of people didn't know what my intentions were," Myers said. "I was never really intending to leave, 100%. But all that work just to get your name out there, that's the biggest surprise.
"When people see it, especially being local, that's the biggest thing, they're going to talk about what they see and not get the full story. But you don't blame them, because they're not sitting next me."
For Myers, the process was eye-opening, but it reaffirmed his commitment to playing at UB.
"For the athletes in the transfer portal, some of them do have intentions of leaving, but my intentions were never to just jump ship," Myers said. "I still love this team and I love the coaches we brought in, and I'm ready to play for them."
Entering the transfer portal wasn't a decision that Gross took lightly, either, but with fall practices underway, he said he's happy with his decision to stay at UB.
"For sure," Gross said. "I wouldn't say it was a difficult decision, to weigh my options, but I had to sit and think about it. I sat down, I talked to my family and I said, 'I'm going to try it out, because we didn't have a head coach.' But after I found out Coach Mo was getting the job, and I found out who he was and what he was about, I knew this was the place for me.
"We talked about his background, we talked about where we want to take this thing and what I want to do with football. After that conversation, I was pretty much sold."
UB players who entered the transfer portal between April 30-June 30
Eddie Wilson, DL, May 4; Transferred to Kansas
Mike Novitsky, C, May 4; Transferred to Kansas
Tyrece Woods, DL, May 4; Transferred to Central Michigan
Tim Terry, LB, May 5; Withdrew and returned to UB
Jacob Gall, OL, May 6; Transferred to Baylor
Matt Myers, QB, May 6; Withdrew and returned to UB
Cory Gross Jr., S, May 7; Withdrew and returned to UB
Trevor Wilson, WR, May 12; Transferred to Kansas
Rich Miller, DL, May 12; Transferred to Kansas
Michael Ford, OL, May 14; Transferred to Kansas
Ron McGee, DL, May 17; Transferred to Kansas
Anthony Laudicina, OL, May 17; Did not return to UB
Tyrone Hill, S, May 24; Transferred to Washington State
Daniel Lee, WR; June 24; Withdrew, but did not return to UB