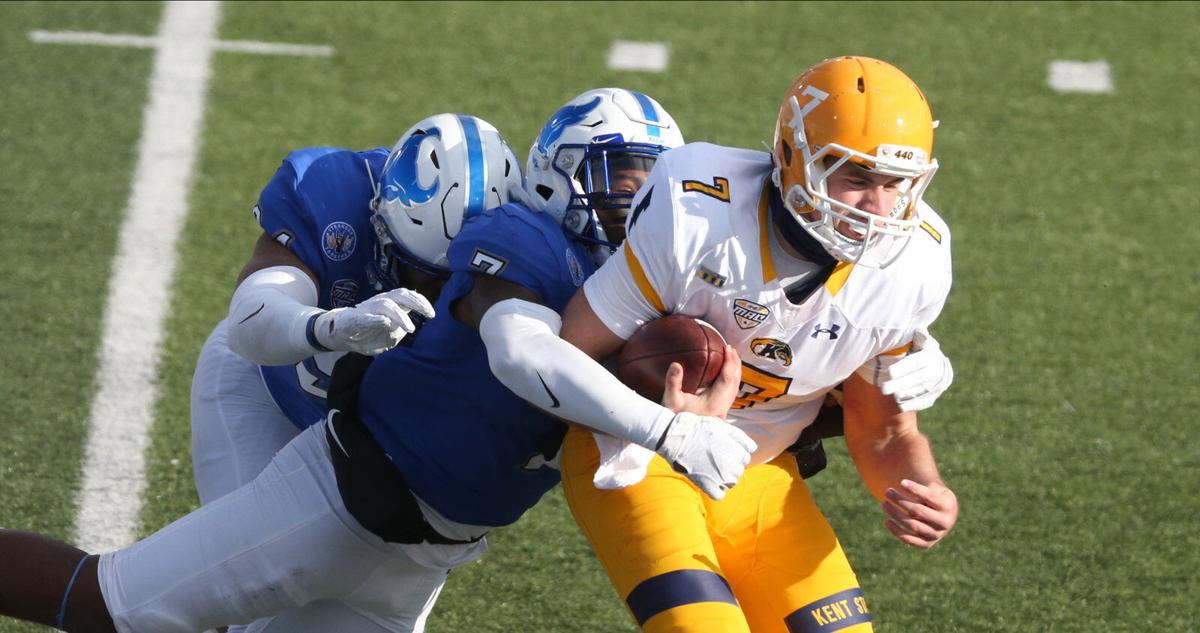 The University at Buffalo football team moved closer to a national ranking Sunday in the Associated Press Top 25, with 56 points, good for second among the teams also receiving votes.
Liberty is No. 25 with 67 points, followed by North Carolina with 65 and then UB. The Bulls (4-0) rocketed from having received just three points last week after a 70-41 victory against Kent State that featured eight rushing touchdowns and 409 rushing yards from Jaret Patterson.
UB received 29 points in the coaches poll, which was seventh among the others receiving votes. Liberty, which was No. 25 in the coaches poll as well, had 87 points.
Patterson was named the Walter Camp Football Foundation National Offensive Player of the Week. It is his second such honor in his career; he also won the award Dec. 1 last year.
Meanwhile, Alabama is the unanimous No. 1 again in the AP poll, as the top eight teams in the rankings held steady for the fourth week in a row.
The Crimson Tide got 62 first-place votes for the second consecutive week and are followed by No. 2 Notre Dame, No. 3 Ohio State and No. 4 Clemson.
Southeastern Conference teams Texas A&M and Florida are fifth and sixth, respectively. Unbeaten Cincinnati is seventh and undefeated BYU is eighth.
The changes in the poll came after that, with Miami inching up to No. 9 and Indiana returning to the top 10.
Oregon's first loss of the season knocked the Ducks out of the top 10, dropping them 12 spots to No. 21.
The Crimson Tide have now been ranked for 209 consecutive AP polls, matching Florida's run from 1990-2002 under Steve Spurrier for the third-longest streak in the history of the rankings.
The Associated Press contributed to this report.