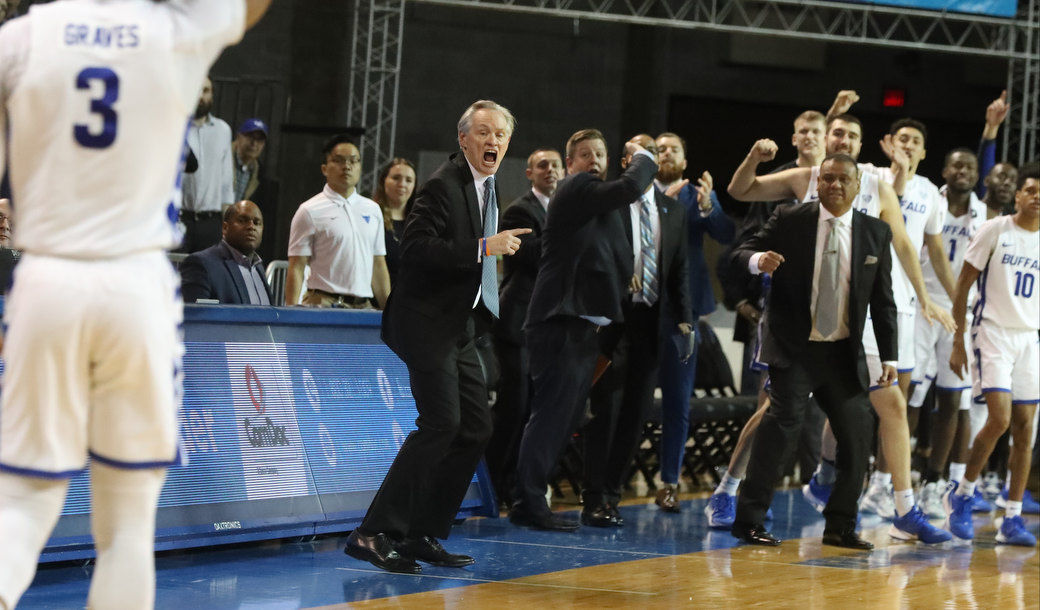 In a way, Jim Whitesell was ahead of the curve.
More than a week before the NCAA asked its member schools to designate Nov. 3, 2020, as a day off from athletic activities so that student-athletes can vote in the upcoming presidential election, the University at Buffalo men's basketball coach set a mandate for his team.
The National Association of Basketball Coaches announced June 4 that it has formed the Committee on Racial Reconciliation to address injustice.
One of those action points was to call on all men's basketball programs to formally establish national Election Day as an off day for college basketball teams.
Whitesell wrote on his Twitter account that UB won't be practicing that day.
Whitesell also wants the Bulls to register and be eligible to vote on Election Day in November.
"This gives our guys the opportunity, as a registered voter, to do your duty and vote, and partake in what's going on," Whitesell told The News. "It's certainly an important thing. As soon as I saw the NABC request, I said, 'this is a no-brainer.' I'd be surprised if all our guys didn't vote. In the past it's been, 'are you going to vote?' Now it's, 'who's voting?' "
The NCAA Board of Governors also encouraged its member schools to assist students in registering to vote in the upcoming national election.
While UB has not announced any formal plans to suspend athletic activity on Election Day in November, a St. Bonaventure athletic department spokesperson told The News that Bona does not plan to schedule any athletic competition on Election Day, and the athletic department will work with its athletes on educating them about voter registration.
A Canisius athletic spokesperson told The News that there is nothing formally in place for Nov. 3 as a department, but that Canisius' Student-Athlete Advisory Committee is working with other SAAC members from Metro Atlantic Athletic Conference Conference schools to create a formal, conferencewide plan.
A Niagara athletic spokesperson said the athletic department is working on a plan for student-athletes to have the opportunity to vote.
The role of UB's basketball players in civic responsibility has heightened in the last few weeks, as issues regarding race, police brutality, Black Lives Matter and the recent deaths of George Floyd, Breonna Taylor and Ahmaud Arbery have become international issues.
Whitesell said that in the days after Floyd's death, his team held an open discussion on a Zoom video conference about those causes.
"Players talked, and coaches listened," Whitesell said. "We told the players, 'what are the things we can do to help this cause?' Everyone on the team has a social media platform, and we talked about how to use that."
The basketball program posted a statement regarding their stance on racial justice on social media last week, which many of UB's players shared on their personal accounts.
"During this time where our nation is at a crossroad on how to rectify both racial justice and inequality in America, the UB men's basketball team stands united to not only acknowledge what is occurring within our society but also to contribute to the process of increasing awareness. We hope to use our platform in an effort to show togetherness as a brotherhood and to prove that we all are one."
"We also talked about, what can you do in your community?" Whitesell said. "What can we do next, when we come back to campus? What can we do in the meantime? Let's see what we can do to be helpful, and we want to know what we want to do. Not just in Buffalo or on campus, but back home, too. What is something you might be interested in, when you come back in the summer or fall? This is something that the guys have given us a lot of good feedback on."
One UB basketball player has already stepped up. Whitesell said LaQuill Hardnett, a forward who will be a redshirt sophomore this fall, wants to be involved in registering students at UB to vote.
"There's value in the presidency, for local elections, for judges, and understanding how this process works," Whitesell said. "Studying that. For the players, it's understanding that you have this incredible opportunity. Take it and run with it. Study what's in front of you and what you believe in. Exercise your right. It's so important we do all this."
Be the first to know
Get local news delivered to your inbox!