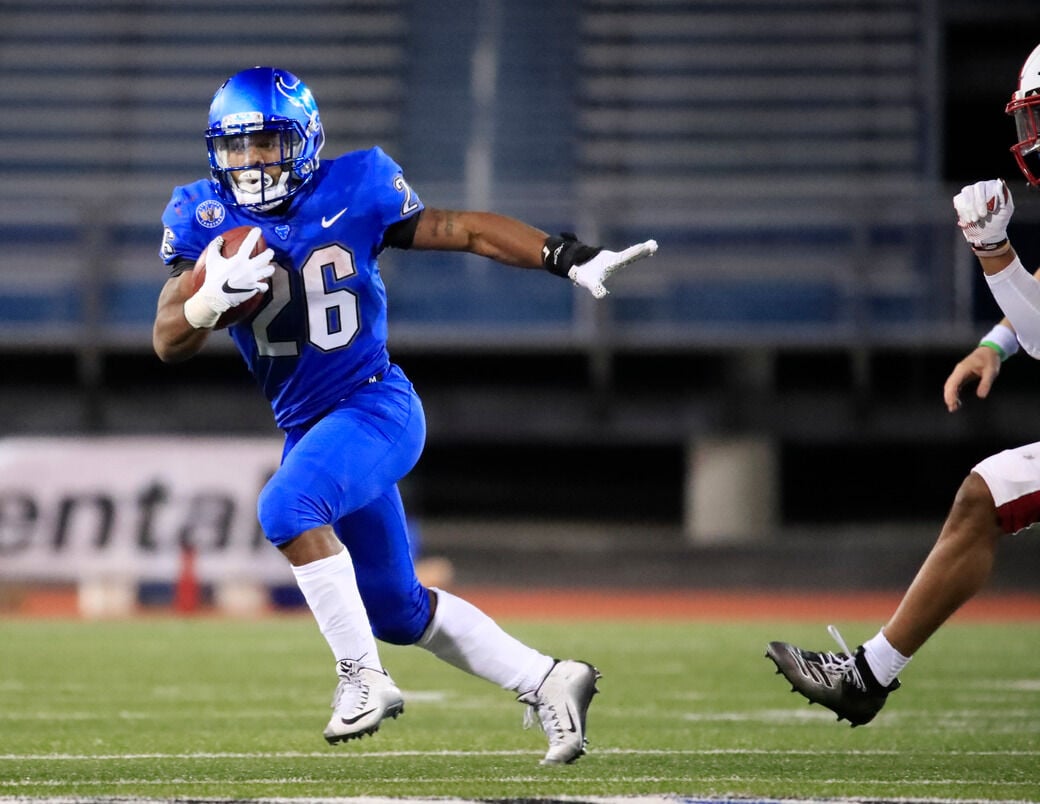 CBS Sports Network commentator Malik Zaire may have been onto something when he boasted last week about University at Buffalo running back Jaret Patterson.
"We're going to be seeing him on Sundays," Zaire, a former quarterback at Notre Dame and Florida, said during the broadcast of UB's 42-17 win Nov. 17 at Bowling Green.
Patterson, a junior for the Bulls, continues to help his future cause as an NFL draft prospect. He ran for a UB single-game best 301 yards against the Falcons, and had four touchdowns on 31 carries. He became the first player in the Football Bowl Subdivision to run for 300 yards in a game this season, and he's only the 13th Mid-American Conference player to run for at least 300 yards in a game.
UB (3-0 MAC) is scheduled to host Kent State (3-0) at noon Saturday at UB Stadium. Midway through UB's six-game regular season, Patterson leads the MAC in rushing yards (511), rushing yards per game (170.33) and rushing touchdowns (eight). As of Wednesday, he leads the nation in yards per game.
Patterson is among a robust group of running backs that are eligible for the 2021 NFL draft. The Draft Network on Wednesday had 12 running backs listed ahead of Patterson in its latest projection – Clemson's Travis Etienne is the top running back in its rankings – but Jordan Reid, a senior analyst with the Draft Network, said Patterson's stock is rising.
"Coming into the season, Patterson was already on scouts' radars, but he wasn't draft eligible," Reid said in an email to The News. "He's built a lot of excitement during his freshman and sophomore seasons. His performance against Bowling Green is not only helping his case, but it's also building a surplus of positive evidence to include within his NFL draft profile."
Ryan Roberts, the scouting director for NFLDraftBible.com, said Patterson is reaffirming his spot as one of the best players in the MAC. Patterson also is showing more versatility, which could translate to more roles at the pro level.
"He might not just be a third-down back some might paint him to be, because of his size, but he is so well put together," Roberts said. "He has a low center or gravity, and he runs so hard.
"Right now, he is changing a lot of peoples' mindsets. Maybe he isn't just a niche running back at the next level. Maybe he's someone who can be heavily involved in what the trend is becoming, the back-by-committee approach. He's quieted a lot of doubters who have said, 'Hey, he's a really good MAC player, but … ' "
"Patterson put his money where his mouth is during the first game against Northern Illinois in Week 10, rushing for 137 yards on 20 carriers with two touchdowns to start increasing his NFL draft stock," Pauline wrote. "Among those carries was a breakaway touchdown run of 56 yards. Patterson is a small, creative ball carrier who shows a lot of toughness and intelligence. He's a third-down back and situational ball carrier for the next level."
Pauline projects Patterson to enter the 2021 NFL draft, but Patterson likely will not announce a decision on his future until after the season.
Patterson, Roberts said, needs to continue to maximize his reps this season, in part because the Covid-19 pandemic could impact pro days at universities across the country. It could also impact and even change the NFL combine, which is typically scheduled for the end of February.
"It's a little tough, too, for him because he's not a senior, so he's not eligible for the Senior Bowl," Roberts said. "What he has to do, as long as there's a combine, he can rest on the tape but he has to test well, not just running a fast 40-yard dash, but having explosive lower-body testing in the broad jump and the vertical jump."
However, Reid believes that if Patterson was to make a decision, it would be best to strike while the iron is hot.
"Considering the state of the position and how disposable it has become in the NFL, it would be wise for him to declare while his stock is at its peak," Reid said. "With the way he has started off this season and with his position group being considered top-heavy with talent throughout this class, Patterson could be a prime beneficiary of that.
"He also has some mileage on his body because of how heavily he has been featured in the Buffalo offense. Even though he's only a junior, I still think Patterson will be in contention to be an early Day 3 selection in the 2021 NFL draft if he were to declare."