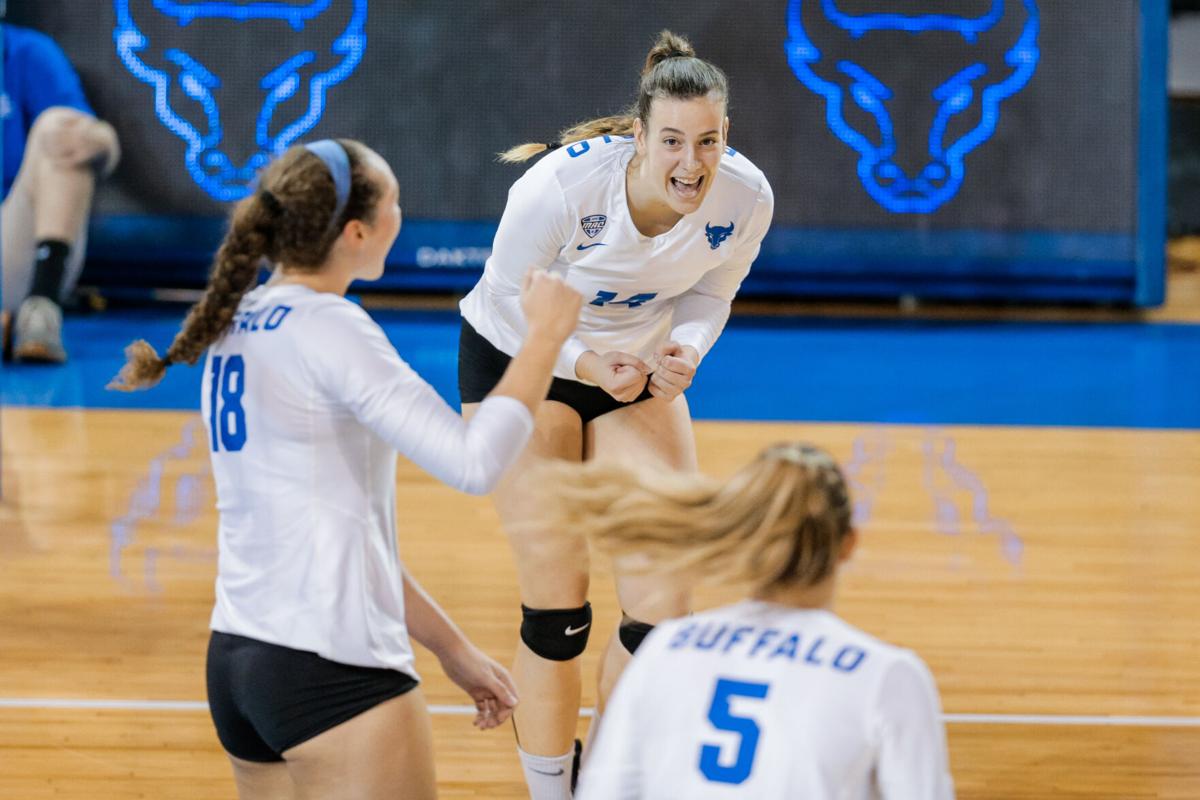 Each time Monika Simkova entered Alumni Arena to join the University at Buffalo volleyball team, she was smiling. Simkova found joy in being on the court, whether it was after a bad day or acing a test in a class.
When Simkova worked at UB's volleyball camps this summer, her energy attracted the students around her. At the end of each camp, the athletes said, "Monika is my favorite player! I want to play like Monika!"
Simkova, a 6-foot-2 outside hitter from Malacky, Slovakia, was ready for her third college season. At the beginning of August, she showed symptoms akin to having a cold or the flu, but insisted she felt fine. She began to feel worse, and coach Scott Smith and his staff rushed her to Millard Fillmore Suburban Hospital in Williamsville. Simkova's condition deteriorated while she was at the hospital, even as doctors and nurses treated her.
Simkova hasn't left a hospital since then. She is now at Buffalo General Medical Center, recovering from a streptococcal bacterial infection. Simkova's sister, Lucia Michalovicova, wrote this week on a social media post that Simkova's condition worsened after she turned septic, which resulted in multiple organ failure.
Simkova underwent a double amputation of her legs, each above the knee, to increase her chances of survival and long-term recovery, Michalovicova wrote on Instagram. Simkova has a feeding tube threaded through her nose and to her stomach to help with sustenance, she is fighting pneumonia and a fungal infection in a leg wound, and bacteria remains in her bloodstream, her sister wrote.
"Every time the medical staff ran new numbers on her, it was getting worse for her, and we weren't sure why," Smith said. "It was hard to even comprehend it because that morning, she was saying in text messages, 'No, I'm feeling good,' or, 'I need to rehydrate.'
"The doctors kept explaining how rare this kind of reaction is. It's less than 1% of the human population that responds this way. There was no way to see this coming, but the fact that we got her to the emergency room as quickly as we did, that gave her a fighting chance."
Simkova led the Bulls with 30 service aces and had 111 kills in the spring season, and she was supposed to be on the court this fall. Instead, she remains in the medical intensive care unit at Buffalo General.
Her team knows her recovery will be long, but Simkova, Simkova's family and the UB volleyball program have received a massive swell of support this week, one that has overwhelmed Smith and the Bulls.
The donors range from current and former UB coaches and athletic personnel, teammates, current and former UB athletes, UB alumni and community members.
UB's athletes have also spread the word about Simkova and her sister's GoFundMe on their Instagram and Twitter accounts.
"Seeing this, I think it's crazy, and it shows how awesome the volleyball community is," said Milla Malik, Simkova's roommate and an outside hitter for the Bulls. "I knew before this even came out that it would take off quickly. But this support has been unreal. It's not even 24 hours and we've raised this much money? That is legit. And Monika is an amazing player and an amazing girl.
"She was an inspirational player. Everyone went to Monika for support, and we now have to turn and support her, and she deserves this, completely."
There's almost no way of knowing how Simkova contracted the bacterial infection, but according to the Centers for Disease Control and Prevention there are Group A streptococcal bacteria (harmful bacteria that causes infections such as strep throat, scarlet fever and necrotic fasciitis) and Group B streptococcal bacteria (common).
According to the New York State Department of Health, Group A streptococcal bacteria invade parts of the body, including blood, muscle tissue, fat tissue or the lungs, and can create a severe infection. On its website, the Department of Health states approximately 9,000-11,500 cases of invasive group A streptococcal disease occur annually in the United States, which results in at least 1,000 deaths.
Michalovicova, though, wrote on the GoFundMe page that her sister is making small gains in the process of a long recovery, after undergoing seven surgeries in the last five weeks.
"Being able to sit up in bed, sucking on an ice chip and being able to swallow water down her throat is massive progress," Michalovicova wrote. "Things we take for granted are life changing moments for Monika.
"For these five weeks, she has been fighting unbelievably hard to stay here with us. She has been through so much, too much for one person to endure in life. But she is a fighter, she has the full admiration not just from me but from the whole MICU. Her body may be weak and fragile but her mind and motivation to live is made of steel."
Michalovicova traveled from Australia to be with her younger sister, and Smith and Malik said Simkova's family – her parents, Miroslav and Libusa, and her brother, Peter – traveled from Slovakia earlier this month to be with her.
"Monika got her strength from her family," Malik said. "I know she can handle this, whether she realizes this or not."
Members of the UB volleyball team have visited their teammate in the ICU, where they talk about volleyball matches and road trips, or quietly watch movies on Netflix.
"We're trying to comprehend all of this and deal with this ourselves, and now we have to play volleyball?" said Smith, whose team is 3-3 and hosts Duquesne, West Virginia, Canisius and American on Friday and Saturday in the WNY Invitational at Alumni Arena. "It was difficult to get this season started. But we're blessed with so many resources to help us through all of this. Being able to get focus on one task at a time and get through each moment and be there for each other, we've been a close team, but this has shown some different sides of us and it's brought us even closer. We are in this together and trying to do our best for Monika."
The Bulls even created a hashtag on social media in honor of their teammate: #One4Mon – a twist on Simkova's uniform number, 14.
"We also wanted to be united through the hard time that we are all going through," Malik said. "We want to be one for her. We want to be together to see her, to hear her, to be with her. And this can apply to everybody. The community around us, the University at Buffalo, and us, how we are staying together and being strong for her."