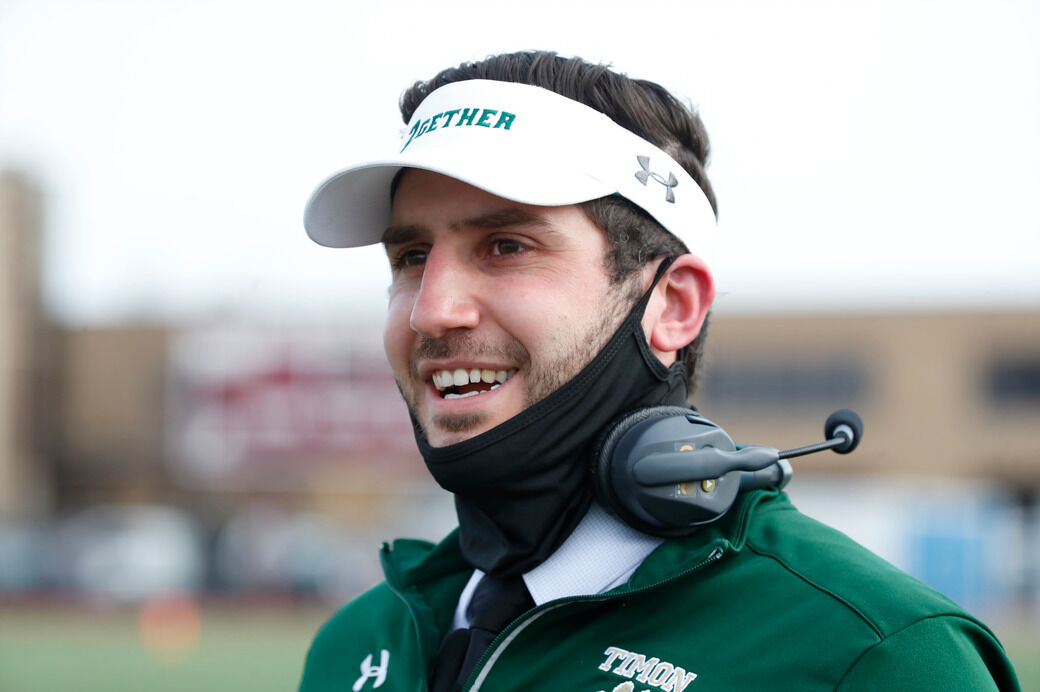 A name familiar to University at Buffalo football will return to the program. 
Joe Licata, the football coach and athletic director at Bishop Timon-St. Jude High School in South Buffalo, will join the UB football staff. The Timon administration confirmed Licata's departure Friday. 
"Joe has been a tremendous asset for our school, and we wish him great success at UB," Timon Principal Dr. James Newton said in a statement. 
Matt Weiser, who has been on Timon's football staff for the past four years, has been named as the program's interim head coach. Ron Bertovich, Timon's director of operations, has been named the school's interim athletic director. Timon's administration plans to announce more transitional details over the next several days. 
Two sources confirmed to The News that Licata will join the UB football staff in a support role. Yahoo! Sports originally reported that Licata, who was a quarterback at UB from 2012-15, will join Maurice Linguist's staff in an offensive quality control role and will work in high school relations.
Linguist was hired May 7 as UB's football coach, and was an assistant at UB during Licata's first two years on the UB football team, in 2012 and 2013.
Licata declined to comment on the initial report when contacted Friday by The News. However, in a statement on his Instagram page, Licata confirmed he is leaving Timon, but did not indicate his hire at UB.
"The coaches I have hired, worked with, and became friends with have surpassed any expectations I had," Licata wrote. "Our professional relationships have turned personal, and I am proud to call you all friends. The kids. The reason I do it. If I have taught you half as much as you have taught me, my tenure was a success."
Timon hired Licata in 2017 as its football coach and as its athletic director, and the Tigers won the Monsignor Martin Class B football championship in 2019, at the completion of Licata's third season. 
Licata is a 2011 Williamsville South graduate and UB's all-time leader in passing yards (9,485) and touchdown passes (76). He also holds UB's single-season record for touchdown passes (29 in 2014) and is second in single-season completions (280 in 2015) and third in single-season passing yards (2,969 in 2015).  
Licata had a tryout with the Buffalo Bills in 2016 during a rookie minicamp, and was with the Cincinnati Bengals that summer as an undrafted free agent. He was released by the Bengals in August of 2016. 
This is a developing story. Please check back for updates.