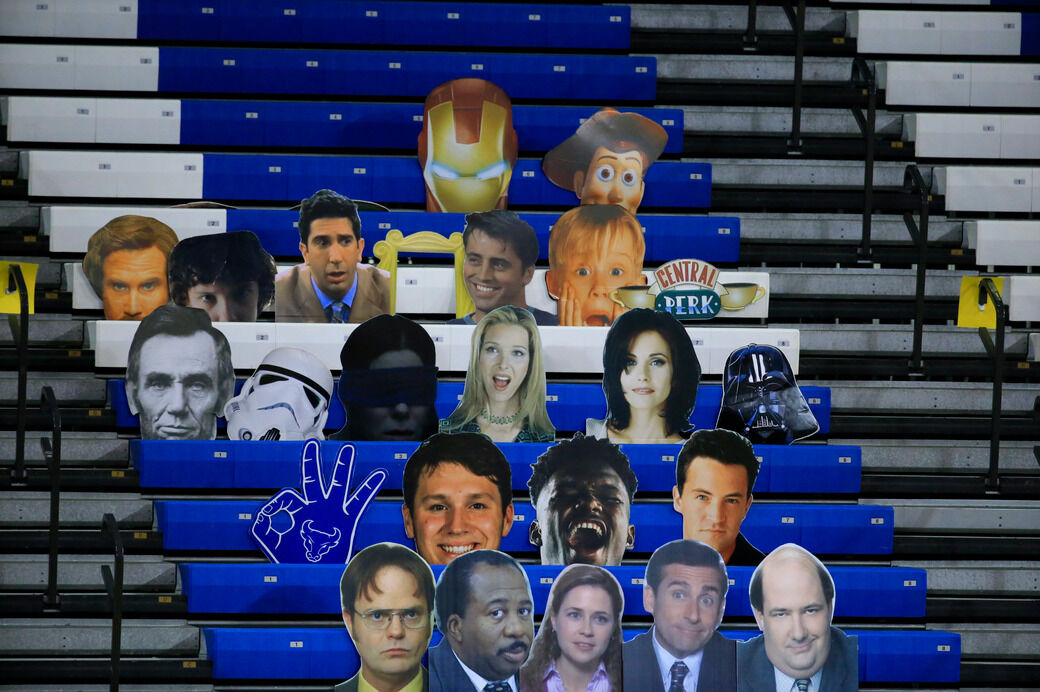 The University at Buffalo is awaiting a decision from the state Department of Health on a proposal to allow about 350 spectators at Alumni Arena for each of the remaining men's and women's basketball games this season.
Alumni Arena has a capacity of 6,700 so the proposal represents 5% capacity.
"We're looking at an opportunity for students to come to a game," UB athletic director Mark Alnutt told The News on Tuesday. "We've put together a plan, and it's being reviewed. We'll see where it goes. When we mentioned that we can do 5%, the response was, 'Let's review the plan.' "
The state Department of Health did not immediately respond to a request for comment by The News.
UB has not allowed spectators for athletic events at UB Stadium or in Alumni Arena this school year, due to state and regional Covid-19 guidelines.
Gov. Andrew M. Cuomo announced Feb. 10 that sports and entertainment events in arenas and stadiums with a capacity of at least 10,000 people could reopen Tuesday with a 10% capacity.
Arenas and stadiums with a capacity of more than 10,000 have guidelines for spectators who are attending events, including confirmation from a health care provider of a negative PCR Covid-19 test taken within 72 hours of the day of the event; mandatory face coverings, except for when eating or drinking in an assigned seat; and digital tickets for admission rather than paper tickets.
The Buffalo Sabres have not announced plans to allow fans into KeyBank Center, which has a capacity of 19,200; the Sabres are awaiting approval from the state Health Department.
Alumni Arena did not qualify for the initial round of arena reopenings because of its capacity. 
Alnutt also said UB plans to have fans at UB Stadium this fall for football games, but that the number of fans that would be allowed to attend football games still has yet to be determined.
"We're going to send out information to our season ticket holders, and we're going to move forward as if there's going to be fans," Alnutt said. "What it looks like, we're not sure. It could be 100%, reduced capacity or no fans.
"We're not out of the woods yet, but it's better to plan for something, understanding that it could be taken away. And understanding, what will that look like? What will our capacity be? How will we socially distance in the suites? With the Bills (having fans in January), it opened doors."
UB has five remaining home men's and women's basketball games scheduled. The men's basketball team is scheduled to play at 2 p.m. Thursday against Central Michigan, 2 p.m. March 2 vs. Akron and 6 p.m. March 5 vs. Kent State. The women's basketball team is scheduled to play at 2 p.m. Saturday against Ohio and at 5 p.m. March 3 against Miami (Ohio).
Along with UB, St. Bonaventure University has not allowed spectators into the Reilly Center for its men's or women's basketball games. Canisius College has not allowed spectators for its men's and women's basketball games at the Koessler Athletic Center or its hockey games at LECOM Harborcenter. Niagara University has not allowed spectators for its men's and women's basketball games at the Gallagher Center in Lewiston or its hockey games at Dwyer Arena.
Canisius announced Tuesday that it will not allow spectators to any of its home athletic events through March 31, in accordance with previous protocols set by the Metro Atlantic Athletic Conference and the Atlantic Hockey Association, both of which Canisius is a member.
Canisius said in a statement Tuesday that the MAAC Committee on Athletic Administration will re-evaluate Covid-19 health and safety precautions in the coming weeks to help determine if fans will be allowed to attend future events at Canisius.