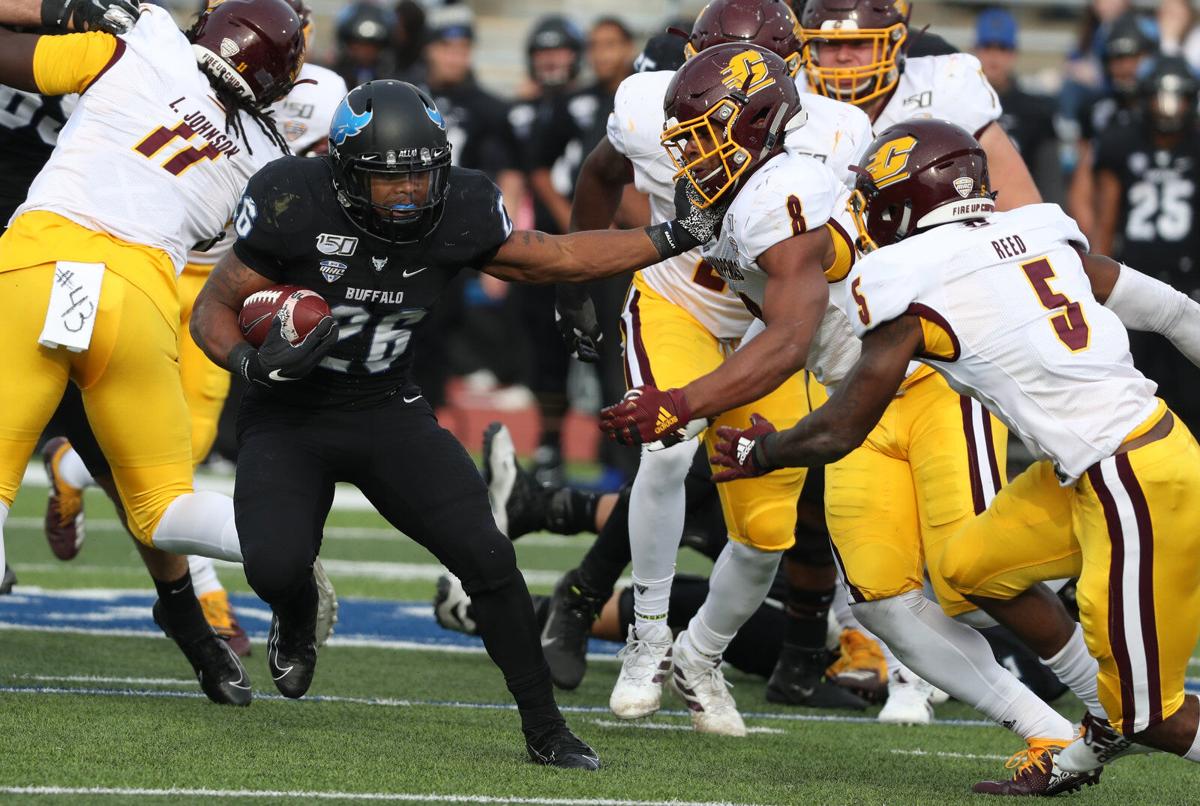 University at Buffalo running back Jaret Patterson has caught the attention of a Pro Football Hall of Famer.
Barry Sanders, the legendary Detroit Lions running back, posted a highlight video of Patterson on Wednesday on his Twitter account and wished Patterson good luck. Patterson will be a junior at UB this fall.
"Finally got to check out @__JP26 highlight reel," Sanders wrote. "He's off to a great start ... good luck this season."
Patterson was named a second-team, preseason All-American by the Walter Camp Football Foundation last week. He set UB single-season records for rushing yards (1,799) and rushing touchdowns (19) in 2019, and he led the Mid-American Conference and was fifth in the nation in rushing yards. Patterson set a MAC single-game rushing record of 298 yards Nov. 29 against Bowling Green.
Patterson is also the second-leading returning rusher in the Football Bowl Subdivision, behind Oklahoma State's Chuba Hubbard, who ran for 2,094 yards in 2019.
Sanders rushed for more than 1,000 yards in each of his 10 seasons with the Detroit Lions, from 1989 to 1998, and ran for 15,269 yards and 99 touchdowns. He averaged 5 yards per carry in 153 NFL games, and he was inducted into the Pro Football Hall of Fame in 2004.
Sanders played college football at Oklahoma State and won the Heisman Trophy as the top player in college football in 1988.
Patterson is among five UB players to be named to the Preseason All-Mid-American Conference first team by Athlon Sports. He is joined by offensive lineman Kayode Awosika, defensive linemen Taylor Riggins and Malcolm Koonce, and safety Tyrone Hill. Second team selections are wide receiver Antonio Nunn and linebacker Kadofi Wright. Running back Kevin Marks, center Mike Novitsky and defensive lineman Eddie Wilson were named to the third team, and linebacker James Patterson was named to the fourth team. UB joins Eastern Michigan and Miami (Ohio) with 11 total selections behind Central Michigan's 12.
UB official on the move
Donald Reed, UB's senior associate athletic director for athletic and academic performance, has been named the athletic director at Prairie View A&M, the Houston Chronicle reported. Reed has been at UB since the fall of 2007. He replaces Fred Washington, who resigned last August for personal reasons.