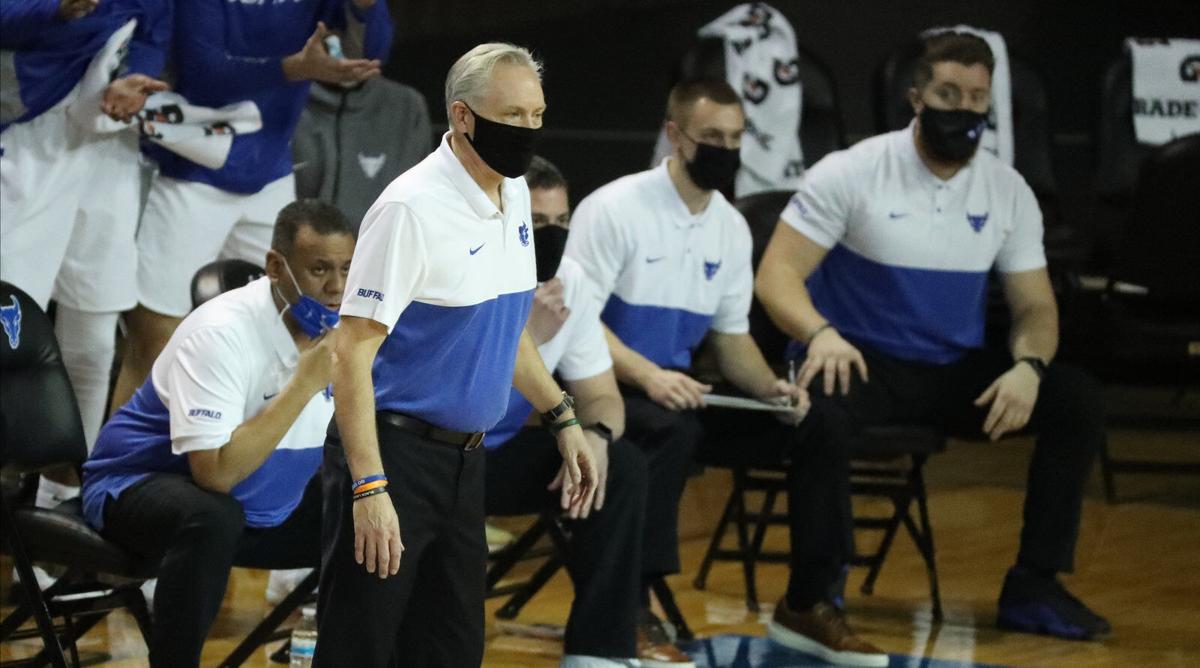 The University at Buffalo came back from a 21-point halftime deficit, then failed to hold a six-point lead in the last two minutes and lost to Kent State 84-81 in Mid-American Conference men's basketball Tuesday at the M.A.C. Center in Kent, Ohio.
The Bulls went off the court trailing 47-26 after their second dismal first-half performance in a row. It was the most they had trailed in a game this season. After shooting only 22.6 percent in the first half in Saturday's 76-69 home loss to Bowling Green, UB shot only 29.7 percent in the first 20 minutes Tuesday (11 of 37, 1 of 12 on 3-point attempts). They made 21 of 36 shots for 58.3 percent in the second half, but failed for the fourth time in four tries this season to win after trailing at the half.
However, led by Josh Mballa, Jeenathan Williams, Ronaldo Segu and Brock Bertram, the Bulls put on a second-half rally, helped by eight turnovers by the Golden Flashes. UB got back into the game by going on a 12-0 run in the first six minutes of the second half, and gained a 59-59 tie on a basket by Bertram, a 6-foot-11 senior, who scored a career-high 10 points. He also had eight rebounds.
A jump shot by Mballa gave UB a 61-59 lead –its first of the game – with 7:54 left.
Kent State broke a 66-all tie and led 73-68 before 10 points in a row gave UB a 78-73 lead. A 3-pointer by Williams gave UB its biggest advantage at 81-75 with 2:02 to go, but that was the last scoring for the Bulls.
The Golden Flashes scored the last nine points of the game, including the second of two free throws by Michael Nuga, with 14 seconds left. Nuga then rebounded a missed 3-point try by Williams, was fouled and sank two foul shots with 3 seconds left.
UB had time for one last desperation shot from near half court, but Segu's hurried attempt went off the glass.
Mballa led the Bulls with 22 points, six rebounds and seven steals, remarkable for a 6-7 forward. Williams had 20 points and matched Bertram's rebound total with eight. Segu had 19 points for UB, 15 in the second half, when he made both of his successful 3-pointers.
Kent State star forward Danny Pippen got into first-half foul trouble and finished with only six points, 15 below his average.
Nuga led the winners with 23 points, including 7 of 8 at the line. Justyn Hamilton, a 6-11 senior transfer from Temple, had 16 points, and senior forward Tervell Beck had 12 points off the bench.
The second straight loss in MAC play left coach Jim Whitesell's UB team at 5-5, 3-3 in the MAC. Kent State won its fourth in a row in the conference to go 7-3, 4-2.
UB has two more MAC games scheduled this week, a Thursday afternoon (2 p.m.) game against Eastern Michigan at Alumni Arena and a 6 p.m. game at Northern Illinois on Saturday.
Led by Big 4 Player of the Week Kyle Lofton, who averaged 21.0 points and 4.0 assists in wins over Fordham and Duquesne last week, St. Bonaventure faces its toughest test of the season so far against VCU on Wednesday night in the Reilly Center.
Sole possession of first place in the Atlantic 10 Conference will be on the line when the Bonnies (6-1, 4-1 A-10) and the Rams (10-3, 3-1) meet. Bona suffered losses by 30 and 28 points against VCU when they have met the last two seasons. That included an 85-55 defeat when the Rams last visited the Reilly Center. The Bona-VCU game will be nationally televised on the CBS Sports Network with a 6 p.m. tipoff.
Lofton shot 46 percent in a week when he became the 46th 1,000-point scorer on Bona history. That included 28 points in Friday's 62-48 win over Duquesne. After Wednesday's game, the Bonnies' next two will be on the road, on Saturday at Saint Louis, and the following Saturday, Jan. 30, at Davidson.