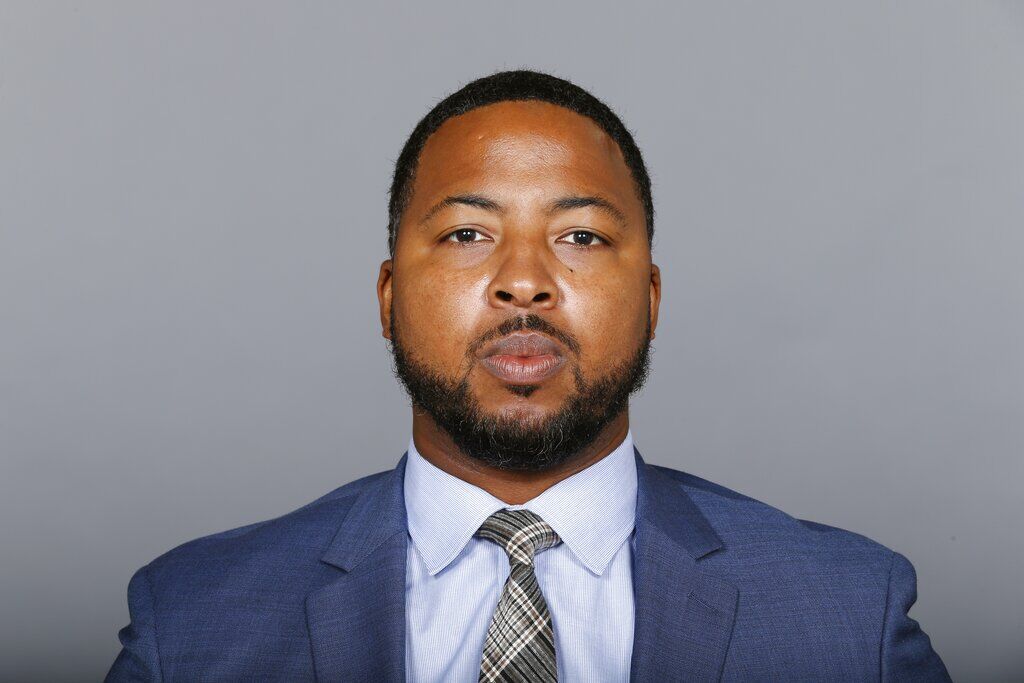 Maurice Linguist is returning to the University at Buffalo as its new football coach.  
Linguist, a UB assistant in 2012 and '13, is currently the co-defensive coordinator at Michigan. His tenure at Michigan, however, will be short. The Wolverines hired Linguist in January as its defensive backs coach and co-defensive coordinator, after he spent last season with the Dallas Cowboys as its cornerbacks coach. 
Linguist was a defensive backs coach and defensive passing game coordinator on Jeff Quinn's UB staff in 2012 and 2013.
He leaves Michigan without coaching a game on Jim Harbaugh's staff to take over a UB program that was bowl-eligible in the last four seasons, and won MAC East Division titles in 2018 and 2020. The Bulls have won 24 games in the last three seasons, including the 2019 Bahamas Bowl and 2020 Camellia Bowl.
Linguist, who was on Jeff Quinn's staff as the Bulls' defensive backs coach and defensive passing game coordinator, replaces Lance Leipold, who left UB last week to become the head coach at Kansas.
UB announced the hire Friday evening, with Athletic Director Mark Alnutt tweeting, "We got our guy!!!" He then tweeted a photo of he and Linguist, seated in the UB football offices and making the "Horns Up" symbol after Linguist signed the contract.
Linguist, who was spotted in the area earlier in the week, is expected to meet with players Saturday morning, and UB will formally introduce Linguist on campus at 11 a.m. Monday. 
"PUMPED to say the least," UB quarterback Kyle Vantrease wrote on Twitter Friday night. "Goal remains the same. Love this team and can't wait for this season!"
Linguist and Joe Harasymiak, the co-defensive coordinator at Minnesota, were the two finalists for the opening.
Linguist could not be reached for comment and his agent, Bryan Harlan, declined to comment when contacted by The News. FootballScoop.com originally reported the finalists, who would be the successor to Leipold.
Chicago Bears star Khalil Mack, who played for UB when Linguist was on staff, tweeted, "Make it happen" when word of Linguist being a finalist surfaced.
On the day that Leipold resigned as UB's head coach, Alnutt forecasted that a search for a new coach would take between seven and 14 days.
Leipold accepted the job at Kansas on April 30, after six seasons at UB, which meant a target date for UB's hire of a new football coach would have been Friday, at the earliest, and May 14, at the latest.
The search finished in a week. Parker Executive Search assisted UB in the hiring process. 
More than 60 potential candidates initially expressed interest in the opening at UB, and among those considered besides Linguist and Harasymiak were Rutgers tight ends coach Nunzio Campanile, Notre Dame special teams coordinator Brian Polian, who is a St. Francis graduate and the son of former Buffalo Bills executive Bill Polian; and UB interim head coach Rob Ianello. 
Several potential candidates emerged in the first few days of the search process, and UB's players were apprised of the timeline for the hire, though were not told whom the candidates were. However, a source told The News that UB's players communicated to Alnutt and UB's athletic administration that they hoped to have a coach who was younger than Leipold, who is 57. Linguist is 37.
Another sign that UB's coaching search was coming to a conclusion: as of Friday afternoon, UB's athletic website listed only five assistants, and did not include defensive coordinator/safeties coach Brian Borland, co-defensive coordinator/linebackers coach Chris Simpson, special teams coordinator/defensive ends coach Taiwo Onatolu, co-offensive coordinator/quarterbacks coach Jim Zebrowski and offensive line coach Scott Fuchs.
Multiple sources confirmed to The News earlier this week that the Bulls will lose at least four assistant coaches who will join Leipold at Kansas, including Borland, Simpson and Zebrowski. It is unclear if they would join Kansas in the same roles, or as part of the Jayhawks' support staff, which includes analysts and quality-control roles.  
An immediate salary for the new coach is not known, but Leipold made an annual base salary of $474,300, and annual additional compensation of $150,000 in his final year at UB. According to a USA Today football coaching salary database, Leipold was the fourth-highest paid coach in the MAC, behind Toledo's Jason Candle, Central Michigan's Jim McElwain and Western Michigan's Tim Lester.
According to Linguist's contract terms at Michigan, obtained by the News through a source and also reported by the Detroit News, he was scheduled to make $680,000 in his first year at Michigan. The memorandum of understanding obtained by The News outlines that Linguist would not be required to pay a buyout for leaving Michigan for a job as a coordinator or as a head coach of a football program outside the Big Ten East Division.
Linguist also becomes the Mid-American Conference's second Black head football coach the upcoming season, joining Northern Illinois' Thomas Hammock.
Linguist, who is from Dallas, played college football at Baylor, and he has coached at the Football Bowl Subdivision, Football Championship Subdivision and Division II levels since 2007, when he was a graduate assistant at Baylor. Linguist has also coached as an assistant or as a coordinator at UB, Valdosta State, James Madison, Iowa State, Mississippi State, Minnesota and Texas A&M.
Cory Gross, a safety who started six of UB's seven games in 2020, has entered the transfer portal, according to Rivals.com. Gross, a redshirt sophomore from Brockport, had 42 tackles and an interception last season for the Bulls.
Seven players from UB's 2020 roster have entered the transfer portal in the last week, after Leipold's departure and the impending departure of several of Leipold's assistants. Gross joins quarterback Matt Myers, offensive lineman Jacob Gall, defensive tackles Eddie Wilson and Tyrece Woods, center Mike Novitsky and linebacker Tim Terry. Only Wilson and Terry confirmed in social media posts that they have entered the portal.
Additionally, Lamonte McDougle, a defensive lineman from Washington State who committed to UB as a transfer on April 19, entered the transfer portal.
This is a developing story. Please check back for updates.