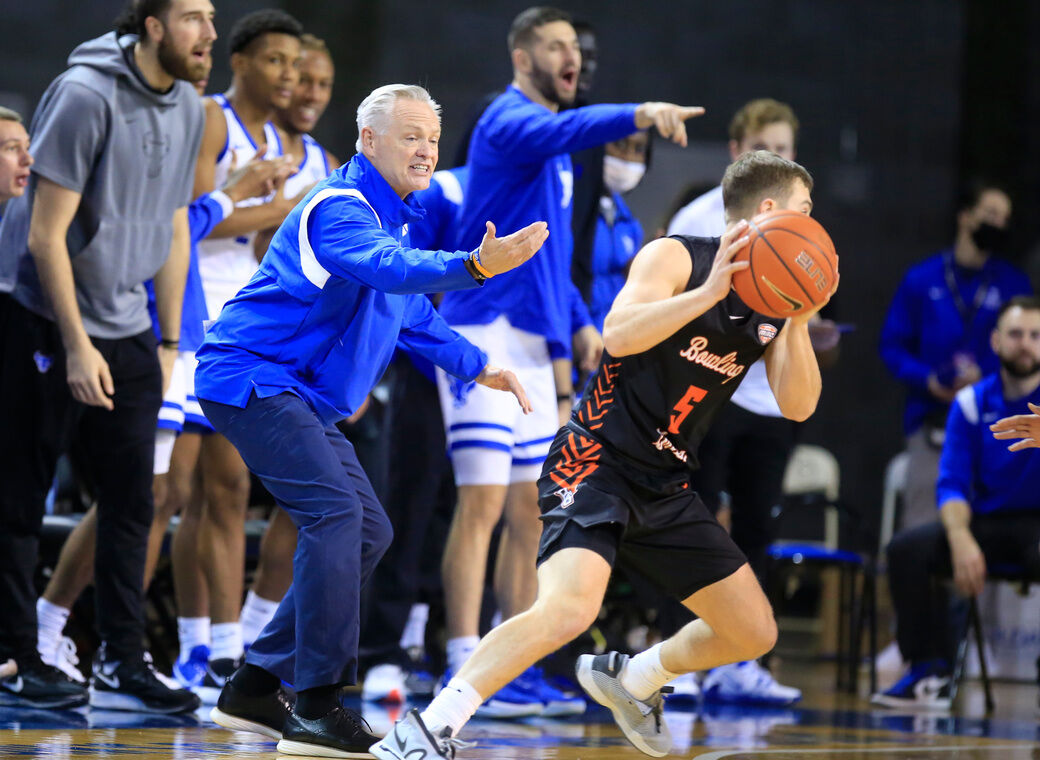 An eight-point lead had nearly evaporated for the University at Buffalo men's basketball team with less than 10 minutes left in the game, and Bulls coach Jim Whitesell called a timeout, strictly to get his team re-centered.
Somewhere in the huddle, Bulls point guard Ronaldo Segu sent a message to his team.
"Rondo had a good line in there, like 'hey, look, we're going to refocus but we're not doing this again.' " Whitesell said. "The Miami game and the Akron game, the body language dropped and it was 'woe is me,' instead of 'we're going to compete' and we competed harder.
"Our competitive mentality was much better in the huddle, there."
The Bulls answered after the timeout, opening a three-point lead to 14 in the second half of a 99-88 win against Bowling Green on Wednesday at Alumni Arena.
The Bulls snapped a three-game losing streak and avoided losing four in a row for the first time since 2013; the last time the Bulls lost four straight was Jan. 2-16, 2013, losses to Tulsa, Ohio, Miami (Ohio) and Kent State.
Jeenathan Williams led the Bulls (7-6, 1-2 Mid-American Conference) with 21 points, and David Skogman and Segu each scored 20 points. Skogman registered his first double-double of the season, grabbing 15 rebounds Wednesday at Alumni Arena.
Maceo Jack added 16 points for the Bulls, and scored his 1,000th career point: 869 at George Washington and 136 at UB.
Samari Curtis led the Falcons (7-6, 0-2) with 25 points.
UB's win was a resounding answer to an 88-76 loss Saturday at Akron. Even without forwards Josh Mballa and Tra'Von Fagan, who missed the game due to Covid-19 protocols, the Bulls led by as many as 14 points in the first half and limited the Zips to 10 successful shots from the floor, but made only three 3-pointers in the second half as the Zips opened their lead to 17 points with less than two minutes left in the game.
"We learned from Akron," Segu said. "We came out in the first half, with a lot of great energy, and it kind of went downhill from there. We had consistent energy (against Bowling Green). We played tough. We played them hard. We knew they were going to go to the glass and we contained some of their best players."
Mballa and Fagan didn't play Wednesday against Bowling Green, either, and the Bulls were also without forwards Kuluel Mading and Brock Bertram, due to injuries. Even rotating only four forwards against Bowling Green – Williams, Skogman, LaQuill Hardnett and Ty Perry – the Bulls had 38 rebounds to the Falcons' 31, and scored 40 points in the paint.
"A lot of it was getting back to doing what we do," Skogman said. "Blue collar, that's what this program's been about. We got our butts kicked on the boards at Akron, and coming back here tonight, we knew that was something we were going to have to do, get on the floor, take charges."
Whitesell, meanwhile, rejoined the Bulls after a two-game absence, as he tested positive for Covid-19 over the holidays.
"I'm incredibly grateful," said Whitesell, who is vaccinated and has received a booster shot. "Number one, I'm grateful for my health, because so many people have suffered from this. Number two, just, you miss coaching, and it's kind of weird – and don't feel sorry for me – but it's so odd being away from the team."
Segu, Perry and Jack combined for six free throws to give the Bulls a 23-18 lead midway through the first half, and the Falcons hit a scoring drought of more than 2 1/2 minutes before Trey Diggs' 3-pointer cut the lead back to two points.
With less than six minutes left, Curtis Jones' second 3-pointer of the game opened the Bulls' lead to 36-27, and the Bulls maintained at least a six-point lead for the next three minutes, until Curtis' 3-pointer with 2:52 left cut UB's lead to 39-35, and kicked off a 9-2 run by the Falcons. That helped them tie the game at 41-41 with less than a minute left, on Curtis' off-balance layup.
Segu's two free throws with 28.1 seconds left in the half, though, gave the Bulls a 43-41 lead at halftime.
Ahead by as many as eight before the halfway point of the second half, UB hit a scoring drought of more than two minutes. Then, after Gabe O'Neal's dunk helped the Falcons cut a 70-62 lead to 70-67, the Bulls called a timeout.
Immediately out of the timeout, Jones' third 3-pointer kicked off a 7-0 run for the Bulls, and opened their lead back to 10 with less than eight minutes left, then to 13 with 5:23 left on Williams' free throws.
"That's growth," Segu said. "It took us a couple 'Ls' to learn it, but we won today, we learned from it, and we'll keep stacking good days."