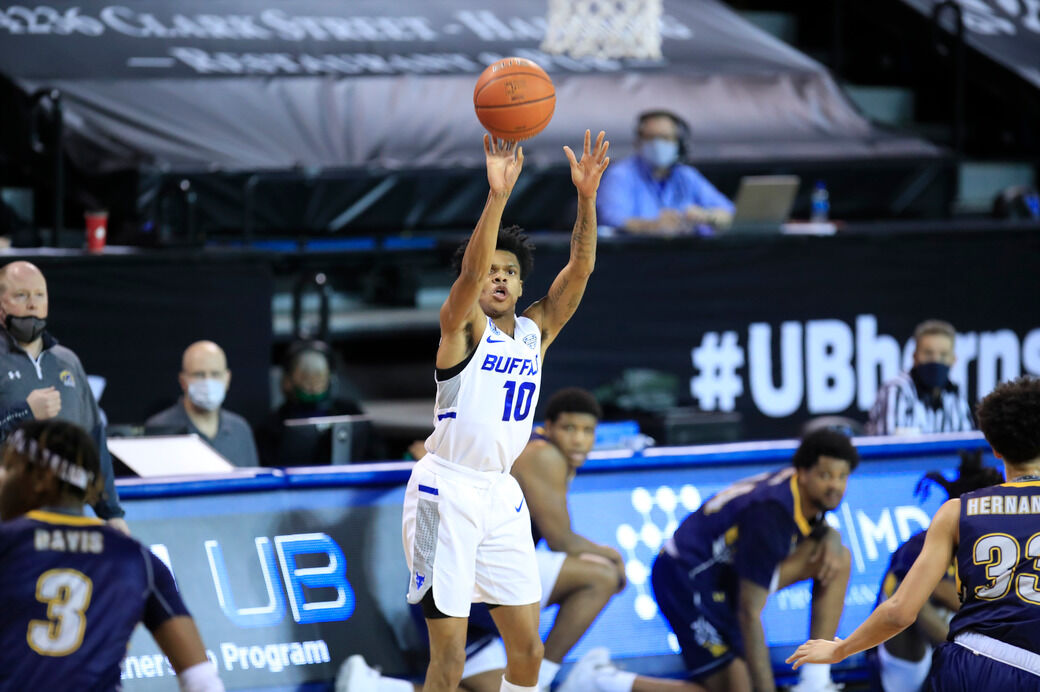 CLEVELAND – Jeenathan Williams clearly outlined the University at Buffalo men's basketball team's strategy when it came to preparing for overtime in a playoff game.
The Bulls swung, and the blast landed straight in the solar plexus of their opponent, in an 81-74 win against Akron in a Mid-American Conference semifinal Friday night at Rocket Mortgage FieldHouse.
"You've got to get a jump, you've got to come out strong," said Williams, who led the Bulls with 26 points. "That was big for us, because if we didn't come out strong, it could have lingered on. They could have lingered around. We came out, gave that punch, and that punch kind of folded them."
The Bulls, the second seed in the MAC Tournament, scored the first seven points of overtime – layups by LaQuill Hardnett and Jayvon Graves, and Williams' 3-pointer – and limited the third-seeded Zips to two successful shots from the floor in the five-minute overtime.
"They took quite a bit of the momentum," said Akron guard Loren Cristian Jackson, who scored a game-high 27 points. "We tried to weather the storm and just couldn't make it through."
UB (16-7) will face No. 5 Ohio (15-7) in the MAC championship game at 7:30 p.m. Saturday at Rocket Mortgage FieldHouse (ESPN2). The winner of the MAC tournament will earn an automatic bid to the NCAA Tournament, which is scheduled to begin Thursday in Indiana.
"I hate losing, but man, it was fun to coach our team tonight," said Akron coach John Groce, whose team shot 2 for 9 in overtime. "That's what a MAC semifinal should look like, two good teams going at it, figuratively speaking. It was phenomenal. That was a high-level game. But the start to the overtime was critical. That got them a three-possession lead and we were scrambling from there, trying to make stuff happen."
Boosted by Williams, Ronaldo Segu (18 points) and Josh Mballa, who had his eighth double-double of the season, with 16 points and 20 rebounds, the Bulls will play in their fifth MAC championship game since 2015. UB has won four of the last five MAC championships, and has six players on this year's roster who played on the 2019 team that won the last MAC tournament title and went to the NCAA Tournament: Williams, Segu, Jayvon Graves, Tra'Von Fagan, Brock Bertram and Jamon Bivens.
UB also extended its winning streak to seven games, which dates back to Feb. 23, and has won 10 of their last 11 games.
"We weren't at full speed in December and we stated playing better, and lost a heartbreaker at Syracuse, then we got hit with Covid, so then you almost have to go back to ground zero and start over again," UB coach Jim Whitesell said. "We lost some close games and I told the guys, we're not that far away but we've got to improve. We've got improve in three areas: defensively, our transition defense and our ball screening. And win-lose, guarding your man. And getting more quality possessions. Moving the ball and upping our assist level. The guys really responded to it.
"We owned our problems instead of looking the other way, and just said, 'look, we've got to keep playing through.' Each week, we got better."
With 2:55 left in the first half, Williams' three-point play gave UB a 33-26 lead, but Ali Ali's jumper with 27 seconds left in the half cut UB's lead to 33-28.
Ali's jumper was part of a 9-0 run that bridged the first and second halves for the Zips (15-8), and Akron took a 35-33 lead 2:45 into the second half. UB, meanwhile, opened the second half 1 for 5 from the floor in the first three minutes.
The Bulls, however, cut Akron's lead to 53-52 on Segu's 3-pointer with 7:39 left, which forced the Zips to call a timeout 13 seconds later, and Akron scored the next our points, on shots by Bryan Trimble Jr. and Jackson.
But with 4:50 left, Mballa's layup gave the Bulls a 59-58 lead and sparked a sequence in which the Bulls and the Zips again traded leads six times in less than two minutes. Segu's 3-pointer with 1:42 left gave UB a 66-64 lead, and Williams' layup off a steal against Ali gave the Bulls a 68-64 lead 40 seconds later.
After Trimble's layup with 44 seconds left, Enrique Freeman's putback for Akron with 1.1 seconds left tied the game at 68-68, and after UB's inbounds pass went out of bounds, Jackson's 3-point attempt on the final possession of regulation went wide.